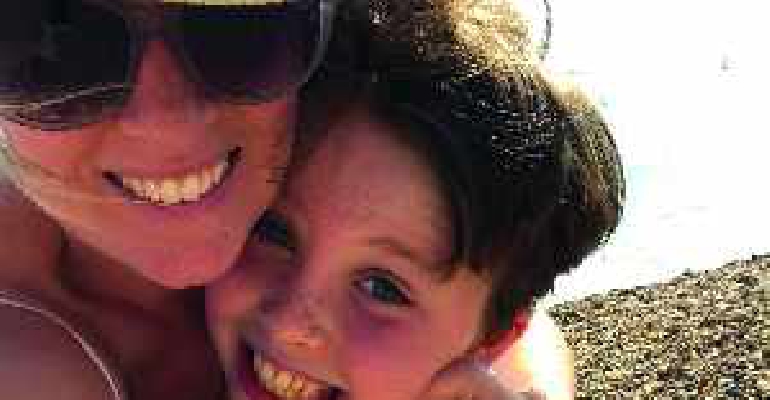 From a life of movie acting and travelling the world to becoming an autism advocate from her home on the South coast, Tara Leniston gives an honest account of her journey
Sir Isaac Newton, Bill Gates and Albert Einstein have all played a pioneering role in helping to shape human history.
What's more, these brilliant minds are also labelled with autism spectrum disorder (ASD).
An umbrella term which includes autism and Asperger's syndrome, the symptoms and behaviours of those with ASD can vary enormously but it commonly affects levels of social interaction, communication and how the world is perceived.
Thankfully, society is slowly waking up to the benefits gained from differences in thought, perception and process, with more inclusive educational and employment opportunities for those with ASD.
Yet dealing with a diagnosis can be traumatic. It's an experience that former actress turned autism advocate, Tara Leniston, can empathise with.
In 2012, her two-year-old son Dylan was diagnosed with ASD.
"I felt scared, isolated and lonely after Dylan was diagnosed," she explains.
"I went into mama bear mode and did everything I could and explored everything available to try to help him, while my husband Andrew went into denial.
"We had completely different ways of dealing with it which put a tremendous strain on our marriage. What I really wanted and needed was to find somebody who could really understand."
From auditioning to star in a James Bond film, to being the mum of a child with ASD has been hugely challenging for Tara, but she has found a new purpose in life helping others to navigate their way through a diagnosis of ASD.
Charming, engaging and compassionate, Tara tells me her story, offering advice, tips and strategies for living positively with autism.
Born in Crawley, Tara's family moved to Ireland when she was seven.
During her teenage years the family enjoyed a globetrotting lifestyle living in South Korea, Hong Kong, Sweden, Australia and New Zealand.
It was in South Korea that Tara had her first taste of acting when she appeared on an English language learning channel.
"Back in 1995, being a westerner with blonde hair in South Korea meant I was a little different to everyone else," she laughs, and having caught the acting bug, Tara returned to the UK to study her craft at the Arts Educational School.
It was a chance meeting with Jackie Chan while in Hong Kong that gave Tara her first big break when he asked her to audition for a part in his latest film. Not only did she get that part but she went on to feature in his 2003 film, The Medallion.
After making several films with Jackie, Tara then played the female lead in the 2005 feature, Meet Me in Miami, before returning to work in Ireland on the TV serial, Raw.
Tara auditioned for a role in the 2006 Bond film, Casino Royale, but the part ended up going to Eva Green.
Then fate intervened. "I was due to return to Los Angeles but met Andrew on a blind date and didn't take the flight home. Then I fell pregnant with Dylan and we moved back to London so I could resume my acting career."
Several years later and now mum to Dylan, she was asked to audition for the Bond franchise again.
"Dylan had only just been diagnosed with ASD when I went to the audition. I was so overwhelmed I spent the entire time sobbing. As soon as I left, I rang Andrew and said I can't do this anymore. I need to focus on Dylan."
Tara's initial reaction was to throw herself into learning everything she could about autism, trying a range of different therapies in an effort to help.
"I became hyper-focused on Dylan and Andrew got shut out," she explains. "Then when Dylan was four, Luca was born, putting added pressure on the marriage."
Although Andrew moved out, the couple continued to keep family weekends going.
The couple were separated for 18 months and during that time learnt how to listen without judgement to each other, the power of honest communication and how best to support each other.
"Whether a marriage endures or not, as individuals you have to find a way forward," Tara confides.
"When you have children together you are tied forever. It's so easy to get lost in children and lost in autism but it's important to remember that you are both people with certain needs and to treat each other like you would a best friend, not someone to take out your resentments and frustrations on. At the end of the day, you are in this together."
Having rediscovered their love for each other, Andrew moved back and five years ago the family moved from London to the South coast.
"London was too much for Dylan," explains Tara. "We wanted to be by the sea and we love it here. It's more relaxed and the beach is very calming."
Two years ago, the family welcomed daughter Naia. "Now at the age of ten, Dylan's hormones are kicking in and he's getting anxious, so after researching the benefits of therapy dogs we got him Rosie, a Cavapoo puppy for his birthday.
"He's in charge of feeding and brushing her which gives him a sense of responsibility and she sleeps in his room helping him to fall asleep."
Over the past decade Tara has accrued a vast wealth of knowledge and practical experience of living with autism, and having found most of the books on ASD were either other peoples' journeys or too medically-focused to be really useful, she teamed up with her friend, speech therapist Rhian Grounds, to write her own.
Her honest account, Coming Home to Autism, is a practical room-by-room guide sharing her tips, advice and strategies for everything from sleeping, to hygiene, to eating issues.
The family are also helping to build a support community through their YouTube channel, Coming Home to Autism, where they share their experiences of family life so that others do not feel like they are going through the experience of ASD alone.
"I have to believe that Dylan was sent to me for a reason," says Tara. "So, I'm trying to build a supportive and positive community and helping to destigmatise autism.
"As a family, we have good days and bad days, and it's not always easy but you do get over the hurdles and challenges of daily life."