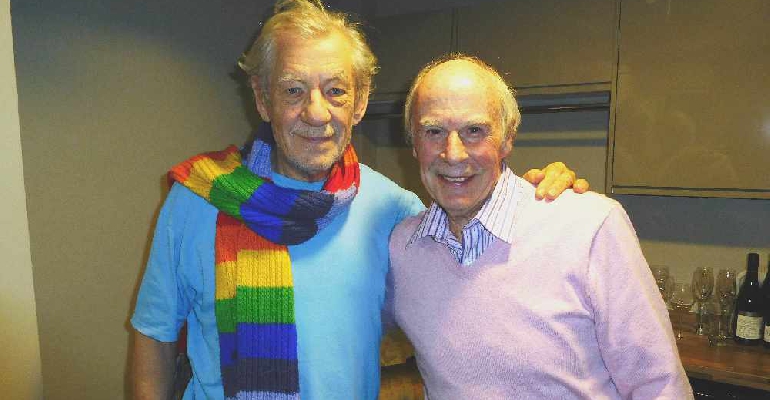 There are some years you just never want to end. In my case, it was 2019. I became the grandfather of twin boys, was privileged to attend a Buckingham Palace Garden Party and had interviewed Dame Judi Dench live on stage, in the presence of the Lord Mayor of London. That honour led me directly to my last major interview of the year — Sir Ian McKellen.
The fact I had interviewed Dame Judi had not gone unnoticed. Suddenly, one or two influential people had approached Sir Ian and I was offered the chance to interview him backstage at London's Harold Pinter Theatre. I could barely wait. When I arrived, his company manager, Tom McCormack, went out of his way to be so helpful and put me at ease by stating that Sir Ian was en route to the theatre on a motorbike. The legendary actor arrived and quickly assured me that he was just the pillion rider, behind a former racing champion, who could get him from home to the theatre in 20 minutes.
He was certainly nothing like his character of Freddie in the television series Vicious. So much more humble and likeable. I inquired as to how I should address him: "Ian, of course. The rest is just a title. John, I'm Ian." I treasured the next 45 minutes.
At that time, his Ian McKellen On Stage show was selling out. Also his great new movie, The Good Liar, with Helen Mirren, had enthralled me a couple of days earlier. I'd also read an unauthorised biography on Ian and not been impressed. He has no plans to write his own life story.
"I was offered a contract to write one, but when they told me I had to travel all around the world to appear on chat shows I turned it down. Just talking about myself and not acting. I didn't want that at all," said Ian.
He was impressed that I'd only taken just over two hours to get from the Island to the centre of London. Then he suggested I'd made him feel guilty.
"I was 80 earlier this year (2019) and decided I didn't want a party. I chose to tour 80 theatres so I would not be at home. We even went to the Orkney Islands and Jersey. I feel guilty about not coming to the Isle of Wight. I have been once on a day trip."
Ian, such a charming man, is not full of his own importance. I found him quite modest when talking about his amazing career and he almost played down any mention of his numerous awards. He never went to a drama school but appearing in 21 productions at Cambridge University shaped his future career. The critics from the national papers came in to review their productions and he won rave reviews which proved useful when he decided on an acting career and went for interviews. He was initially inspired by some fellow students at Cambridge, like Derek Jacobi, Miriam Margolyes and Peter Cook, who all wanted to be actors.
"When I started, my ambition was just to be in work. Coming from the north I was never obsessed by London. As it happened, I've gone all around the world working. I couldn't have gone further than New Zealand for Lord of the Rings. It's been a wonderful life and I have been so lucky.
"I've never been out of work, but I was never racing for fame or Hollywood. I was just happy to work anywhere and not worry about the money I got. I just wanted a good play, good director and a nice part."
Ian had some real luck during the run of his first West End play, A Scent of Flowers, which starred Phyllis Calvert. A young actor called Maggie Smith came in to see the show and her friend Phyllis. She was impressed with Ian and recommended him to Laurence Olivier for his new National Theatre company.
During his early career, Ian made a few movies, but it was not until the 90s and beyond that he really began to make a worldwide impact. Appearing in a movie called Apt Pupil led him directly to playing Magneto in X-Men. Then came Gandalf in Lord of the Rings and The Hobbit. Suddenly a whole new generation, who new nothing about his reputation as the world's top Shakespearian actor, had discovered him. Now youngsters love meeting Gandalf. In New Zealand his character's face was on stamps, coins and dolls.
Ian has been a regular on the Graham Norton chat show and he is a little cautious about making too many appearances.
"I don't want to be remembered as the man on the Graham Norton show. Peter O'Toole was very entertaining on chat shows, but when he died people remembered him for being an oddball character with funny stories, instead of for all his great performances.
"I'm going to ease back on Graham Norton shows and, sadly John, ones like this. I'm sure there was a glint in his eye, but I knew where he was coming from.
Many were surprised when he turned up on Coronation Street to play con-man Mel Hutchwright. In fact, he loved it and had such admiration for their regular actors.
"In soaps now, they get more and more episodes. There is no time to rehearse with new characters. You just jump on the train with the rest of them. It was so alluring to be in the same room as those very familiar faces and characters. They are nothing like that in real life.
"It was an absolute joy and an ambition. They were terribly kind to me. I even broke a couple of Emily Bishop's chairs when I sat down. They had been there for the run of the show and I felt very guilty about that."
With that, he was off to prepare for another full house but not before he brought a tear to my eyes with a
couple of unexpected compliments about what I do. They will stay with me forever.
------------------------------------------------------------------------------------------------------
The full interview can be heard on a podcast from all the leading sites. There is also a direct link from
John's website www.johnhannam.com.