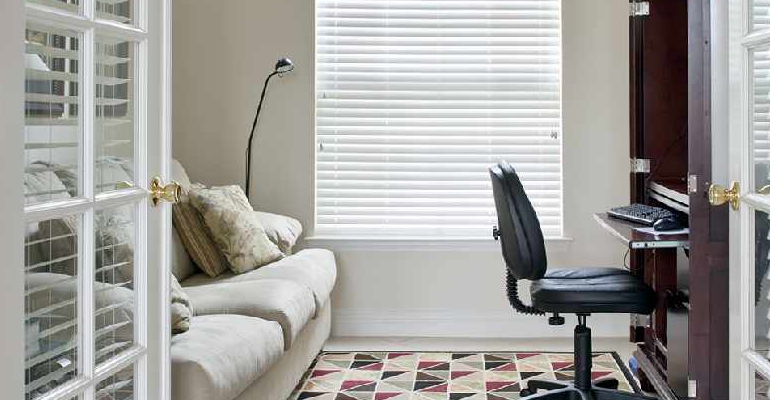 Do you have a spare room that's a bit, well, spare? Lucky you, because there are many new ways you can make good use of extra space in your home
If your children have flown the nest, you've had an extension built, moved home recently or are simply reassessing your needs for space, you may be looking for inspiration on how best to use your spare room. How about these ideas for a little inspiration?
HOME OFFICE
Working from home is a reality for many of us, and the spare room can make a great home office. At first blush, you might think you don't need much: a desk, chair, some shelving – how hard can it be? However, if the room is a multi-functional space, your mantra ought to be 'storage, storage, storage.'
No-one wants to see piles of files on the floor or desk, and being surrounded by clutter is not conducive to a calm, efficient mind. Built-in cupboards, shelving and drawers can work wonders for hiding paperwork and general mess, making the room look pleasant and tidy when the office is closed.
If the room is small, consider a glass desk to give the impression of spaciousness, and do invest in a really good office chair if you spend a lot of time sitting at the desk – your back will thank you.
DRESSING ROOM
Many of us dream of how amazing we could look if all our clothes, shoes and jewellery were organised and accessible. A dressing room is what we need! Storage is key here, so streamline the look with fitted and hanging cupboards along one wall for easy access to everything in your wardrobe.
Keep colours light and neutral and perhaps invest in a full-lenth mirror, so you can get dressed in comfort and style, confident of your appearance before you step out. If the room doubles up as a guest bedroom, a convertible chair bed is a good option, as is a cheval mirror that can be moved elsewhere if necessary.
QUIET SANCTUARY
Wouldn't it be wonderful to have a room where all is calm – a sanctuary from the daily hustle and bustle, a place where you could go to lose yourself in a book, for quiet contemplation or perhaps yoga practice?
A dedicated reading room would be my personal idea of heaven. Obviously, you will need to consider the amount of books to be housed and maybe find a good carpenter to fit bespoke bookcases. Floor-to- ceiling bookshelves can look fantastic, and a whole wall of books will give you that genuine library vibe.
Lighting will be important, and comfort too. A daybed or sofa bed could double up as a guest bed, and don't forget the scatter cushions! Think of having bright directional light for reading, which can be dimmed or switched off altogether when you want to relax completely.
GUEST ROOM
Do you have friends or family to stay a lot? Having a guest bedroom definitely takes the strain out of sofa surfing in the living room! Make it a proper room, giving the same attention to style and decor as you would your other bedrooms, but perhaps keeping to a slightly more neutral colour palette.
If the room is not that spacious, try to fit a (small) double bed in all the same. Alternatively, you might want to consider bunk beds – particularly useful for children and teenagers – or a space saving sofa bed.
HOME GYM
Encourage the whole family to keep fit by exercising at home! But wait: gym equipment can clutter up even the tidiest of homes, and just where do you store your Swiss ball, free weights, kettle bells....?
Whichever way you look at it, an exercise bike or rowing machine in the front room is not a great look, so why not have a separate space where you can be properly set up – complete with TV, sound system, Wii Fit and all the storage you need?
HOBBY ROOM
Whether your passion is sewing, painting, photography or furniture making, a room specifically set aside for you to enjoy your hobby is a fantastic Resource. No need to set up or clear away, you can simply indulge your interests whenever you feel like it.
Depending on your chosen activity, it's important to think about the practicalities here – hardwearing flooring, blackout blinds, a large worktop, special equipment – and plenty of storage is essential.
MEDIA ROOM
Perhaps you've always dreamed of dedicating a room to audiovisual enjoyment – so how about a large-screen TV, mini-cinema, surround sound system or even recording/editing suite?
Sound quality (and insulation!) and media storage are your watchwords here, so you may need professional advice on how to maximise your enjoyment while keeping it private from the neighbours.
A home should provide enough space for all your needs – not just sleeping, eating and socialising. Discover the fun in adapting the space in your home to your particular needs and make the concept of a 'spare' room a thing of the past.