Advertising Feature: Ruth Lawrence recently travelled to Hurstpierpoint to meet Matthew Dale and Dan Powell, whose company, Sussex Stoneworks, has built a reputation for top quality kitchens boasting a dizzying array of quartz, marble and solid granite worktops
Since working from home became the new normal, the kitchen has become the hub of the home, a place to enjoy quality time as well as preparing food.
I wondered how quartz worktops compared to other materials. Matthew and Dan were keen to reveal it requires minimal maintenance; a quick wipe with a damp cloth keeps it clean. It is ideal for busy cooks in the kitchen as it is stain, scratch and heat resistant. Quartz is three times stronger than granite and being man made, it can be produced in a variety of colours or mimic natural stone. Quartz worktops from Sussex Stoneworks come with a ten-year warranty.
A striking sink in the showroom, seemingly made of marble turned out to be an Axix sink; with quartz sides and a brass bottom, just one possibility from a choice of gold, brass, copper, gunmetal and steel. The design blended with the worktop, appearing seamless and easy on the eye.
One of the best-selling products is the Quooker instant boiling water tap. These sleek, integrated taps do away with the need for kettles, and can also supply filtered and sparkling water. Why waste time waiting for the kettle to boil when you can simply turn the tap? The filtered water option negates the use of polluting single use plastic bottles, thus making them eco-friendly. As a registered dealer Sussex Stoneworks supply Quooker taps with a two-year warranty.
Leading electrical supplier, Fraser Forbes of INS-UK, offer touch of a button lighting controls, colours and levels, as well as integrated music, as the user requires.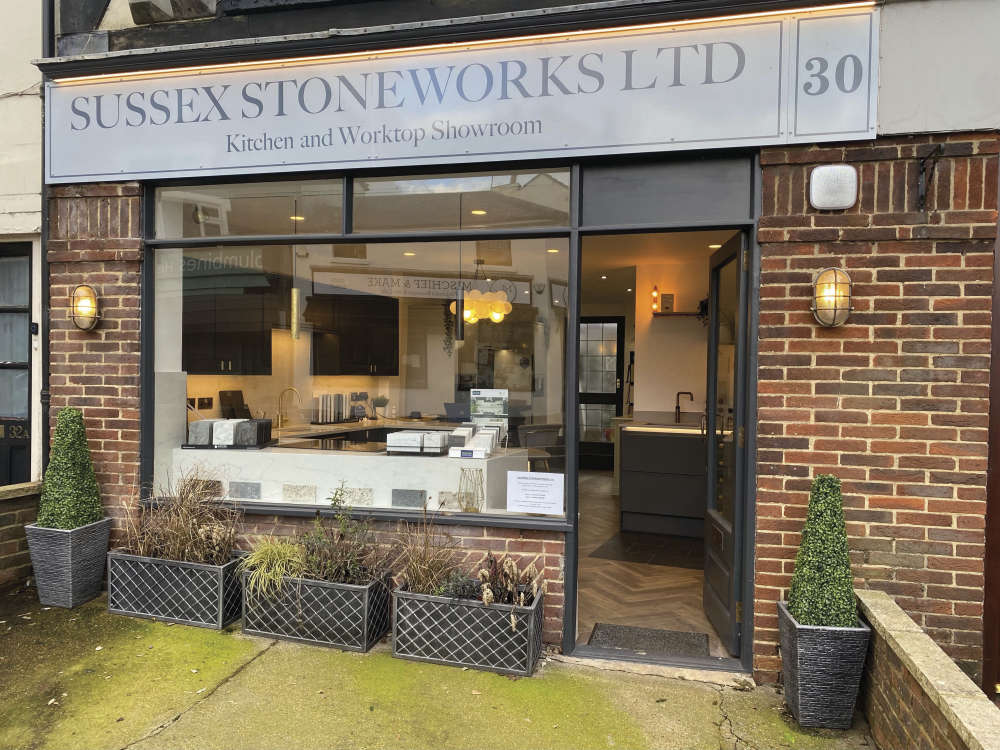 Sussex Stoneworks have been trading for five years and opened their Hurstpierpoint showroom this time last year. It's open six days a week for appointments and Matthew and Dan offer a full design service with a state-of-the-art laser CAD template and 3-D imagery. Quotes are free and jobs can begin within a 2-3 weeks of confirmation.
Worktops take a week to manufacture and about three hours to install so periods of disruption are minimal. Matthew and Dan are members of the Guild of Master Craftsmen and have years of experience in their trade. With third craftsman, Jack Gillin, on board for the last year, Matthew and Dan are now seeking a further employee to help them cope with the increased demand they are responding to, across the home counties.
Sussex Stonework's innovative approach to kitchen design won them the Specialist Home Improvement Business of the Year Award from the Southern England Prestige Awards. The judges were 'impressed by the devotion that Matthew and Dan have in making sure their customers receive the best possible service'.
Although Matthew and Dan specialise in modern retail stonemasonry, they still tackle traditional work like repairing and restoring headstones to their former glory. The team can also re-purpose existing stone worktops to save customers money on needless new purchases.
Whether you are considering a fresh, integrated, high quality kitchen, an energy saving tap or simply an upgraded worktop, get in touch and let Sussex Stoneworks help reinvigorate your kitchen as the heart of your home.
Sussex Stoneworks
Address: 30 High Street, Hurstpierpoint, BN6 9RG
Website: www.sussexstoneworks.co.uk
Email: matt@sussexstoneworks.co.uk or dan@sussexstoneworks.co.uk
Telephone: 01273 526136