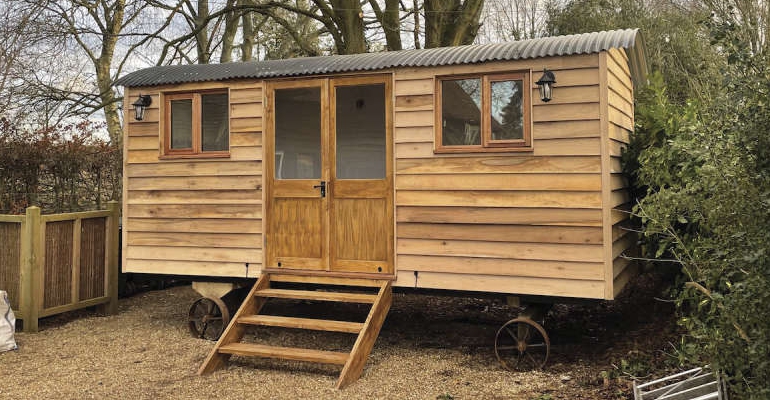 Advertising Feature: Ruth Lawrence recently ventured to Cooksbridge to discover how the White Hut Company has garnered a well-earned reputation for creating beautiful, bespoke shepherd's huts with all the comforts of home
Turning the corner into Ashley White's busy workshop near Cooksbridge, is to come face to face with an authentic contemporary shepherd's hut, clad in featheredge oak with a traditional stable door framing the homely interior. Ashley, who established the company in 2019, explained this particular hut would be heading to the Isle of Wight to be used as boutique holiday accommodation. The huts are also proving a boon to workers. Now that so many people have swapped the office for working from home, a shepherd's hut offers a fully serviced, insulated, heated room, separate from the distractions of the home.
It's easy to see why people fall in love with these modern interpretations of Victorian rural life. With steel wheels, oak axles and a variety of cladding options, the huts are robust enough to become a family heirloom. Hardwood window frames, double glazing, oak flooring, doors and worktops make each hut a visual delight as well as a piece of enduring craftsmanship that will earn its keep for generations.
Ashley and his team of five can supply a hut between 4 and 5.8m (13-19ft) in length and 2.2m (7ft) in width, which can encompass any number of fittings depending on its eventual purpose. For example, the hut could include a woodburning or electric stove, a double bed or bunk beds, a fully equipped kitchen run on electricity or bottled gas, and a spacious shower room. It's possible to go off grid too, with a compost loo option and solar panels. The internal walls can be painted in any colour using traditional Farrow and Ball hues. Any personal specifications and preferences are catered for at the design stage.
The huts can be used all year round; heating options range from solid fuel to underfloor heating, and the full wall insulation ensures that the warmth stays inside, even during the coldest weather. Each hand-built hut takes about a month to construct, and clients are advised to make an appointment to visit the workshop and discuss their individual needs and intentions with Ashley. The huts are delivered by lorry and can be moved into their final position by hand on hard ground or by a 4x4 on soft ground.
Traditionally these huts provided shelter and warmth for shepherds tending their flock during lambing. Ashley's modern-day interpretations are adaptable structures with many uses including; a peaceful hideaway in which to work or relax, a spare room for visiting guests, holiday lets, fishing huts, to a family hang out, and as shelter for the 21st century shepherd. The once humble shepherd's hut has found a lasting new role in contemporary life and Ashley's bespoke interpretations are set to become future classics.
The White Hut Company
Website: www.thewhitehutcompany.co.uk
Email: info@thewhitehutcompany.co.uk
Telephone: 07914 665581
On Facebook and Instagram