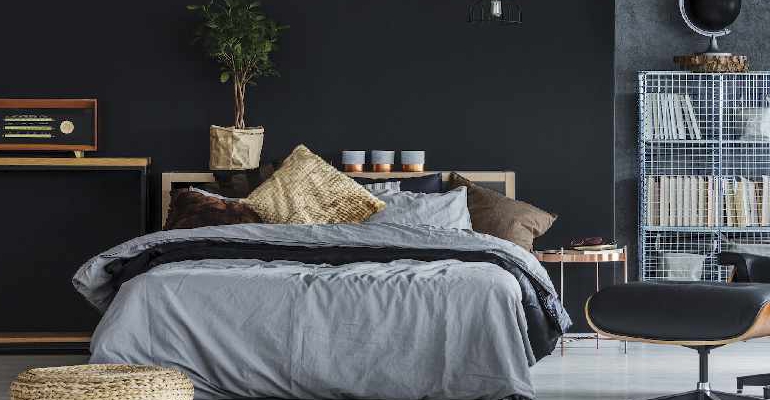 Is your bedroom crying out for a makeover? Take a little inspiration from the latest design trends, as Hanna Prince finds out
It's the first thing you see when you wake up – so why is bedroom decor so often an after-thought when it comes to home design? This is the one area of the house where you can really give your creativity full reign. Bedroom furnishings needn't be hardwearing, easy to clean or super functional. In other words, forget compromise and let your imagination take wing. Need a little inspiration? From cosy Nordic style to flamboyant expressionism, here's our pick of the top up and coming bedroom trends.
MIDCENTURY MODERN
The obsession with simple, clean home designs from the 1950s and 60s shows no signs of abating. Vintage midcentury pieces are hard to come by, but there are some beautiful contemporary reproductions out there. Think minimalist wooden furniture and parquet floors paired with shaggy printed rugs and opulent bed linen. Midcentury modern styles tend to display best against a white backdrop, but you could always mix modes and experiment with another top bedroom trend: 70s-style feature walls.
50 SHADES OF GREY
Grey is the new white when it comes to bedroom design. Don't be afraid to mix and match shades of grey, picking slightly different tints for curtains, bed linen, headboards and floors. It's a trend that works well with the industrial look – slim-legged metallic furniture, factory-style lighting and concrete walls or floors. Use pictures or even pot plants to add a final touch of colour.
NORDIC RETREAT
'Hygge' might have had its day, but Nordic design remains in the spotlight. Cosiness is the key to this look, which is what makes it so perfect for bedrooms. Use textures instead of colours to add interest, draping soft furnishings with sheepskin rugs, woollen blankets, cotton throws and cushions. Opt for a warm, neutral palette, adding impact with a dark accent colour. Finally, ramp up the cosiness with soft lighting and candles.
ABSTRACT EXPRESSIONISM
The antithesis of Nordic comfort, this style takes its cue from the abstract expressionist art movement of the 1940s. It's all about geometrics and bold colours – if you want your bedroom to be fun and flamboyant rather than understated, this is the look for you. Go with punchy colour combinations (red and navy or yellow and mauve) and make a statement with geometric shapes on cushions, duvet covers, rugs and wallpaper.
JAPANDI
Blend elegant Japanese design with the calm and clean Scandi mode and you get Japandi – the interior design trend that's set to dominate home style this year. Clean lines, functionality and simplicity are key. When it comes to bedrooms, that means stripping out nick nacks and opting for hard floors, futon-style beds and zero clutter. Bringing nature indoors with pot plants, climbing greenery or bonsai trees will also help create a Japandi feel. Try organising your space according to the principles of kanso, the Japanese equivalent of feng shui, to complete the aesthetic.
PERFECT PRINTS
Statement wallpaper and fabric prints are making a splash this season. Botanical wallpaper is set to be particularly popular – but it has to be bright and bold. Use it to create a feature wall or spruce up an en-suite bathroom. The aim is to bring nature indoors with tropical leaves, painted palms or zingy flower designs. Scared to commit? Stick-on wallpaper is a great way of experimenting with bold colours without any pressure. If a full wall of florals seems like too much, consider a nod to the botanical trend with printed cushions, blankets or bed linen.
MOODY BLUES
The 2020 Pantone Colour of the Year is Classic Blue – a clear sign that blue tones are enjoying a renaissance. Paired with white accents, navy works on bed throws, walls, cushions and bedside tables. Introducing navy into your bedroom could also be the key to getting more sleep. Researchers have named it the world's most relaxing colour, making it perfect for bedrooms. Luxurious textiles, soft lighting and a clutter-free minimalist style can also help to create a peaceful, serene bedroom environment.