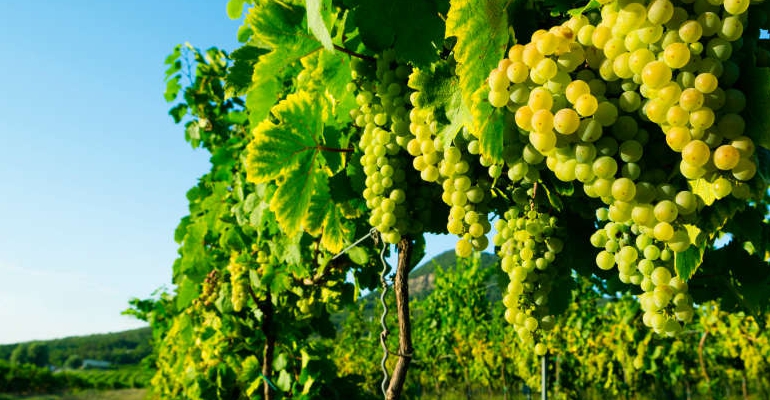 In celebration of the vineyards of Sussex and the fabulous Sparkling Wines produced here, Sara Whatley dives into the world of wine
Near where I live in West Sussex is a vineyard, one of over 50 to grace the hills and valleys of Sussex. Our vineyard, or 'binyard' as it is known in our house ever since my little daughter christened it so, is a beautiful place to visit and is often part of our walking routes. In the past as we wandered by the regimented rows of leafy green vines, we have seen deer resting in the avenues – quiet and secluded – and often pheasants scuttle through the vines, ducking from row to row.
Our binyard is an all stop shop for us – we have visited it for tasting tours, frequently stopped for coffee and cake or a full meal in the restaurant, or if we're feeling decadent it's the perfect place to purchase a bottle of beautiful fizz. I know we are lucky to have such a great resource on our doorstep and it's really heartening to support a local and truly Sussex business.
As I'm sure we are all aware by now, English Sparkling Wine is fantastic, and to my taste buds at least, some of the best sparkling wine in the world. It's winning awards and since the trend for English Sparkling Wine started in the 2000s it has improved beyond belief.
So what it is that makes our sparkling wine so great? "There are two factors," said Martin Lea from Mayfield, a noted wine expert with a WSET Level 4 Diploma from the Wine and Spirit Education Trust. "The soil composition is similar to the Champagne region – the chalk base runs under the Channel and comes up in Southern England. And the warmer summers we are having now ripen the grapes better. Plus, wine estates are investing more into land analysis to better understand where to plant different grape varieties. It's what the French call 'terroir', meaning 'a sense of place,' which is something English wine makers are still learning about."
As Martin talked about the hotter summers I looked out the window at the August drizzle and asked what happens when the sun forgets to shine. "Well, there will always be good vintages and not so good," he laughed. Apparently 2018 and 2020 were extraordinary years, 2019 was good and the last challenging year was 2014. It's the sunshine in August and September which is really crucial, so the 2021 vintage might have a chance yet!
The three main varieties of grapes used for English sparkling wines are Chardonnay, Pinot Noir and Pinot Meunier, the classics used for Champagne too. Pinot Noir apparently grows particularly well in Sussex and produces lovely Blanc du noir still white wines as well. Although still white and red wines are produced on the English shores, it's the sparkling that is making all the noise at the moment.
"I'll be interested to see what is happening with English Sparkling Wines in about 20 years," said Martin, who predicts the trend for them will continue to expand worldwide. "As the vines mature the wine will improve as well. Older vines produce less fruit but the fruit they do produce is more complex and better in quality." This has to do with the deeper roots drawing on the deep water held in the chalky soil. Vines like to struggle, they like to work hard for their living.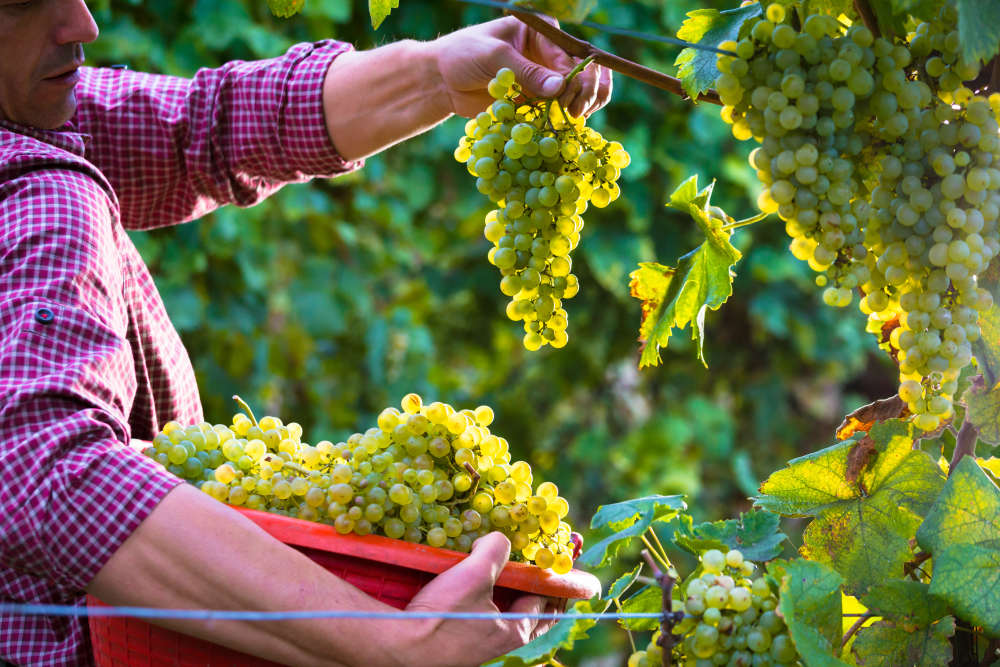 Harvest time comes in September and October, depending on how the summer has been. At our local vineyard the same family of pickers arrive from Europe every year, who are skilled and quick. Martin said he has had a go at harvesting at his local vineyard and it's as simple as snipping off bunches of grapes row by row and popping them into baskets, but it's the speed you do it that counts. Everyone stops for lunch and a glass of sparkling at the end of the day.
Wine tourism in the UK is a growing part of the industry, and with over 50 vineyards in Sussex alone this is the perfect place to enjoy a wine tour. The variety of wine estates make it especially interesting – Sussex boasts the largest wine estate in the UK with 230 acres of vines, as well as small estates who produce just a few hundred cases of top quality wine a year.
Supporting local wine industry is an important part of the story. Not only does it help the wine estates themselves it's also a great step to help the fight against climate change too. Cellar door shops stock their own produce but many are also offering other local products too – cheeses, meats, nibbles and chocolate to name but a few. All perfect accompaniments to a glass of English Sparkling Wine!
Big wine estates are becoming aware of this tourism side of the industry with some offering accommodation on their sites. Smaller estates are often near picturesque villages, towns, pubs or campsites offering a variety of accommodation options. Many estates have lovely restaurants and cafes overlooking their gently sloping vines. As I sit on the balcony having a little something at our local binyard I am filled with that holiday vibe and transported away from the humdrum of everyday life.
This is the perfect year to celebrate the great British Staycation. Farther shores may be less available to us this year, but we can still enjoy a delicious glass and nibbles in the sunshine, in some of the most beautiful countryside England has to offer. Cheers to that.