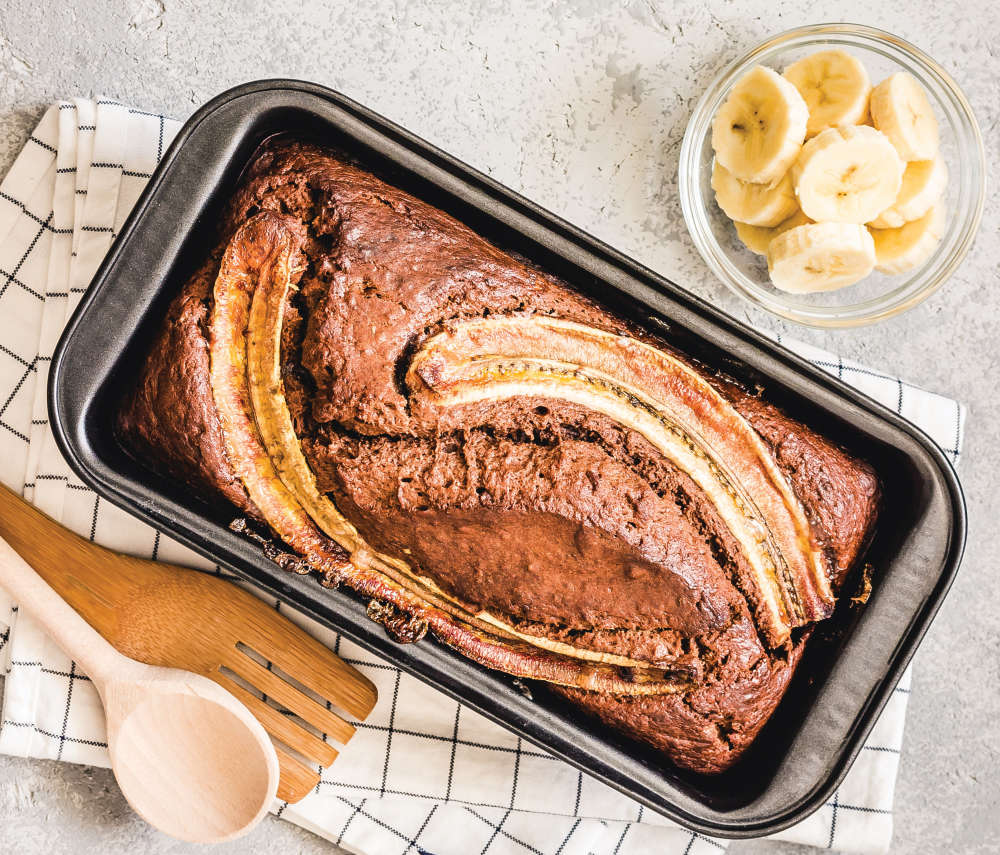 This recipe by Mary Goodsell takes banana bread to a new level with the added flavours of chocolate and coffee. Soft and moist, it's a delicious mid-morning snack with a cup of coffee.
INGREDIENTS:
200g (7oz) plain flour
30g (1oz) cocoa powder
100g (3½oz) golden caster sugar
1 tsp baking powder
1 tsp bicarbonate of soda
180g (6½oz) 70% dark chocolate, roughly chopped
50g (2oz) chopped pecans or walnuts (optional)
2 large eggs (at room temperature)
3 large bananas or 4 smaller ones, mashed (plus 1 extra to decorate)
110g (3½oz) unsalted butter, melted
1 shot of brewed coffee, cooled
or 1tbsp instant coffee dissolved in 2 tbsp water
1 tsp pure vanilla extract
A pinch of sea salt
METHOD:
1. Preheat your oven to 220C/180C fan/Gas 4 setting and line a loaf tin with parchment paper.
2. In a large bowl whisk together the flour, cocoa powder, sugar, baking powder, bicarbonate of soda and salt. Stir in the chopped chocolate.
3. In a separate bowl whisk the eggs. Then add the mashed banana, melted butter, coffee and vanilla extract.
4. Gently fold the wet ingredients into dry, mixing just until incorporated. Spoon the mixture into the loaf tin and top with a banana sliced in half lengthways if you like.
5. Bake for 50-60 mins or until the cake has risen slightly, insert a skewer to check if cooked – it should come out with just a few dry crumbs and some melted chocolate, or when you pierce the cake it should be spongy, rather than sticky.
6. Allow the cake to cool in the tin for 15 minutes before cooling on a wire rack.