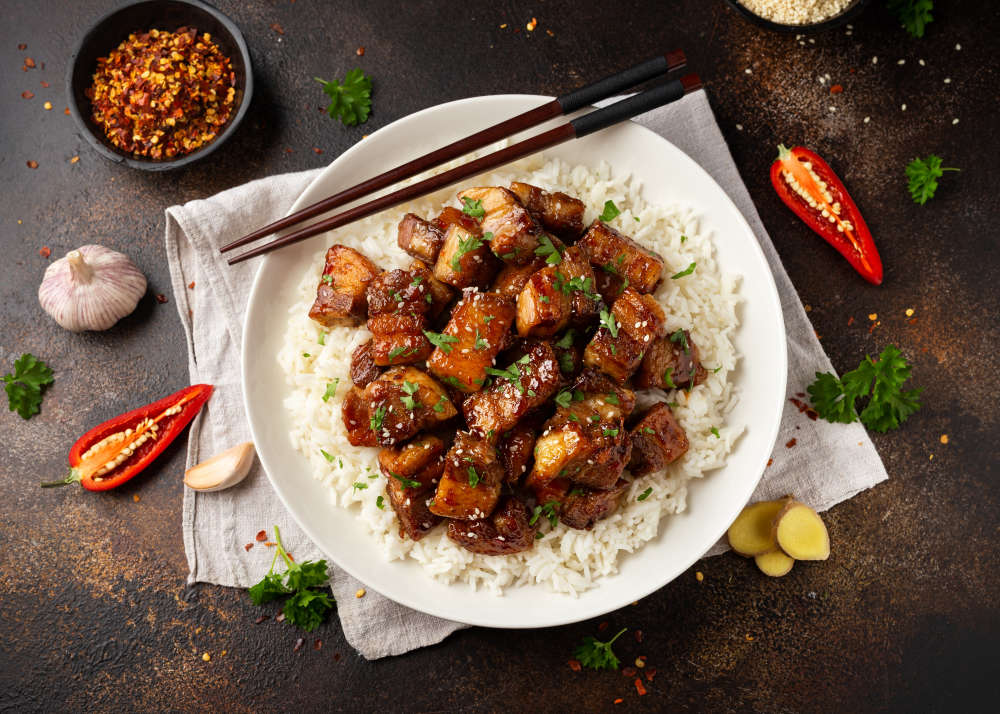 This Sunday (22nd) marks Chinese New Year. So we're tucking in to a traditional Chinese dish, to celebrate the year of the rabbit!
Ingredients:
1 lb pork belly
1 cup soy sauce
1 cup rice wine
1/2 cup brown sugar
2 cloves garlic, minced
1 thumb ginger, minced
1/4 cup green onions, thinly sliced
1/4 cup coriander, chopped
steamed white rice, for serving
Instructions:
In a large bowl, combine the soy sauce, rice wine, brown sugar, garlic, and ginger. Mix well.

Add the pork belly to the marinade and toss to coat evenly. Cover the bowl and marinate in the refrigerator for at least 2 hours, or overnight for best results.

Preheat your oven to 350°F (175°C).

Line a baking sheet with foil and place a wire rack on top.

Remove the pork belly from the marinade and place it on the wire rack. Reserve the marinade for later.

Bake the pork belly for 45 minutes, or until the pork is cooked through and the skin is crispy.

Heat a small saucepan over medium heat and add the reserved marinade. Bring it to a boil and then reduce the heat to low and simmer for 5-10 minutes, or until the sauce has thickened.

Once the pork is done, remove it from the oven and brush the sauce all over the pork.

Return the pork to the oven and bake for an additional 10 minutes.

Remove the pork from the oven and let it cool for a few minutes.

Slice the pork and serve it over steamed white rice. Garnish with green onions and coriander.
Enjoy your dish this Chinese New Year!