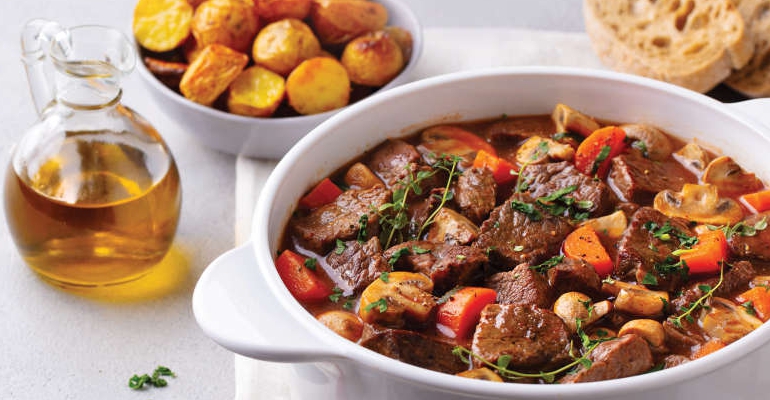 This simple recipe by Adele Trathan virtually cooks itself, but it is deliciously succulent and flavoursome. It's ideal for a wholesome meal when you don't want to be slaving over a hot stove
Serves: 4
INGREDIENTS
1 onion, chopped
1 large carrot, peeled and chopped 1 stick of celery, finely sliced
1 tbsp vegetable oil
1 tbsp water
500g (1lb) stewing steak
150g (5oz) smoked bacon lardons 400ml (14fl oz) red wine
150ml (5fl oz) water
1 tbsp plain flour
1 beef stock cube
2 garlic cloves, finely chopped 200g (7oz) small
chestnut mushrooms
2 tbsp tomato puree
2 bay leaves
1 tsp dried thyme
fresh thyme, to garnish
METHOD
In a medium sized pan add the onion, carrots, celery, oil and water. Put on a medium heat, cover with a tight-fitting lid and sweat for 10-15 minutes until translucent and smelling sweet and succulent. Check occasionally and stir to stop them browning on the bottom of the pan. Set the pan aside, preheat the oven to 180C/360F/Gas 4.
Cut the meat into mouth sized pieces and toss in the flour. In a large pan fry the bacon lardons for a few minutes, then add all the other ingredients including the cooked onion base. Bring to the boil, stirring to mix the ingredients and season well with salt and pepper.
Turn into an ovenproof dish or roasting tin and cover tightly with kitchen foil. Cook for approximately 2 hours, the meat should be lovely and tender. Remove from the oven, the juices will have thickened but if you want to thicken them further, allow the fat to rise to the surface. Then sprinkle over a little plain flour, wait until the flour turns translucent, then tip into a large pan over a medium-high heat and stir until the juices have thickened.
Serve on warmed dinner plates with rice, mashed or roasted potatoes, sprinkle over some fresh sprigs of thyme. This is tasty autumn comfort food.