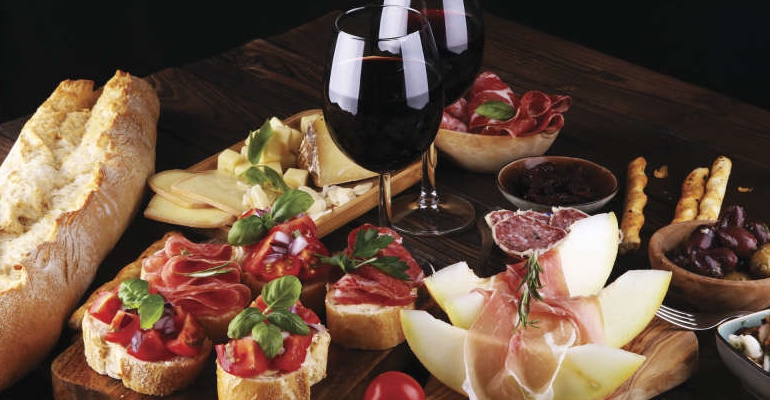 Entertaining can be stressful but there are plenty of ways to make it easy on yourself with some prior preparation as Adele Trathan explains
For an informal gathering the best thing to do is to keep it simple with finger food that guests can help themselves to. These easy to make party recipes can be prepared a few hours ahead of the event, ready be laid out to great acclaim, allowing you as host to relax and enjoy the festivities with your friends and family. It also makes it easy to cater for all diets with vegetarian and vegan options.
BRUSCHETTA
Makes: 12
1 loaf of ciabatta or sourdough bread, thickly sliced
1 garlic clove, peeled
4 tbsp extra virgin olive oil
Simply lightly toast the bread on both sides, then rub with the garlic clove. Brush one side with the oil and toast again until the bread is crisp and crunchy. This is the bruschetta base, to which you add your chosen toppings, and season.
Top Topping Ideas
Ripe chopped tomatoes, clove of garlic, fresh basil (or pesto) and a drizzle of quality olive oil
Goats cheese, caramelised onions and fig chutney or sliced ripe figs
Prosciutto, melon and balsamic vinegar
Sautéed mixed mushrooms, spring onions, thyme and balsamic vinegar
Finely chopped black olives, crumbled feta cheese, oregano and a dash of quality olive oil
PARTY VOL-AU-VENTS
Makes: Approximately 30
500g (1lb 10oz) pack puff pastry
Plain flour, for dusting
1 egg yolk mixed with a tbsp milk to glaze
Pre-heat oven to 200C (390F, Gas 6), line a baking tray with baking paper. Roll out the pastry on lightly floured surface. Carefully cut out approximately 30 squares measuring 6cm x 6cm, trimming off any edges. With a sharp knife score a smaller square inside each one approximately 7.5mm (¼ inch) from outer edge, taking care not to cut the pastry all the way through. Put the cases on the baking tray, brush with the egg glaze and bake for 15 minutes until puffed up and golden. Cool on a wire rack. Once cooled, carefully remove the central section of pastry from each square. These cut-outs can be used to top the vol-au-vent once filled. To serve simply fill with your favourite fillings.
Top Filling Ideas
Flaked smoked trout or mackerel, creme fraiche, horseradish and a squeeze of lemon
Finely chopped onions, garlic and chestnut mushrooms sautéed together and mixed with mascarpone and grated parmesan (or vegan substitutes)
Egg mayonnaise mixed with spring onions, mild curry powder, fresh coriander and topped with mango chutney
Prawns with Marie Rose sauce, mixed with finely chopped cucumber and a squeeze of lemon
Finely chopped sundried tomatoes, sliced olives and pesto
Add a smorgasbord of mixed olives, raw vegetables, pickles and dips, cured and cold meats, cheese and chutneys, bread and crackers.