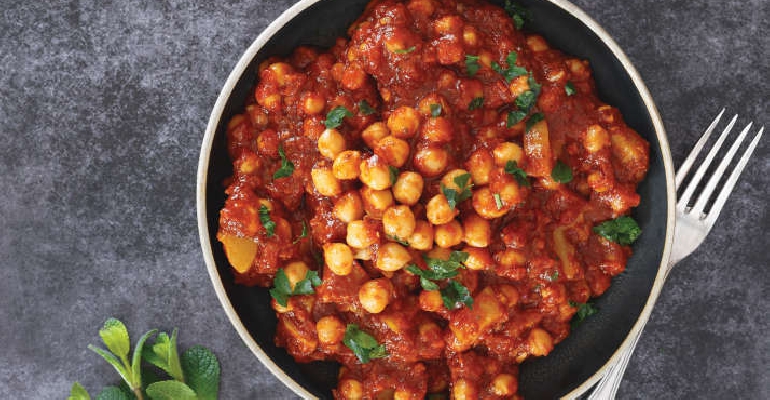 We all love some comfort food especially as autumn approaches and Adele Trathan loves this vegetarian stew. The creamy taste of chickpeas contrasting deliciously with the sharper flavours in this dish, make it a family favourite
Serves: 4
INGREDIENTS
2 x 400g tins chopped tomatoes
2 x 400g tins chickpeas, drained 2 tbsp olive oil
1 red onion, chopped
1 red pepper, chopped
1 yellow pepper, chopped
100ml (3½fl oz) white wine 1 vegetable stock cube
2 tsp harissa paste
1 tsp sugar
1 small bunch fresh mint
125g (4½oz) full fat yoghurt
METHOD
Put the onion and peppers into a pan with the olive oil and cook over a low heat with the lid on for 5 minutes. Then take the lid off and turn up the heat to brown for 5 minutes.
Add the tinned tomatoes, chickpeas, wine, stock cube, harissa and sugar and bring to the boil. Season with salt and pepper to taste. Chop and add most of the fresh mint leaves (reserving 4 sprigs to serve).
Lower the heat and simmer gently for 20 minutes until the sauce has reduced.
Chop the remaining mint and mix with the yoghurt. Spoon into warmed bowls and top with a drizzle of yoghurt. Serve simply with crusty or flat bread or couscous. A warming and hearty meal.