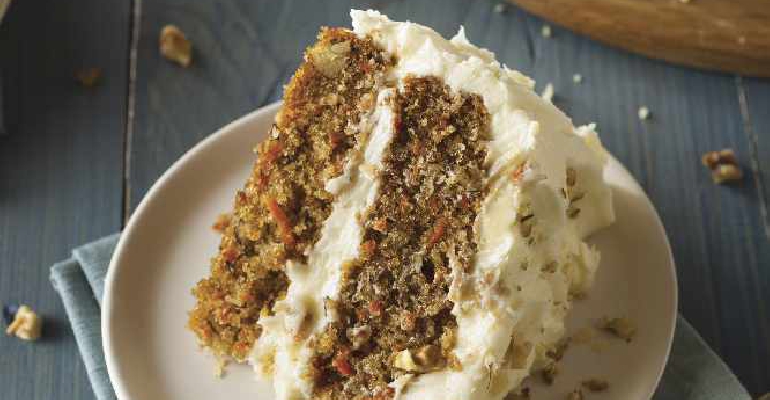 This gluten free carrot cake recipe by Jane Freeman uses honey in both the cake mix and cream cheese topping. Why not choose locally produced honey as it supports the local producers and reduces food miles
CAKE INGREDIENTS
2 medium eggs
250g (9oz) coarsely grated carrots
75g (2.5oz) raisins
Zest and juice of 1 small orange
35g (1.25oz) honey
125ml (4fl oz) sunflower oil
60g (2oz) soft brown sugar
40g (1.5oz) golden caster sugar
1 teaspoon gluten free baking powder
1½ teaspoon mixed spice
215g (7.5oz) gluten free self-raising flour
TOPPING INGREDIENTS
300g (10.5oz) cream cheese
75g (2.5oz) icing sugar
50g (1.75oz) runny honey
20g (1oz) melted butter
METHOD
Preheat the oven to 180C fan/200C/Gas 6. Grease and line 2 x 8 inch sandwich tins.
In a large bowl, soak the grated carrots, raisins and orange zest in the honey and orange juice.
In a separate bowl, whisk the eggs and sugars until pale and light, add the oil and stir in the flour, baking powder and mixed spice.
Gradually fold the carrot mix into the batter. Divide the mixture equally between the two prepared cake tins.
Bake in the centre of the preheated oven for about 17 minutes or until golden and risen, the cake should be springy to touch and a metal skewer inserted in the middle should come out clean.
Leave in the tin for 5 minutes, then turn out onto a wire rack to cool.
Meanwhile, make the topping. In a bowl mix all the ingredients together and place in the fridge until ready to use.
When the carrot cake is cold, use half the topping to sandwich the two cakes together, and the rest to decorate the top.
The cake is best eaten on the day it is made.