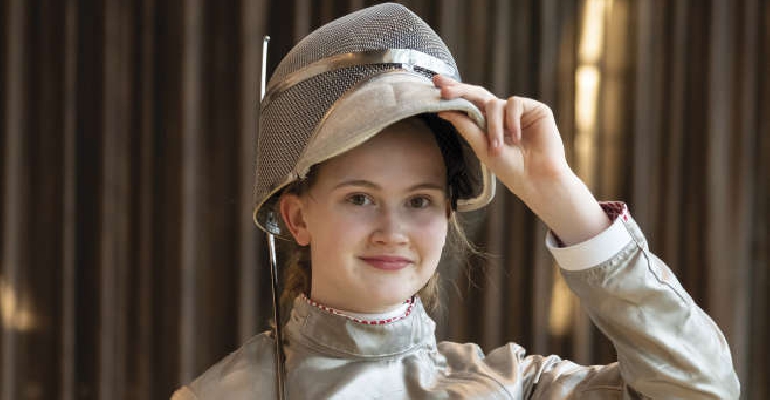 Fifteen-year-old fencing champion from Haywards Heath, Keira Donnelly-Sallows puts down her weapon for a brief chat with Sara Whatley
Fencing is Keira's happy place. "It's everything to me," she told me when I met the 15- year old fencing champion. Keira Donnelly-Sallows has been fencing since she was seven. She started at an after school club enjoying both the disciplines of foil fencing and sabre fencing. "Keira had a very encouraging teacher, who also used to be a fencer herself," Keira's mother, Kerstin told me.
Keira's potential was spotted and she was encouraged to join a fencing club outside of school. Here she continued training with both weapons until it was time to make the difficult decision to specialise in order to gain selection for the Under 17's GBR Cadet Women's Sabre team. "It was a heart decision to choose sabre, and I'm so glad I did," Keira said.
Last year was Keira's first season and she participated in three international competitions. "We went to Hungary, Romania and Bulgaria. It was so valuable in my first cadet season to get some international experience fencing for GBR," she explained. This season Keira will be competing more; participating in domestic and international competitions as an individual and part of the GBR team. "Last year was really stressful travelling with Covid-19," she said. "I just tried to stay positive and do my best. It's pointless getting nervous all the time, you just have to push through and train harder." Keira has a motto of 'fencing to my potential', rather than focusing on winning or losing.
There are three competitive scenes in fencing: foil, épée and sabre. Each uses a different weapon and has different rules. Keira explained that points are scored in foil and épée with a hit from just the tip of the weapon, whereas in sabre any part of the sword can be used to make a hit. As such, Keira said that "sabre is much faster and more calculated with less margin for error."
As we speak Keira is ranked 3rd as a Cadet (U17) and 7th as a Junior (U20); she has recently won the British Youth Championships (U16) in Women's Sabre, which required her to win the SE Regional Championships to qualify. Keira is also proud to have won the English Youth Championships (U15) – there are already a lot of medals around this girl's neck!
Every week sees Keira training three or four times at her club, MX Fencing. She spars and fences one-on- ones under the guidance of her coaches, Phil Shepherd-Foster and Rob Partridge. "I have loads of friends on the circuit," she said. Although, she explained, it is difficult to fence against your friends because they know your game and style so well.
Dedication to the sport comes naturally to Keira as she loves it so much. "It's everything to me; friends, community, fun, a place to relax. Although my emotions are heightened when I'm competing I love it and really enjoy it." When not fencing, Keira and her friends like to sample bubble waffles all around the world!
There are sacrifices that have to be made, however; for example sometimes Keira has to miss out on parties, but she said her friends understand and it's a small price to pay for all the enjoyment she gets out of fencing. She also has to do her schoolwork on the move sometimes. "My school, Brighton College, are really understanding and supportive. They give me time off when I need it," Keira told me. Next year she will be doing her GCSEs but she's confident of staying on top of her work. "I always catch up and communicate with them if I'm behind, then they don't mind so much!"
Proud mother Kerstin added, "Keira is a diligent student – self disciplined and motivated and mature in her communication." Qualities which I'm sure serve her well on the fencing piste (the surface on which the sport takes place) as well.
And looking to the future? Keira has her sights set on the Brisbane 2032 Olympics and she is being supported in this long-term goal by the British Fencing Athlete Development Programme, with values based on honesty, teamwork, excellence and respect. It exists to support athletes who have potential to achieve Olympic success and inspire others. There is a belief that better people make better athletes; so it is athlete centred, development driven and competition supported. This enables Keira to take part in three or four camps each year, be surrounded by some of the top fencers and coaches in the country and really work on both her individual game and teamwork too. They also learn about nutrition, drugs education, mental health, and receiving constructive feedback.
Keira is working hard towards qualifying for the European and World Championships this season, and is clearly focused, in the zone and totally in her element. This young lady is one to watch.