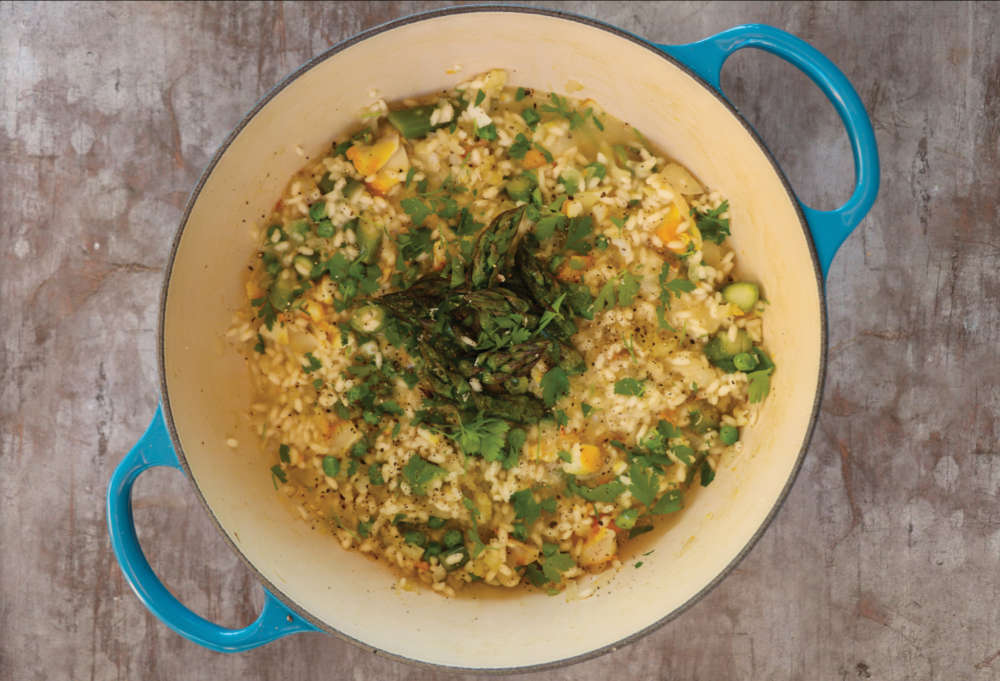 This deliciously warming dish by Mary Goodsell is perfect for the autumn months. This is an easy to throw-together risotto that works equally well using leeks, if you would prefer to use more seasonal ingredients.
SERVES: 4
INGREDIENTS:
325g (11oz) Arborio Rice
1.3 ltr (45fl oz) chicken stock
500g (17oz) smoked haddock
2 tbsp good quality olive oil
200ml (7fl oz) dry white wine
50g (2oz) unsalted butter
1 large white onion, finely chopped
3 stalks celery, finely chopped
1 bunch asparagus, ends removed or 3 leeks, trimmed and finely sliced
50g (2oz) parmesan, grated
100g (3½oz) frozen peas
1 bunch flat leaf parsley, finely chopped
1 lemon, zest and juice
Black pepper and sea salt
METHOD:
1. Heat the stock in a medium to large pan until just simmering, then remove from the heat and add the haddock. Cover and leave to poach for 5 minutes, then scoop out onto a plate using a slotted spoon. Flake into large chunks, discarding any skin or bones. Keep the stock warm.
2. Heat the butter in a large, deep frying pan or shallow casserole, add the onion and celery with a pinch of salt. Cook gently for 10 minutes until soft.
3. Stir in the risotto rice and mix really well for a minute or two, to ensure each grain is coated in the butter. Pour in the wine and simmer until reduced by at least half. Then add the stock, oneladleful at a time, stirring constantly and only adding more once it is fully incorporated.
4. Add in the chopped asparagus or leeks, after 10-15 minutes of cooking, keep tasting the rice – it should be cooked but with a very slight bite. You may not need all of the stock.
5. When the rice is cooked, gently fold in the haddock, parmesan, peasand a squeeze of lemon juice. Season well and add the chopped parsley, then remove from the heat to sit for 5 minutes. Stir again gently, then top with the lemon zest and more parsley and black pepper to serve.