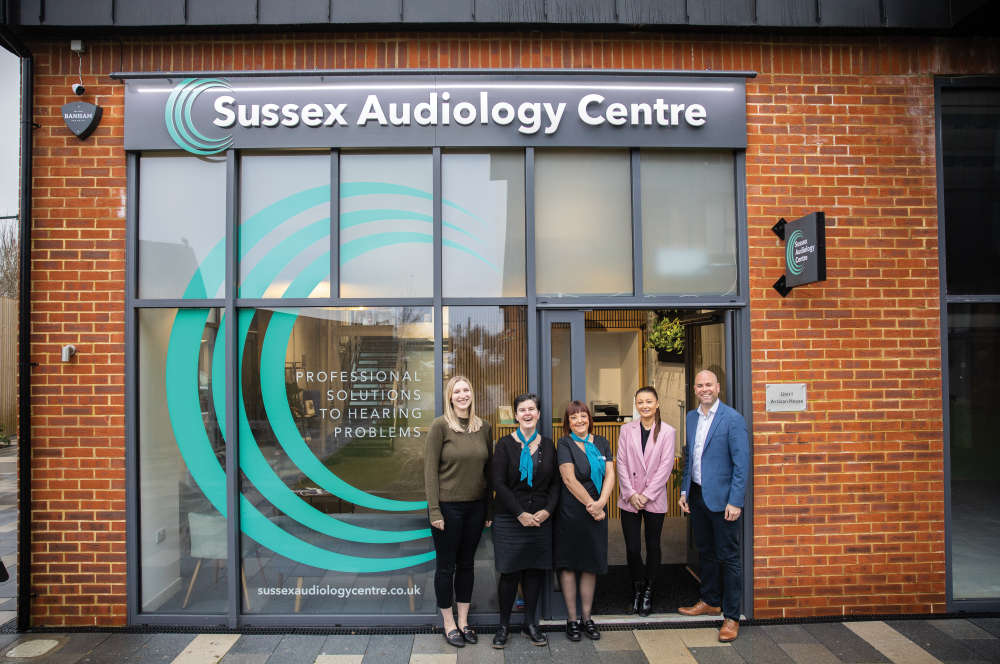 Sussex Audiology's new Lewes clinic only opened at the beginning of the year, but it already feels like an established part of the local community. Arriving in the light, greenery-bedecked reception, I'm greeted by huge smiles from medical secretaries Lisa Combs and Gail Saunders. Audiologist Jade Hensby is waiting for her first appointment of the morning, but she still has time to take me on a tour of the new, state-of-the-art clinic rooms.
"We're using the highest-quality medical equipment," she said, pointing out the wall-mounted microscopes. "There are three rooms here, and they're all fitted out to the highest standard."
The Lewes clinic is the latest chapter in the story of an established local family business. Sussex Audiology was started by leading ear, nose and throat (ENT) surgeon Bob Tranter in 1996. He passed the business on to his son, Ben, in 2015, and last year Bryce Murphy came on board to take over the operational management. Bryce has overseen an exciting period of growth and development – Lewes joins a family of pre-existing clinics in Hove, Haywards Heath and Goring-by-Sea, and there are already plans for further expansion to surrounding areas. The team has grown from 7 to 20 people and there are three new staff at the Lewes clinic alone. They will be working alongside audiologist Cathy Colclough from the Hove clinic and hearing care assistant Laura Nelson, who joined Sussex Audiology as a medical secretary and is currently being supported through her audiology training.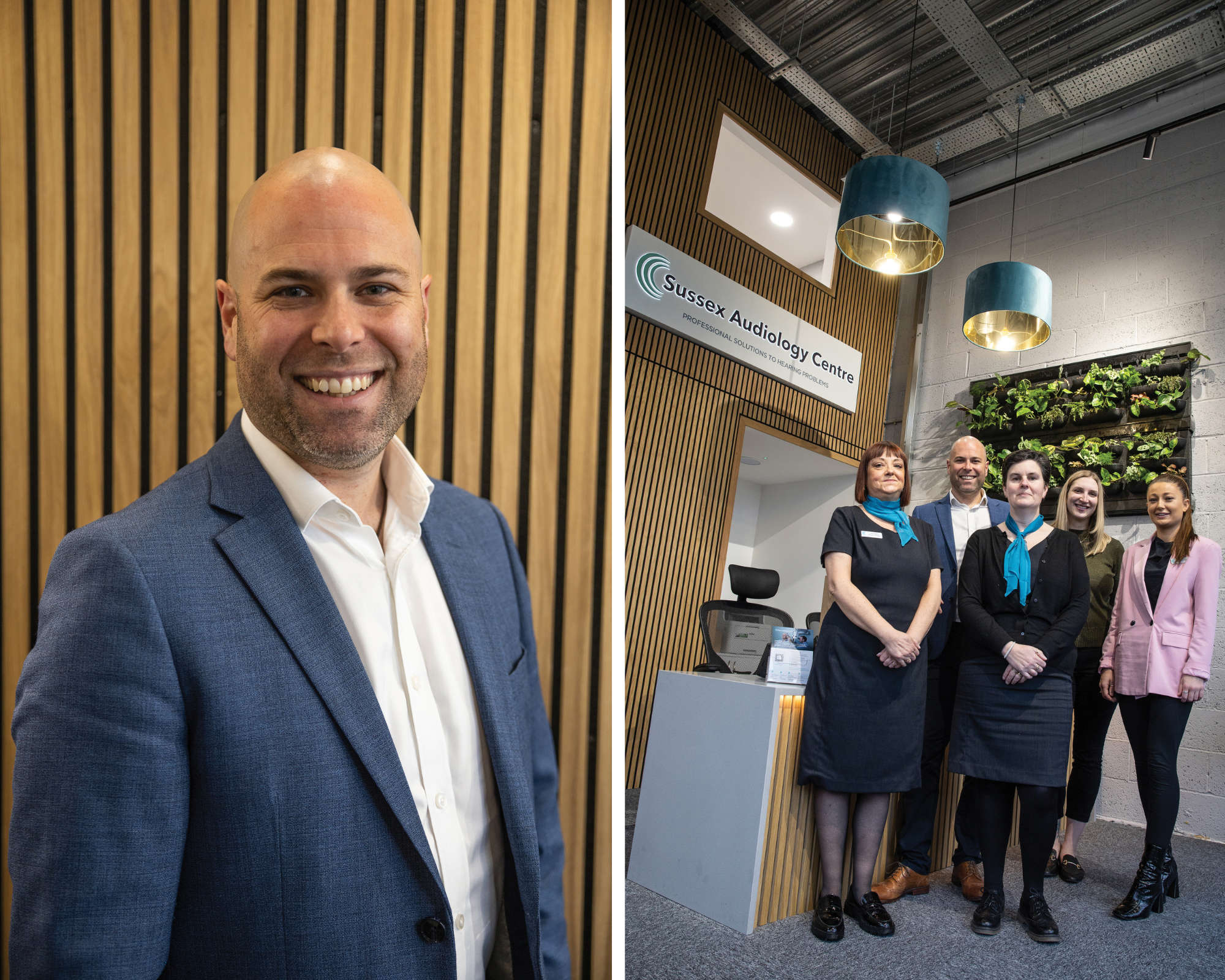 There must be a high demand for the services the business offers, I suggest to Bryce over a cup of tea in the chic, industrial-style loft of the Lewes clinic. "We offer a really wide range of services," he explained, "and we really do go above and beyond the high street brands."
The core elements of Sussex Audiology's offering are hearing tests, hearing aid assessments and the fitting of hearing aids, as well as wax removal via micro-suction. As a respected and established business they receive a large number of referrals from ENT surgeons, performing everything from medical and diagnostic hearing tests to tinnitus therapy.
Bryce is keen to emphasise that Sussex Audiology is focussed on the needs of the local community. As well as clinic-based services, they also have a domiciliary audiologist on the team who offers home visits Monday to Friday. "This benefits a wide range of people who are restricted by mobility or learning disabilities," he explained. "We offer visits to both private residences and residential care homes, and we cover a good region of Sussex – around a ten-mile radius from both Hove and Goring."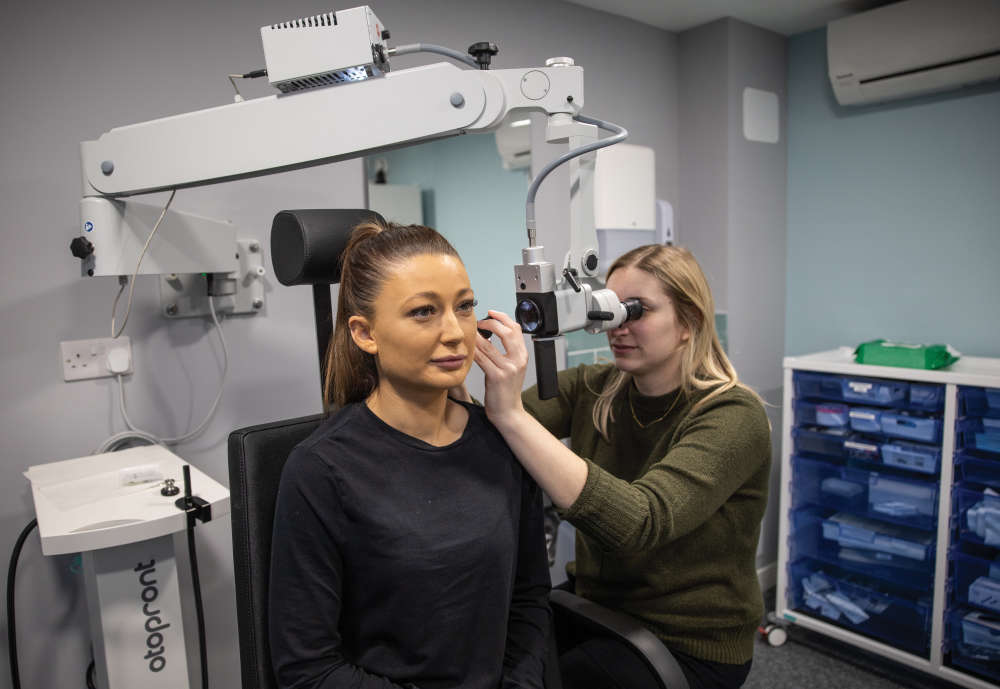 So, when is a visit to Sussex Audiology in order? Bryce says that looking after your hearing is just as important as treating hearing loss. It's particularly crucial for those whose jobs and leisure activities involve exposure to loud noises – so don't wait until you experience issues to book an appointment. Sussex Audiology offers custom hearing protection, made by taking impressions of the ear with silicon putty. Custom swim plugs are available as well, and – particularly interesting to insomniacs such as myself – custom sleep plugs. Affordable and long-lasting, these can avoid the discomfort that's common with ill-fitting off the shelf ear protection.
If you think that you might already be experiencing hearing loss, free hearing tests are available at every Sussex Audiology clinic and through the home visit service. With no-obligation, independent advice on offer from experienced audiologists, you can decide on the treatment plan that works for you. And don't panic – if you do need a hearing aid, not only do they come with a 45-day money back guarantee, they are also far more sophisticated and aesthetically pleasing than you might expect.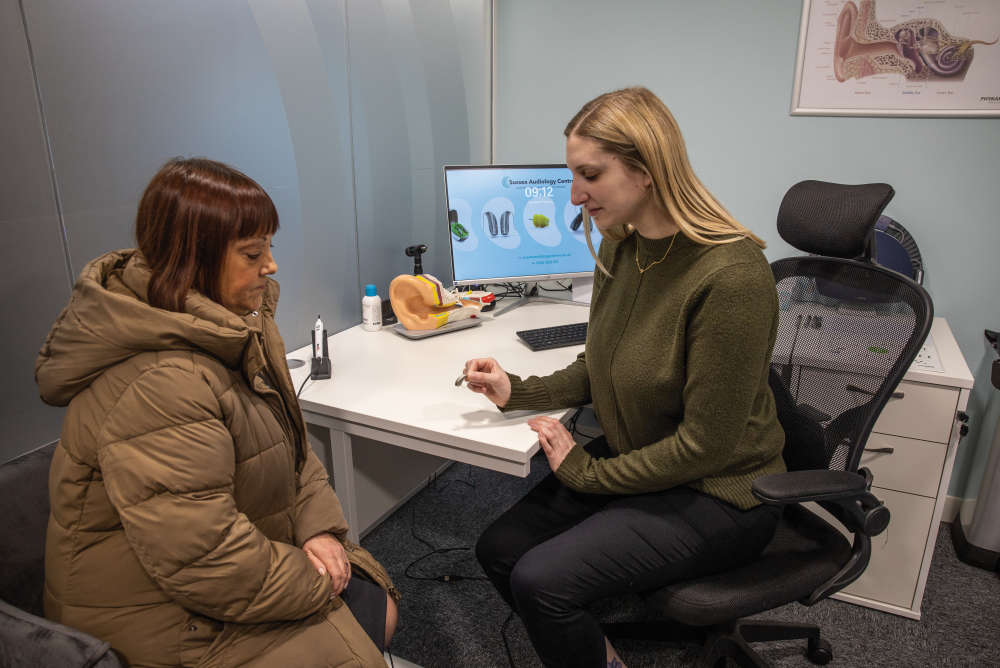 "We have a range of hearing aids available, many of which sit so discreetly in the ear that you can barely notice them," Bryce said. "Most can be charged wirelessly, so no fiddly little batteries. The technology is much more sophisticated now as well. Hearing aids can be programmed to pick out foreground and background noise in all sorts of environments, as well as offering Bluetooth connectivity to phones and televisions."
Getting familiar with a new piece of technology can be challenging, so Sussex Audiology are also poised to launch a comprehensive aftercare service for all their patients. This will include take-home literature with links to explanatory videos on hearing aid care, as well as aftercare packs – all complimentary with any purchases. There's support for patients every step of the way, and the results can be transformational.
"Treating hearing loss can change all aspects of your life, from your work to your social life," Bryce explained. And he points out that this doesn't just extend to age-related hearing loss. "Hearing loss can be noise-induced or genetic, or it could have other causes in children such as glue ear. One of the things that sets us apart is that we offer paediatric hearing tests and a range of paediatric services for kids aged four upwards," he pointed out.
On the way out, I stop to book an appointment of my own – after years of pressure headaches from off-the-shelf ear plugs, I've decided to invest in my very own custom sleep plugs. I've been impressed by the range and extent of the services offered at this sleek new clinic, and as I leave I can't help noting that it's conveniently placed as well. With free Tesco parking just next door, my car is only a few short steps away. A nice little bonus.
Sussex Audiology
Unit 1, Artisan House, Brooks Rd, Lewes BN7 2YJ - 0330 3203 413
17-19 Montefiore Rd, Hove BN3 1RD - 01273 778977
Nuffield Hospital, Burrell Rd, Haywards Heath RH16 1UD - 01273 778977
313 Goring Rd, Goring-by-Sea BN12 4NX - 01903 243300
info@sussexaudiologycentre.co.uk
www.sussexaudiologycentre.co.uk