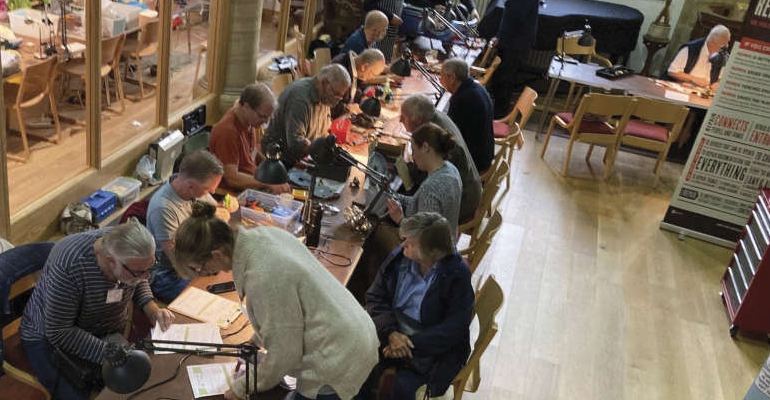 Recent years have seen a resurgence to restore and repair rather than replace, Peter d'Aguilar spoke to Bryan McAlley, founder of Chailey Repair Café about this thriving initiative that brings communities together
What to do when one of your valued possessions breaks? Throw it away and buy a new one? Or find a way to repair it? No prizes for knowing which option is cheaper and better for the environment. But surely the cost of repair can be prohibitive? Not necessarily, thanks to the two thousand, three hundred and eighty-three Repair Cafés that have sprung up all over the world since Dutch journalist, Martina Postma, created the first one in the foyer of an Amsterdam cinema back in 2009.
During the Second World War, in response to the shortages of clothing and other essentials, the government launched its 'make do and mend' campaign. Today we face different challenges, in particular, climate change and the rising cost of living. By restoring essential or cherished possessions such as furniture, clothes, electrical appliances, garden tools, bicycles, crockery and toys – the not-for-profit Repair Café initiative is making an important contribution towards saving the pounds and saving the planet.
Founded in 2018 by Bryan McAlley, the thriving Chailey Repair Café is one of over 20 dotted around the county of Sussex and more than 200 across the UK. In tandem with his career, Bryan, a retired civil servant, had always been a talented and enthusiastic amateur engineer – repairing and rebuilding radios, record players and other electrical items in his spare time. Bryan's son first brought the Repair Café phenomenon to his attention and, having first volunteered at the Forest Row and Horsham Repair Cafés, he set up the Chailey branch in the local village hall.
"The demand has been so great, we have now moved to a larger site at St Peter's Church," Bryan explained. "We now have 37 volunteers and around 160 people attend each of our monthly sessions. Our record is 90 repairs in just 3 hours."
Each household in England generates one whole ton of waste every year, which adds up to 31 million tons in total – the equivalent of 3.5 million double decker buses. Much of our modern equipment carries the curse of built-in obsolescence, so anything that can be done to ameliorate the effects of our throwaway society is of benefit to the environment. People find themselves forced to throw out broken items because they lack the right know-how, confidence or tools to repair these things themselves, or the funds needed to replace them, or to have them mended professionally.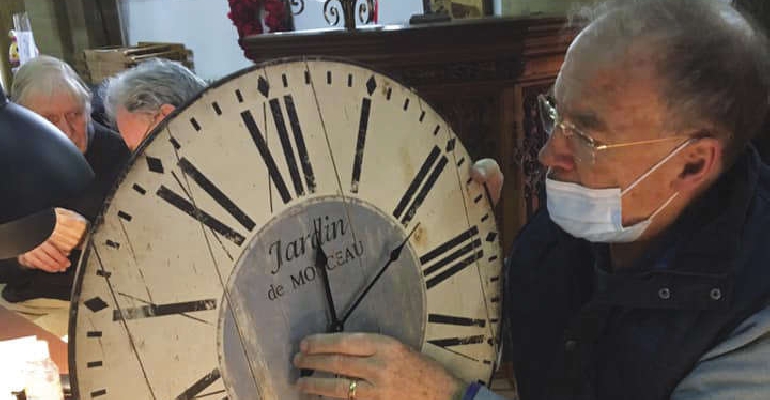 Like so many organisations, Chailey Repair Café had to put its formal operations on hold for 16 months during the Covid-19 crisis, but its volunteers still managed to take in items dropped off on their doorsteps. Normal service resumed in June 2021 and has been operating at full capacity ever since – on the second Saturday of each month.
During the past four years, the team has tackled some intriguing projects. For instance, amongst the many teddy bears they have brought back to life, they found that one was stuffed with silk stockings from World War II. They also repaired a dress partially handmade from parachute silk by a mother, for her daughter to wear on VE Day, 1945. She lived just long enough to see her son return from a POW camp. His daughter now has the restored dress. Another interesting exercise was the revival of a Victorian motion picture viewing machine with a drum containing over 120 photos, including one of the owner's mother on a see-saw.
"Chailey Repair Café always has a very positive social buzz," said Bryan. "We are all enthusiasts of a certain age with practical skills in many different fields. As well as the satisfaction of achieving a successful outcome, we are also promoting social cohesion in our local community. One of our volunteers is 90 years old and worked on the creation of the original hovercraft with its inventor Christopher Cockerell."
Visitors to the Repair Café bring in their broken items, fill in a form and can either work with the specialists to undertake the repairs or watch them in action and pick up useful tips. While perfect outcomes can't always be guaranteed, a high percentage are completely successful. Every visitor is offered a tea or coffee and a slice of homemade cake.
"It's all about ensuring a sustainable future and a circular economy," explained Bryan, "making sure raw materials are reused again and again."
While there is no charge for the repairs, any voluntary contributions are gratefully received and recycled into equipment, materials and refreshments.
Sessions are generally on the second Saturday of each month, between 10am and 1pm, at Chailey Repair Café, St Peter's Church, Chailey Green BN8 4DA.
Search for – Chailey Repair Café – on Facebook to see examples of their restorative work
For more information email chaileyrc@gmail.com