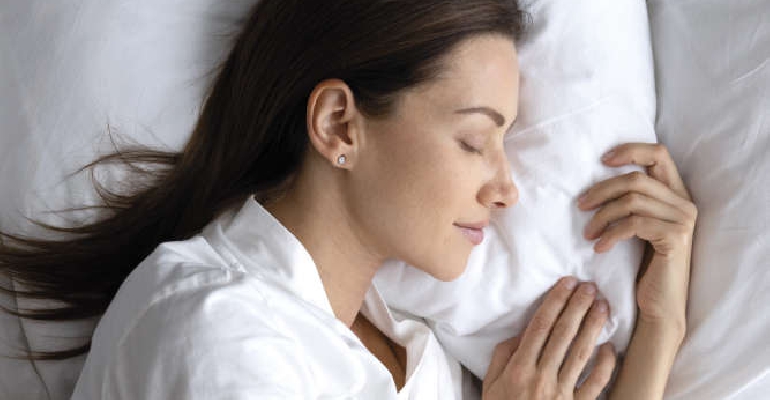 What's the connection between how our bedroom looks and how well we sleep? Well, it's everything! Sara Whatley explores good bedroom hygiene and great sleep
The bedroom should be the most relaxing, peaceful and serene room in the house, but all too often it is used as a storage dump, stuffed to the gills and verging on a hoarder's paradise. It is also often the last room in the house to be decorated, as it is not on public display. Worst case scenario, it is forgotten about all together and left as simply 'good enough'. If your bedroom has slipped from heaven to hell, then it might be time for a well needed revamp.
Redecorating a bedroom is more than simply aesthetics, however. The very quality of our sleep can be affected by our nighttime surroundings. A chaotic and stressful environment can have a negative impact on sleep, and conversely, you may find yourself easily drifting off in an organised and calm atmosphere.
There are many different elements of bedroom decoration, including the bed, chic storage solutions, colour schemes, and environmental elements such as light, sound and temperature.
As with all redecoration projects, there are different ways to approach this. Is it time to go in for a full overhaul, or pick and choose the priorities that make small but impactful differences to your bed space… and headspace?
Just remember, your bedroom is your own personal zone, so really make it into a space you love. Try to keep work and gadgets out of the bedroom to promote a truly Zen and restful atmosphere.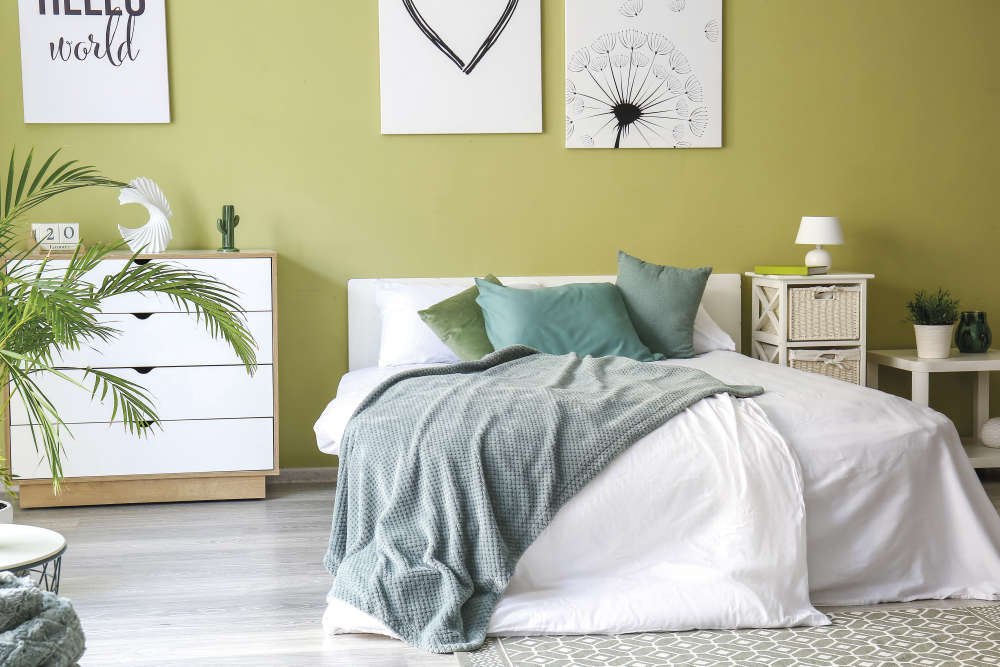 THE BED
Let's get straight to the heart of the room and jump on the bed. On average, we spend a third of our lives asleep, that's about 27 years over a lifetime, so it's really worth investing in a comfortable mattress. Try before you buy and find your perfect mixture of foams and coils, support level and pressure relief for a totally relaxing night's sleep.
Bedding also plays a big part in sleep quality. Consider the thickness and texture of pillows to provide neck support and comfort; match duvet tog rating to the season to ensure a comfortable sleeping temperature and think about the sheets as well. In winter we need warmth and snug textures, and in summer we need crisp cool sheets to keep us feeling chilled.
If you have difficulty sleeping, weighted blankets may help. This pressure therapy mimics the experience of being held or hugged and will make the sleeper feel secure and safe.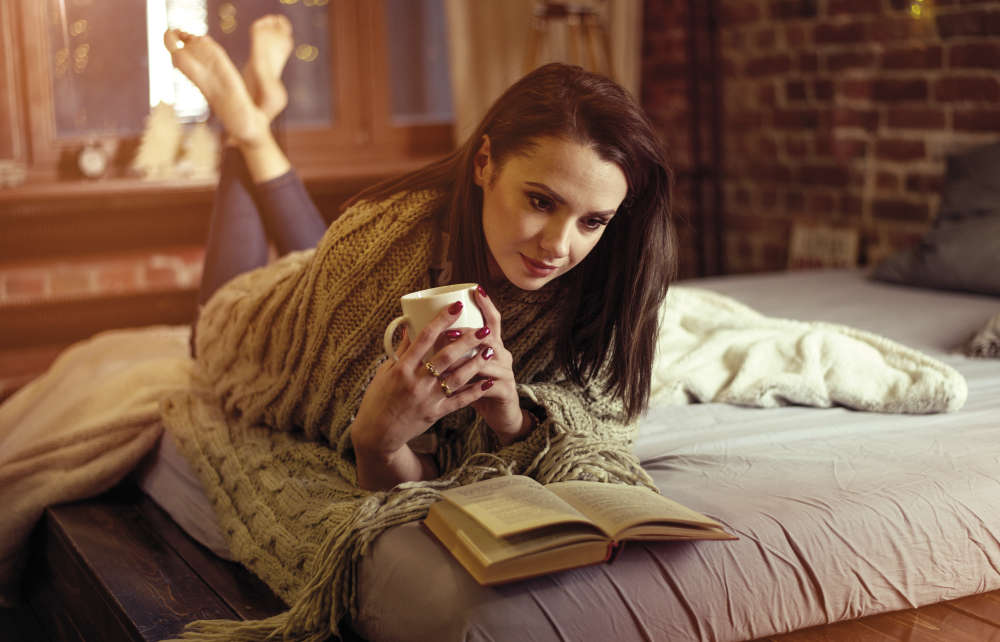 REDUCE CLUTTER
A clean, organised and clutter free bedroom not only looks great and functions well, it also promotes relaxation, calm and tranquillity, all things that can aid with good sleep.
Storage solutions come in the form of shelves, draws, and wardrobes, under bed storage, Ottoman beds, and stylish trunks, boxes or baskets. The key thing is to reduce visual clutter, which means finding a home for everything and trying to be disciplined about keeping it there.
Keeping the floor as clear as possible will make a room appear bigger and will generally help to keep the bedroom a stress free and trip free zone. Ideally, every action in the bedroom – from moving around the room to finding your socks – should be frustration free. Less stress equals more sleep!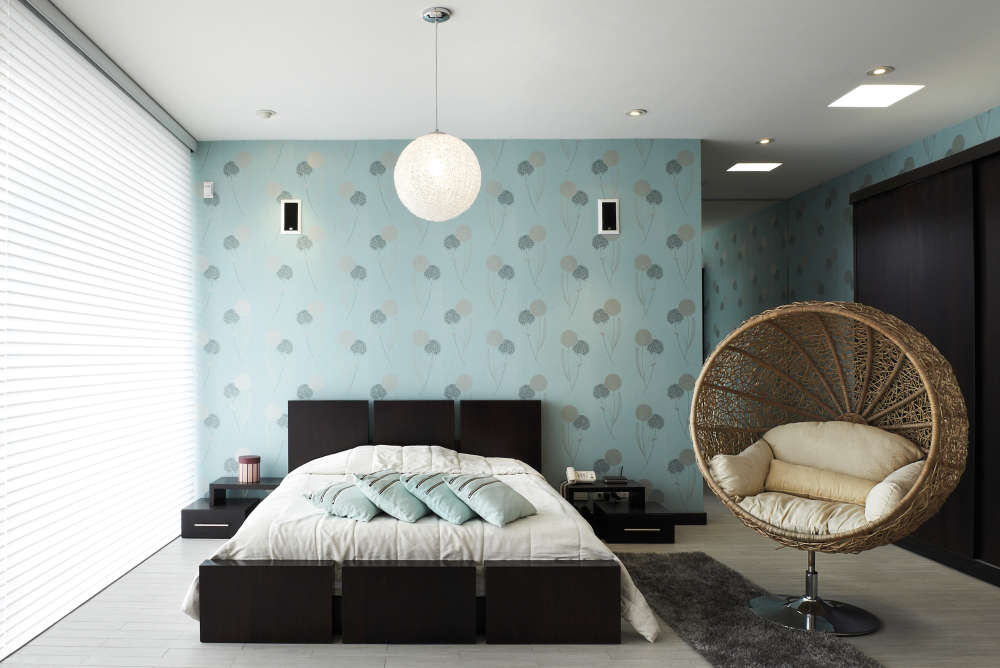 DESIGN
Your bedroom should be your haven; restful, positive and cosy, a place where you can totally relax and feel at home. Fill it with family pictures, meaningful art, books you love, candles, and inviting pillows and blankets, then lie back and drift off…
Colour is a key element in bedroom design. Blue is favoured as a consistently popular colour for bedrooms, from pale denim to deep navy, and everything in between. Tonally similar is green, another relaxing and refreshing colour. Greens speak of connections with nature (as do blues) and blend well with other colours such as grey and yellow.
For those after a little more warmth in their bedroom pinks, blush and dusky plum tones can provide that. Try layering different shades to bring a real depth of colour into your space.
And of course, a light and airy neutral or white colour scheme always brings a sense of calm and crispness. Add highlights of colour with soft furnishings or keep it white and wonderful.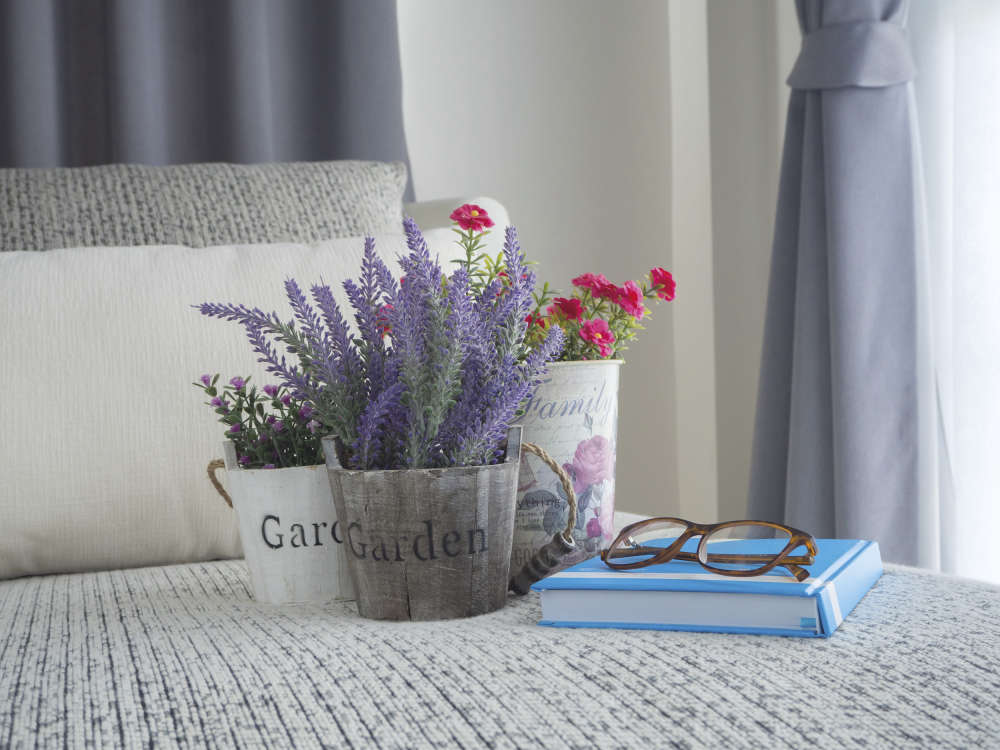 ENVIRONMENT
It's harder to control environmental elements in the bedroom, but we can certainly have a go. Keep light at bay with blackout blinds behind curtains, which are especially good for children's rooms. Closing curtains against strong sunshine can also keep the room cooler. If light is still a problem for sleeping, try a sleep mask – mine is filled with lavender and sends me to dreamland in no time at all.
Sound; although not always possible to control this element, most houses have a quieter side and a noisy side. Try to get your bedroom on the quiet side. Failing that, squeeze in some earplugs.
The right smells can help you to drift off; aromatherapy pillow and room sprays may aid a good night's rest. Lavender is the classic scent for relaxation, but others you might want to try include rose, geranium, and chamomile.
The temperature and air quality of your bedroom can make or break a good night's sleep. We all know tossing and turning on a sweltering summer's night brings us little rest, whereas a cool room can bring about deep sleep and relaxation. Try sleeping with windows open, a fan on and keeping good airflow through the room. An air purifier may also help with quality sleep, removing impurities and reducing allergic symptoms.
Now, with your revamped and restful bedroom in place, it's time to unwind, snuggle up and close your eyes.
Shhh…