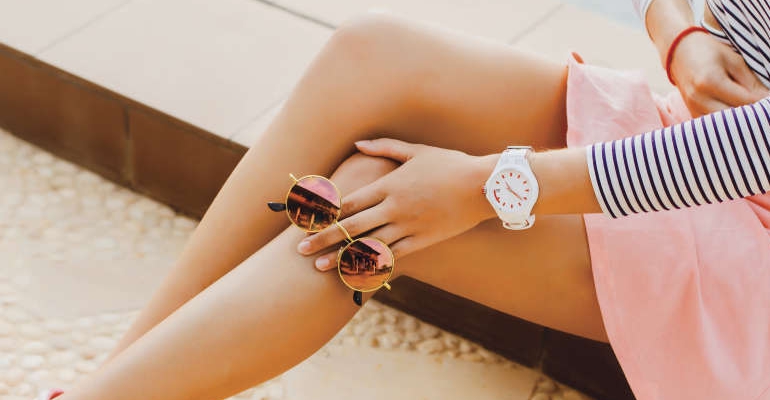 Neglected legs are screaming out all over the country, "Get us ready to rock a summer dress!" Sara Whatley has a few tips to get your pins picture perfect
We are officially in spring now, but has the weather caught on yet? We might be lucky enough to have a few warm days ahead of us and even luckier still if it's warm enough to whip our legs out. The first outing of the year for our dear old pins can be a bit daunting – pasty and feeble from a winter spent wrapped up warm with not a shimmer of sunshine.
So, let's make the most of these lengthy assets and get them ready for spring and summer beyond. First, some simple leg exercises to wake your legs up and get them in tiptop condition. Here are three to start with; but find out what works for you and if you want to give yourself an extra challenge, add a resistance band.
Squats – one of the best exercises for toning legs. Squats also tone the glutes, hips and abs. Hold weights for extra impact.
Lunges – great for increasing leg strength and working both legs at the same time is a bonus. Try either stationary or walking squats.
Side Plank – lie on your side, legs stacked one on top of the other. Support yourself with your elbow under your shoulder and forearm flat on the floor, then engage your core, glutes and legs and lift up your hips to form a straight line. This exercise works multiple muscles as you support your entire body weight.
Next, hair! Do you de-fuzz or embrace the way nature intended? If you choose to wear your legs smooth then let's look at some hair removal options:
Shaving is probably the most popular hair removal option as it's inexpensive, quick and painless. However, it does produce somewhat undesirable stubble within a few days.
Hair removal from the root gives a longer lasting result but can be more painful. Waxing and epilating come under this category. They also require the hair to be longer for the wax or tweezers to grab hold of. These methods will give you a few weeks of fuzz free legs.
Then there are depilatory creams. These use chemicals to weaken the hair, which is then simply wiped or rinsed away after a certain amount of time. New hair will grow within a few days, and the chemicals have an unpleasant odour.
Lastly, laser hair removal. This method is expensive and requires multiple sessions, but it is very long lasting, if not permanent.
Whether you are avec or sans hair, it's really important to moisturise your legs. Try a scrub in the shower to remove any dead skin cells, then slather on some rich moisturiser (maybe even with a hint of colour to gradually build a bit of a tanned look) for silky smooth sun ready pins. After all, scaly or ashy legs are really not cute.