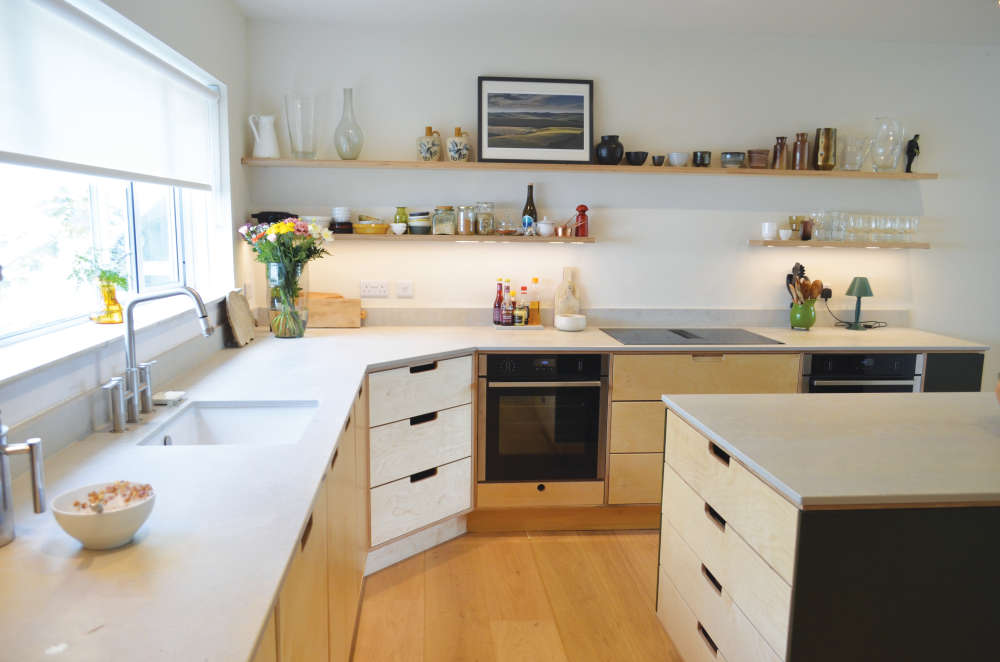 ADVERTISING FEATURE: Stephen Hamilton became a cabinet maker by accident, after meeting a Tibetan monk in Vancouver. Since those heady days in the 1970s he's had a lifelong love of wood and forged a formidable career. Robert Veitch went to meet him, and one of his clients.
Stephen Hamilton started Kitchen Carousel in 2017, with his 'right hand man' and partner, Amanda Borradaile. But to think he has only been involved in the business for a few years is to misinterpret the truth. Stephen has been involved in kitchen design, construction and project management for around 40 years.
As we sat in his workshop, mug of tea in hand, his enthusiasm spilled over. "I have the heart of a cabinet maker, I love wood, workshops and machines. I'm a maker, which means I also need to be a designer. Kitchens are places where people spend a great deal of time and money." The kitchen has become a multifunctional space in recent years, far evolved from the room for cooking and cleaning that it was not so long ago.
Back in 1991 he was crowned Kitchen Designer of the Year in Frankfurt, in competition against a computer. "I was faster and produced more designs in an hour than the machine." After that he spent 10 to 15 years "doing top end stuff," moved to Portugal to run a furniture school, and eventually returned to England to open Kitchen Carousel in Ditchling.
Stephen runs a team of seven, eight if Munar the dog is included, and believes home owners generally enjoy the process of refurbishing or renewing their kitchen. "Customers are blinded by choice, they often need to be guided through the minefield of options."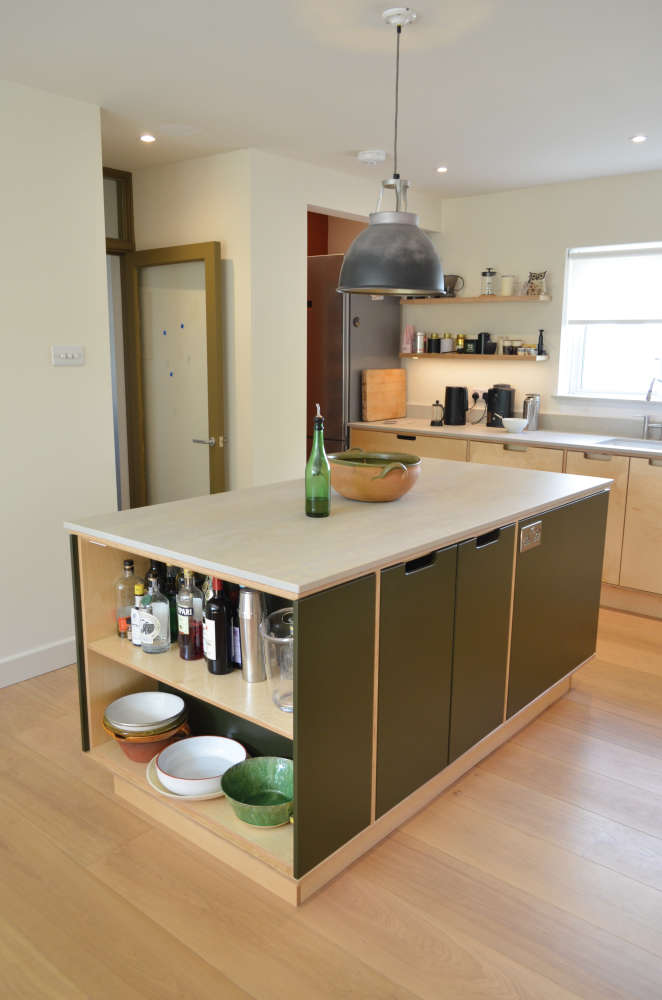 Stephen Hamilton usually makes a site visit and in no time at all can sketch out various possibilities and ideas. The process ever hurried. Patience, attention to detail and thoroughness are at the heart of their kitchen philosophy. Kitchen installation is as much an art as cabinet making. Practical skills combined with a fine sense of the finished product.
Kitchen Carousel is a small practice, with a team of handpicked experts, "a multi-talented team, a loyal team and a team that I want to work with, well into the future" Stephen told me.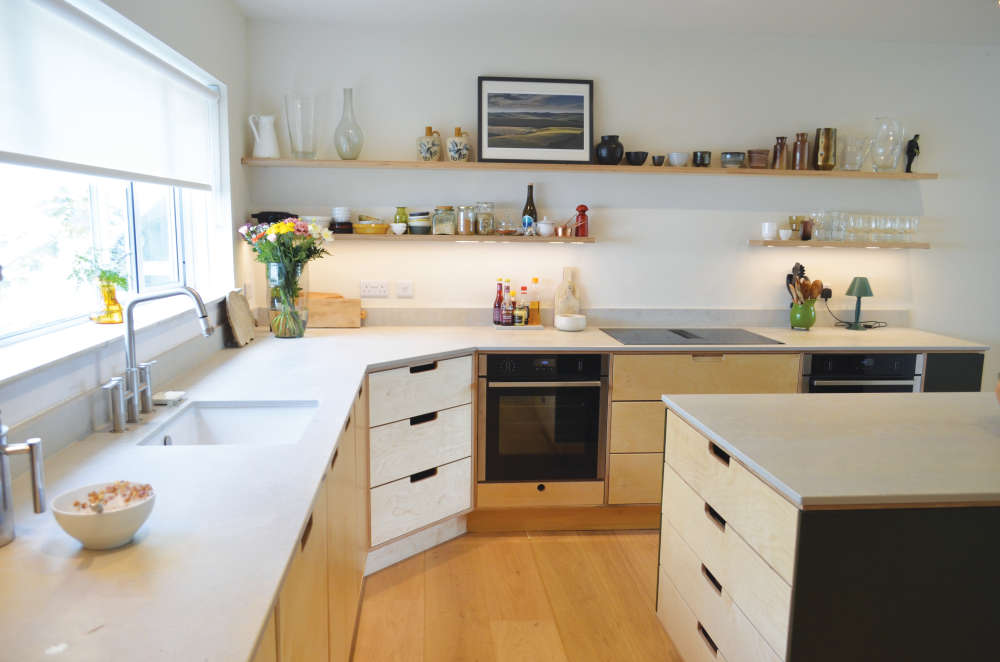 ST ANNE'S CRESCENT IN LEWES
For Emma Pelling and her husband Richard, the experience of working with Kitchen Carousel has been an entirely positive one.
They opted for a lacquered Latvian birch-plywood kitchen; with the tactile textured finish offered by Caesarstone Primordia worktops. The fridge and a discreet floor to ceiling shelving unit are cleverly tucked away, the feel of a pantry in the corner. This means there are no tall units or wall mounted cupboards in the main body of the kitchen, which augments the feeling of spaciousness. It also includes the longest floating shelf Stephen has ever made.
"We had a recommendation for Stephen's work when we were thinking about updating our kitchen," Emma told me. "We phoned him up and he happened to be in Lewes at that exact moment in time. It was serendipitous and not long after, he was standing
in our old kitchen and sketching away".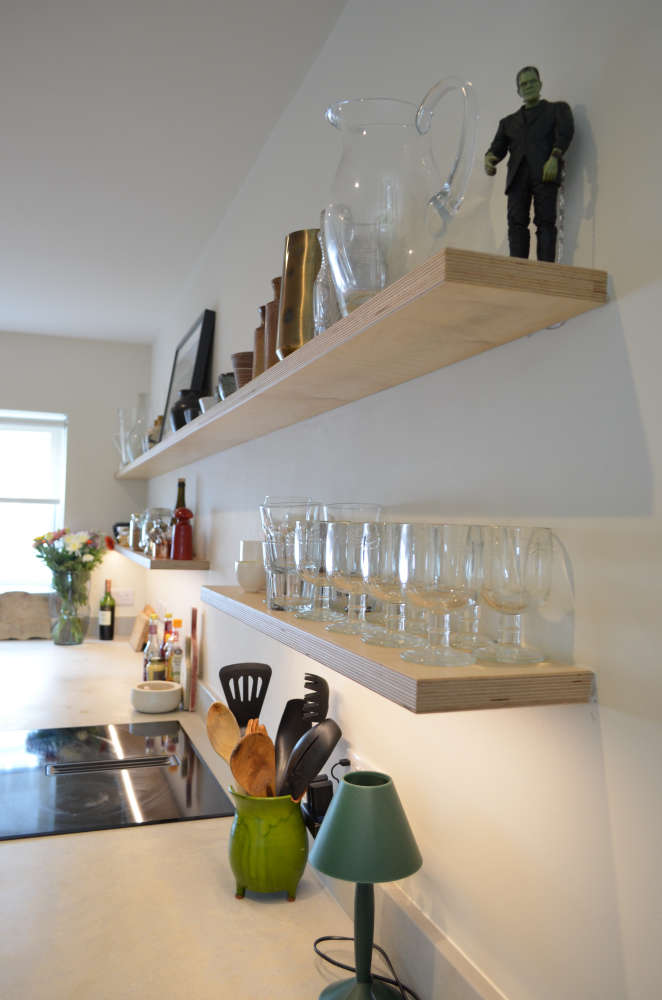 That was December 2022 and from there, the process evolved smoothly. "Stephen interpreted our vision, he brought it to life. He seemed as excited as we were about the project and invested his time in creating the kitchen we wanted. There was a lot of communication; the whole process was very organic. Selecting the wood, seeing the flexibility of the design, problem solving, it was very straightforward. We went to the workshop a couple of times, we saw our birch plywood units being made."
To open up the kitchen, a wall was removed and this allowed the light to stream through both aspects of the space, as Emma remembered. "In the beginning I was keener on aspects of the design, but as we progressed, it was the functionality that I became drawn to."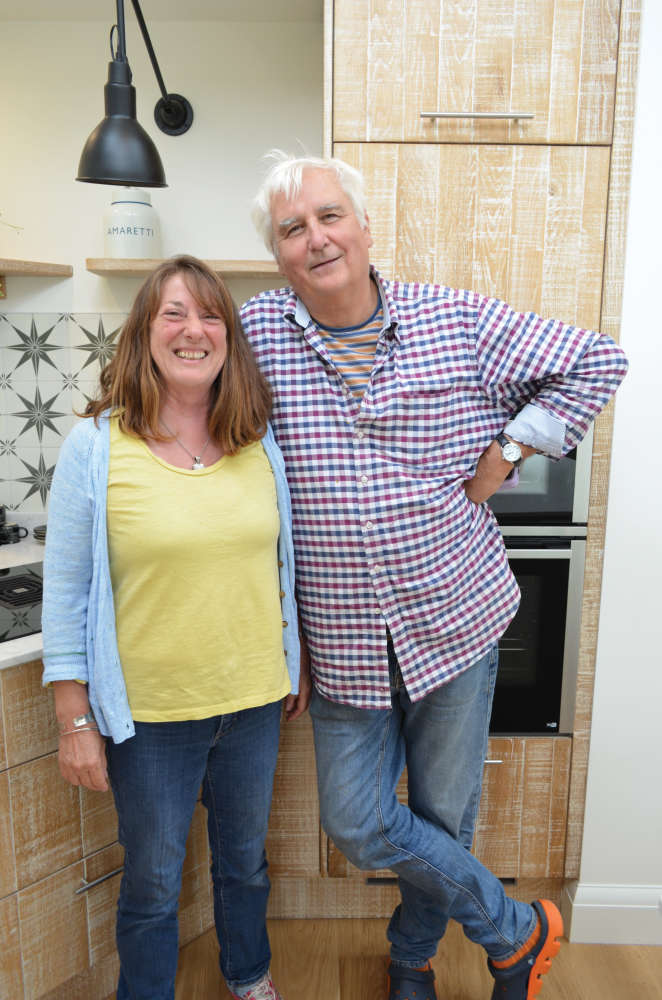 It's a kitchen of mostly complementary colours, the contrast coming from invisible green by Farrow & Ball, a colour that undertakes different characteristics depending on the light.
Double depth corner drawers are something of a Kitchen Carousel speciality, utilising Grass runners from Austria. Emma's are 700mm deep. "The drawers just go on forever," she said with a smile. Everything has soft closers. There are no handles to be seen, just plywood cut outs that add to the tactile experience. A glance across the plywood facings reveals the same piece of wood has been used for more than one, so sections of wood grain
are continuous.
Emma and her husband now have a very sociable kitchen with plenty of space. It was completed at the end of May and she has nothing but positive things to say.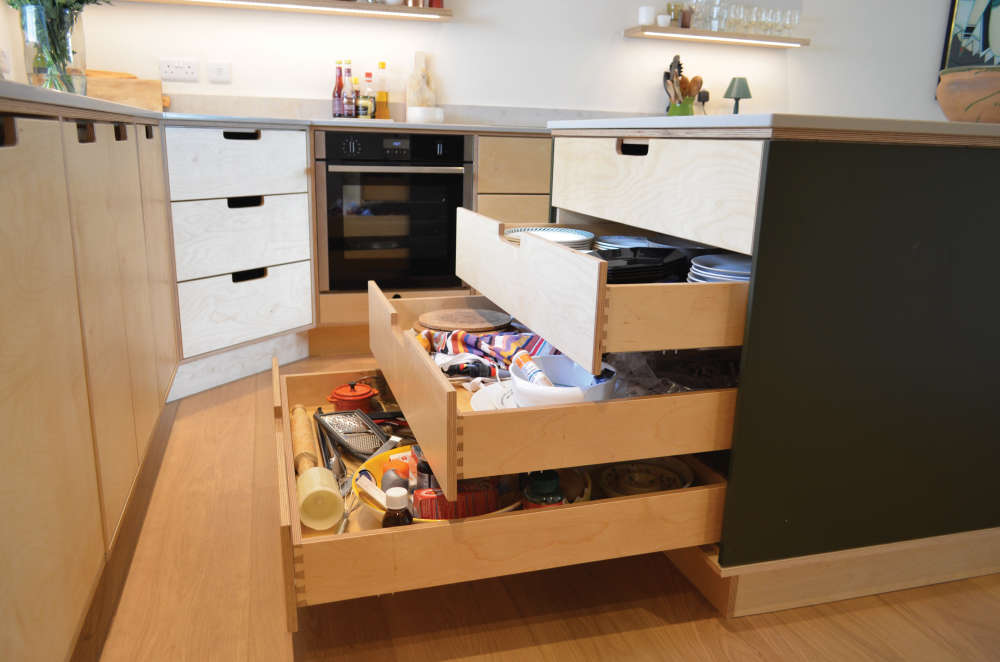 "The whole process was really good, Stephen's experience shone through; he really understood the space. He is so easy to work with, and we had such a good relationship during the project. Kevin the fitter was wonderful, it took him 2-3 weeks to install, he wanted it to be perfect. As a result, the functionality of this kitchen is brilliant, it's so important to have a kitchen that works well and this is the best kitchen I've ever had."
Looking back, Emma summed it up. "Stephen is such a clever intuitive designer – you really have to get him out to chat about your project. A few moments after he starts scribbling you know he is extremely talented with great communication skills."
Kitchen Carousel
Unit 13/14, SM Tidy Industrial Estate, Ditchling Common,
BN6 8SG
www.kitchencarousel.co.uk
info@kitchencarousel.co.uk
07565 722055