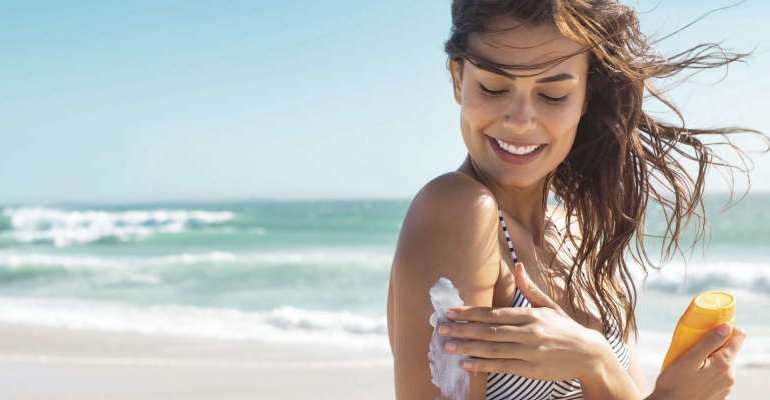 Do you love the look of beautifully glowing skin in the summer? Of course you do! Sara Whatley looks at safe natural tanning and faking it from a bottle
Whether you fake it or bake it, getting that summer glow is a look that suits everyone. Summer sun-kissed skin speaks of relaxing days spent enjoying the great outdoors and looks the picture of health. Build your glow slowly and safely over the summer months, or for an instant splash of colour, turn to the bottle.
Tan aside, it is recommended that we all get a certain amount of sunshine (5-15 mins to face, arms and hands) every day as it is filled with goodness for the body and the brain. However, it all depends on a person's skin tone, the time of day and how direct the sun's rays are as to how long to spend in the sun before seeking shade or covering up.
Getting a healthy dose of sunshine helps the brain produce the hormone serotonin, which is responsible for lifting mood and helping a person feel calm and focused. A lack of serotonin can lead to depression, anxiety and low mood, which can appear in a seasonal pattern. Sunshine also gives us vitamin D, which is vital for good bone health.
So, what are the safest ways to be in the sun? All things in moderation here; get your small dose of sunlight straight to your skin, then cover up with light clothing or sunscreen. Take regular shade breaks when you are out in the sun and be extra careful during the hottest part of the day (between 10am and 4pm). Make sure to reapply sunscreen every two hours and stay fashionably protected with a hat and sunglasses.
It's really important to stay hydrated when in the sun, so drink plenty of water during the day and give your skin a big drink too with some hydrating after-sun. Try to get an alcohol free formula, which won't dry skin out even further, and will help prolong a tan.
Enjoying a variety of antioxidant food and drink (particularly lycopene, found in tomatoes and some other red foods) can also help protect your skin from sun damage, and anti inflammatory foods can help calm the skin after sun exposure.
And for instantly glowing skin there are some brilliant fake tans on the market that won't leave you streaked orange and smelling like a biscuit factory. From mousse to mist, drops to add to your own cream and gradual tanning moisturisers, there is a product out there to suit your skin tone, texture, desired shade and bank account.
So go on ladies, get your glow on this summer and enjoy the sun-kissed look from sun up to sun down.