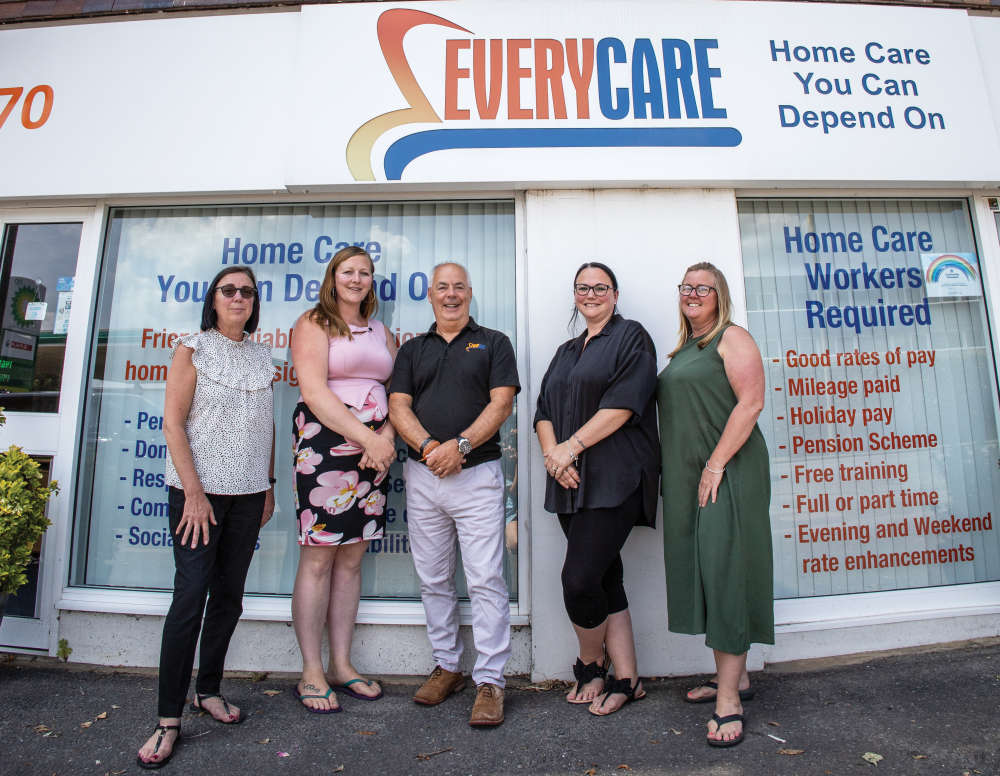 ADVERTISING FEATURE: As Mid Sussex-based home care agency Everycare celebrates its 10th anniversary, Hanna Prince meets founder David Dimelow to hear the story behind the company's success.
The first thing you notice when you walk into Everycare's Burgess Hill office are the cards. They line shelves and desks – greetings, invitations and, most of all, thank you notes. This is clearly a care agency with some very happy customers. And, after 10 years of providing home care to communities around Haywards Heath and Burgess Hill, it's the high levels of customer satisfaction that Everycare founder David Dimelow takes most pride in.
"We keep all the letters from our customers," he said, handing me a bulging folder. As I leaf through it, a few phrases jump out.
"I cannot fault the professionalism of your staff and the quality of care that was provided," says one letter.
Another praises the team for providing "a service second to none," and offering, "amazing support with kindness, sensitivity and tenderness right up until the end".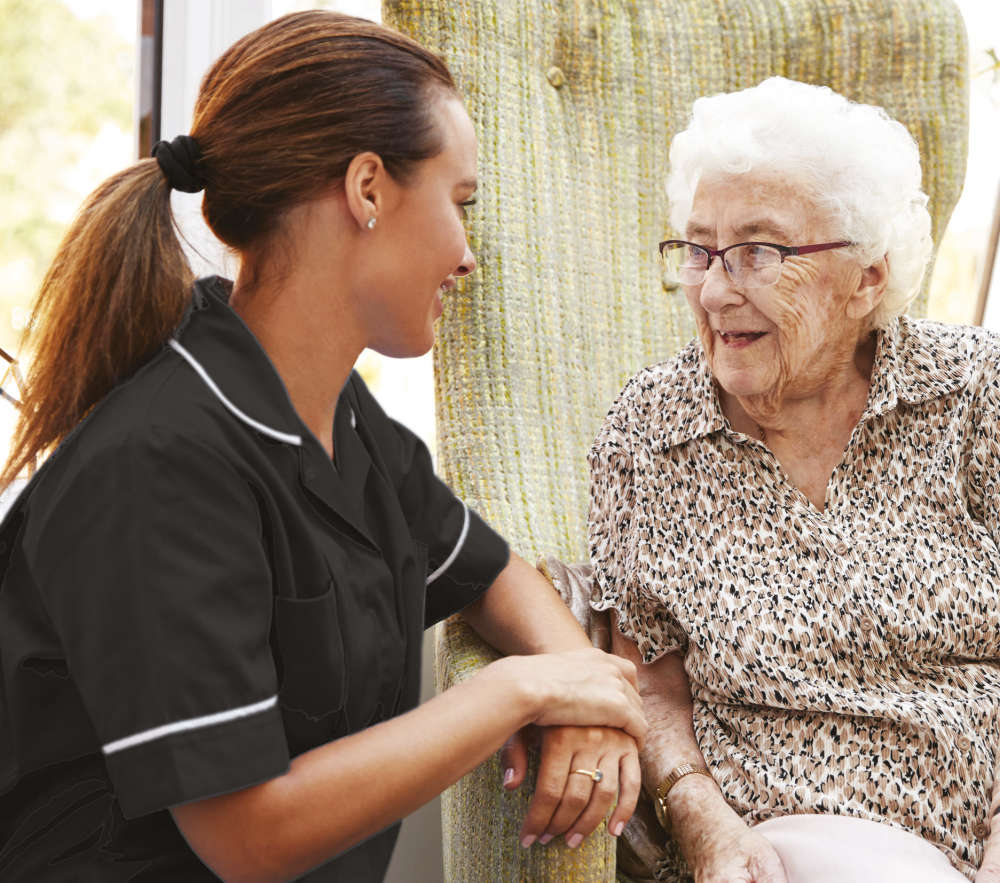 A third expresses gratitude that their loved one "was able to stay in his own house until the end… living as we did over 150 miles away."
David can personally identify with this last sentiment – in fact, it was finding himself in a similar position with his own parents that inspired him to set up Everycare. Originally from Yorkshire, David moved to Sussex in 1987 and started a family. His parents remained in Sheffield, and eventually their health began to fail.
"Myself, my brother and my sister tried organising care from home, but that proved problematic," he explained. "It was challenging both trying to find a decent company and finding one who provided the care they said they would. All of that is doubly difficult when you live a long way away."
David was working in IT sales at the time, but he began to realise that there was a gap in the marketplace for a good home care provider offering high, reliable levels of service. In May 2013 he formed a company, buying into the established Everycare franchise, and since then Everycare Mid Sussex has grown exponentially. As it celebrates its 10th anniversary, the company services over 100 clients and can offer everything from regular home visits to live-in care.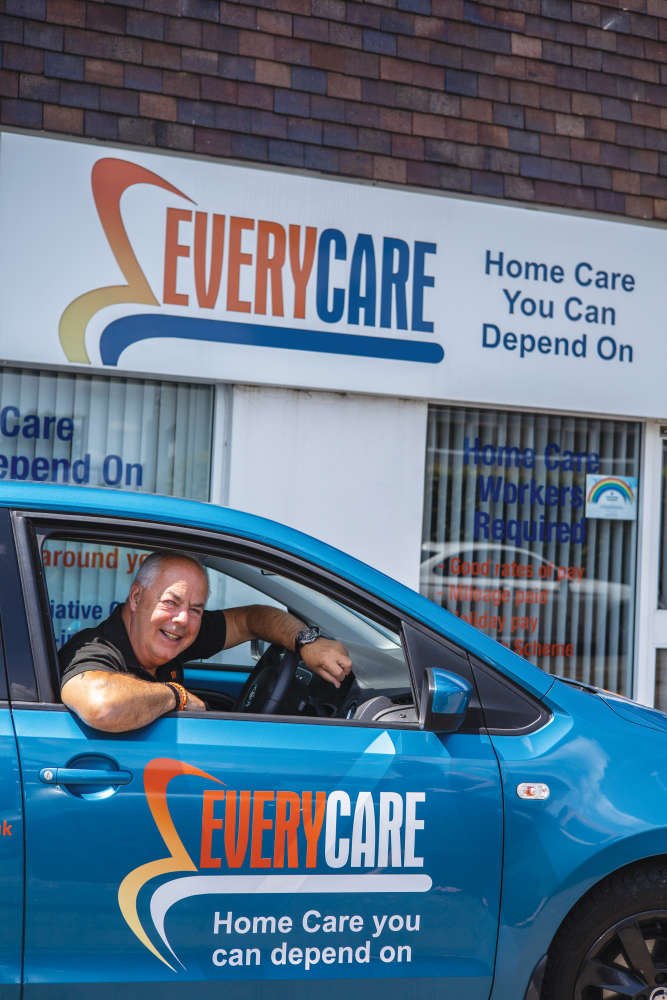 Everycare's USP is simple: "We try to keep people in their home for as long as is practically possible," said David. "While they are independent, we can provide four calls per day if needs be. But once they get to a point where perhaps they start falling or become more disorientated, a live-in carer can provide 24-hour care."
There are statistically compelling reasons to keep older people in their own home rather than moving them to residential care. Hospital admissions are far higher among care home residents than they are among elderly people living at home. Moving to an unfamiliar environment can accelerate health problems. And there are less quantifiable benefits as well – such as being able to keep pets, stay in touch with neighbours and perhaps enjoy a treasured garden.
"If someone is kept at home they are in familiar surroundings, which is itself important because eyesight and mobility might not be 100%," explained David. "But it's more than that. The home has been a secure environment for them for many years. It has memories. It's surrounded by things that remind them of days gone by. Then there's the fact that there might be a network of neighbours they've known for a long time, maybe a local church, a meeting group, a pub where they like to go for the occasional pint. Maintaining some form of normality is really important."
Having loved ones cared for in their own home can also be far less stressful for relatives. You can visit when you like and enjoy the reassurance of seeing your friend or family member comfortable in familiar surroundings. And yet you're relieved of the responsibility of round-the-clock care. Everycare deals with all aspects of day-to-day health and social care, including meal preparation, cleaning, washing – even taking clients out for fresh air and to visit the shops. The well-qualified team all subscribe to the Everycare philosophy of empathy and respect. They can provide a welcome friendly face to older people without friends or family living nearby, all while maintaining strong professional boundaries.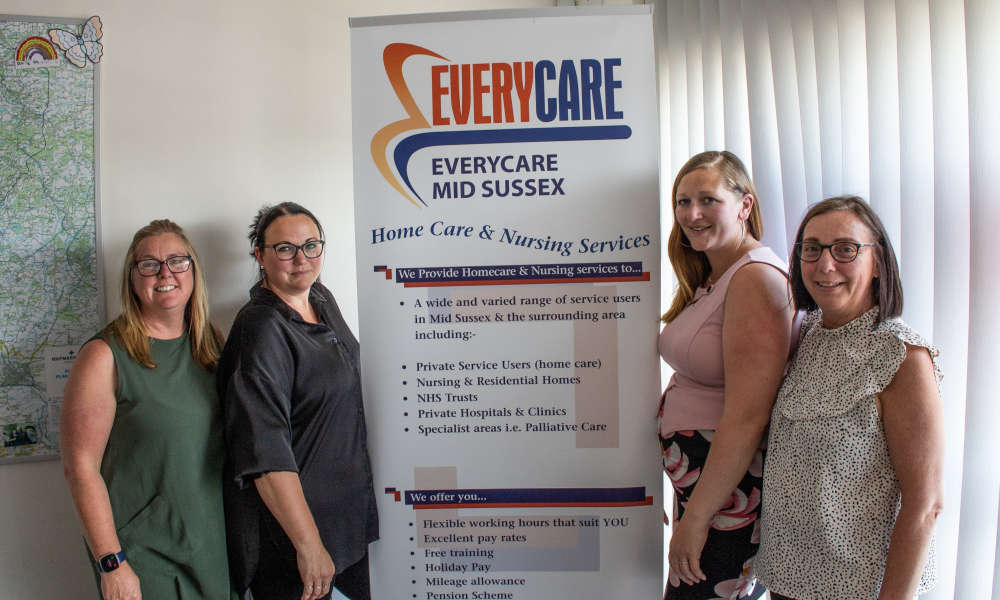 It's a rewarding experience for carers as well as their customers, and the demand for Everycare's services means that the company is always looking for new members of staff. Full training can be provided, so the only qualities necessary are compassion, understanding and empathy, plus an ability to listen and respond to the needs of the client. Benefits include flexible working arrangements, market-leading pay and a mileage allowance (because Everycare serves Burgess Hill, Haywards Heath and the surrounding villages, a driving licence is essential).
As the team celebrate Everycare's tenth anniversary, David is clearly looking to the future. With the right staff, the company has the potential to expand exponentially. But his main aim is to retain the reputation for quality and empathy that has won Everycare its numerous customer accolades. In his own words: "to continue providing the same level of service and expertise into the next ten years."
Everycare Mid Sussex
191-193 London Road, Burgess Hill RH15 9RN
midsussex@everycare.co.uk