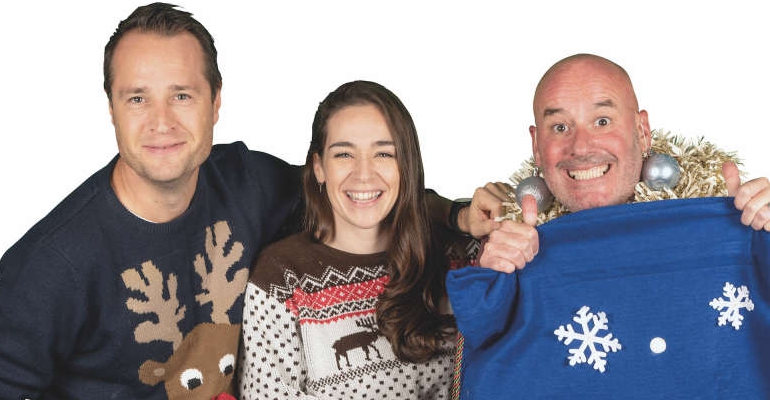 Advertising Feature: The More Radio Toy Appeal is working to make sure every child in Sussex has a Christmas present to open this year. Lou Nash from the More Radio Breakfast show told Sara Whatley how they do it
Christmas is a time for children, a time for excitement and making special memories with our loved ones. "Every child deserves to unwrap a new toy at Christmas," said Lou Nash from More Radio Breakfast. Sadly, many children across the county still live in poverty, but the More Radio Toy Appeal are working hard to make sure that Christmas is still a special time for them, with toys under the tree on Christmas morning.
How are they doing this? With a little magic help from Santa, of course, and the generous donations of the wonderful people in Sussex and beyond. "We collect new and unwrapped toys at numerous donation points all across Sussex. There's about 25 locations, including several supermarkets, which makes it really easy," said Lou. "And we are working with 45 different charities who distribute the toys to the children who need them."
Charities all across Sussex are taking part, from foster care charities, to refugee charities, hospices and food banks. "Toys for all ages are needed, from babies to teenagers,"
Lou informed me, and said often goodies for teenagers are most needed. "People donate loads of amazing toys, such as Lego, dolls and board games, but the older children like things like gift cards, books, football paraphernalia, makeup, art stuff and stationery. We also get requests for sensory toys from charities who help children with disabilities."
Last year the appeal gathered 6,500 toys, and this year they are hoping to beat that! "The charities who collect the toys are so grateful," Lou told me. She said last year one particular lady told her a harrowing story of a desperate mother who wrapped up a bottle of squash and a box of cereal just so her children would have something to open on Christmas Day. "The difference these toys make is huge, it is the difference between a Christmas with just the bare essentials, and a special Christmas, which every child deserves."
The More Radio Toy Appeal has been going for more than 10 years collecting and distributing toys across Sussex. "Every year it gets bigger," said Lou. "This year Tom Evans and I are hoping to get our breakfast show colleague, Jack The Lad, dressed as Santa and out on a sleigh, so look out for him around Sussex!"
If you or your business can help to make a difference this year, drop some new or unwrapped toys into one of the many donation boxes to help make Christmas special for everyone.
Please note: Toys need to be new or unwrapped, we can't recycle second-hand, used or pre-loved toys, thank you.
See www.moreradio.online for a full list of donation points.