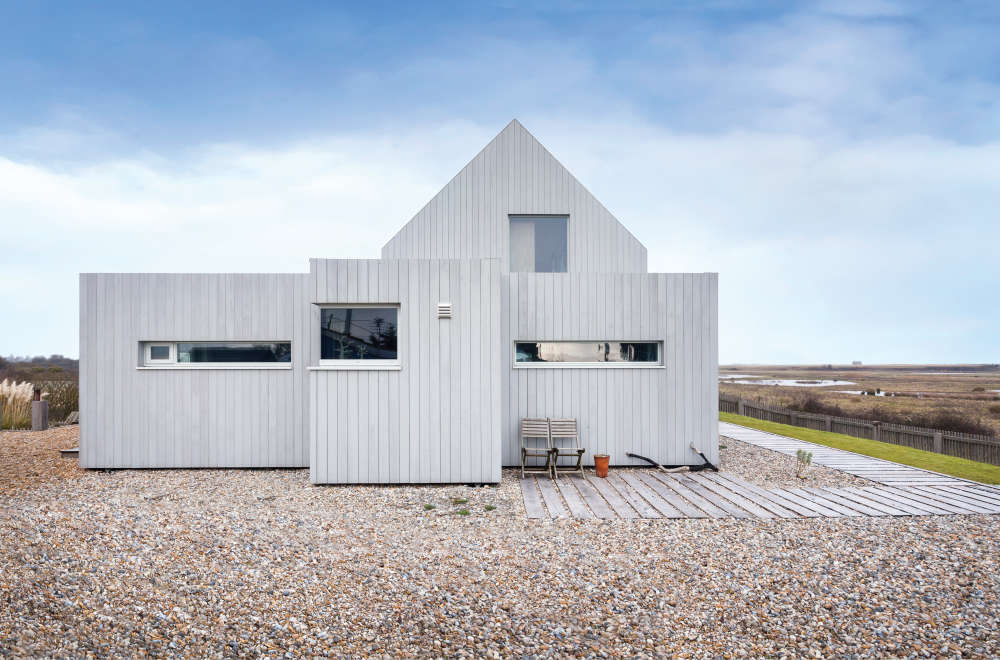 Luci Collings and her partner James Nye have had an enduring love affair with the sleepy little stretch of coast near Rye in East Sussex which is now home to their new weekend retreat. 
LOCATION:
Rye, East Sussex
PROPERTY:
A detached three-bedroom new build home
THE OWNERS:
Luci Collings, bag designer, lives here with her husband James, a historian. They have two grown-up daughters, Hero and Ottilie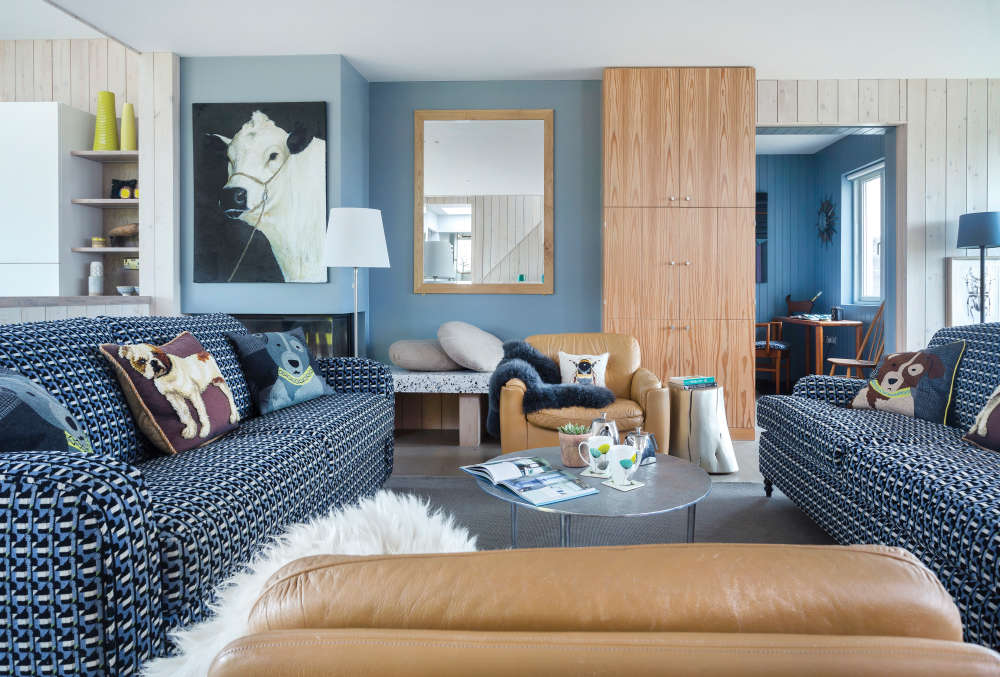 Bag designer Luci and historian James, plus their two daughters Hero and Ottilie have been spending weekends and holidays in the area for many years. While their main home is a detached Victorian villa in south-east London, the family have enjoyed year-round trips here to make the most of the briny air and shingle and marsh landscape.
"We used to rent a holiday house a bit further along the road when the children were little," said Luci. "Then we bought the house next door to where we are now and spent all of our holidays there."

The couple had a long-held dream of creating a new-build home but couldn't bear the thought of knocking down their cottage because it would mean they had no weekend retreat while the work was being undertaken. However, the stars aligned and a plot next door came up for sale. The family were friends with the owners and, rather than the house going on the open market, it was offered to them immediately. In March 2015, it was theirs.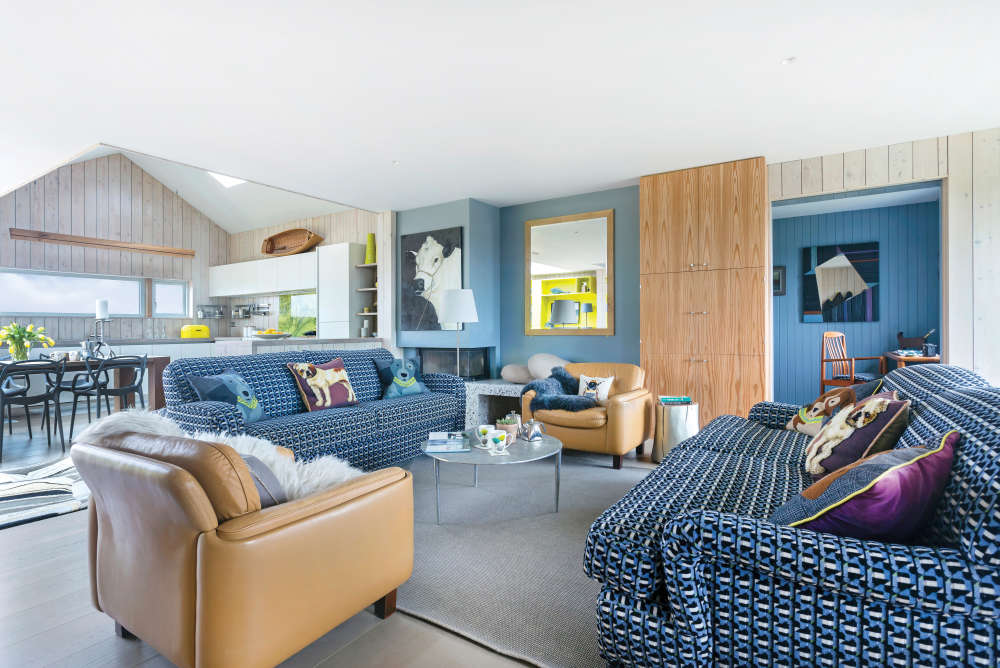 Finally, the couple could realise their dream of creating a tailor-made property. Local architects and builders were enlisted and work began the following year. The original house was demolished and a unique, vernacular structure was built in its place. Rubber was laid underneath the larch cladding, meaning that all of the guttering could be concealed between the two layers, draining directly into the shingle and giving the house its sleek, clean lines.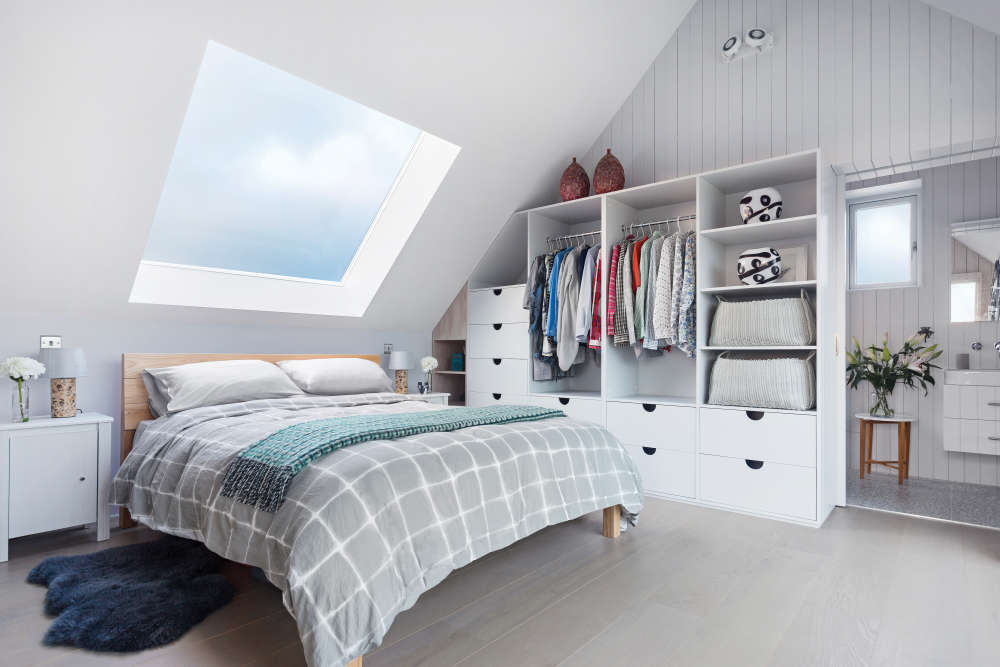 Inside, the larch cladding continues, and this was the only part of the project that posed any problems. "The biggest headache was sorting the finish for the interior timber," explained Luci. "It was a watered-down version of the ceiling colour with fire-retardant varnish on top, but we had to go around the houses to get there because I wanted a particular silvery finish, and a lot of oils weren't compatible with fire retardant treatments."
There is a huge open-plan living space downstairs, with an office, utility, two bedrooms and a bathroom in the wings. Upstairs is the master suite, complete with huge sliding doors, a skylight and a balcony. The small but perfectly formed en suite features a bath with a picture window at head height so bathers can watch the grazing sheep and the sun setting over the sea.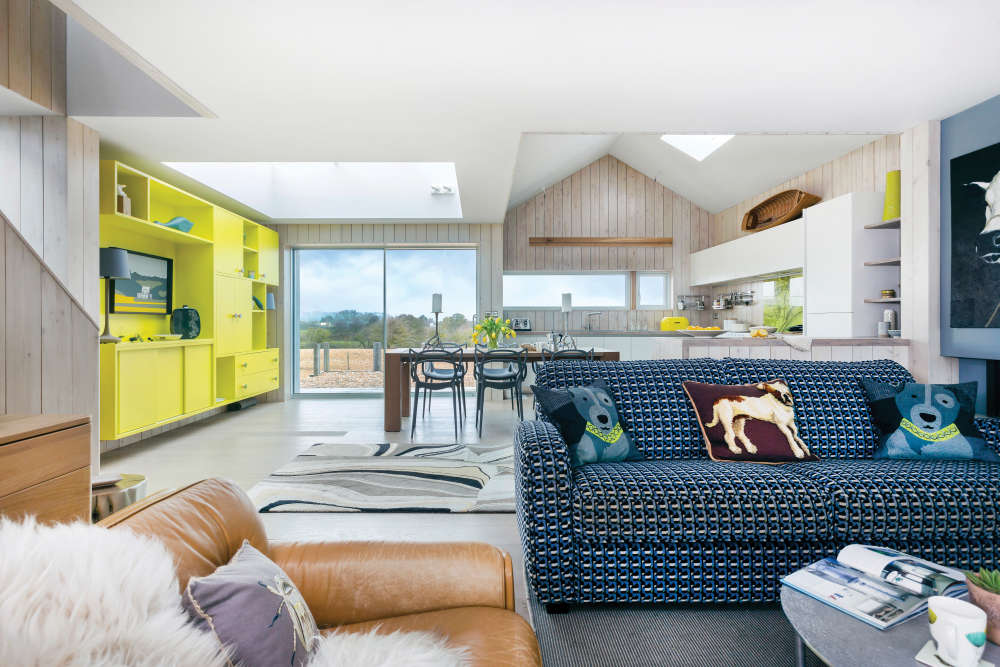 Luci and James are fans of mid-century style but have added their own colourful twist to the look. Stand-out pieces in the sitting room are two sofas covered in original 1990s moquette from the London Underground Northern Line. Luci has mixed high-street finds with vintage pieces and has added bright hues with her choice of accessories, to offset the pale backdrop. In the dining area, the acid-yellow wall unit is a triumph. The area offers a plethora of interiors shops and galleries for the couple to source bits and pieces for their home. "I love Rye art galleries and also the style and interiors shops in Rye,' she said. "If you fall for something, buy it and it will work somewhere. Don't overthink it!"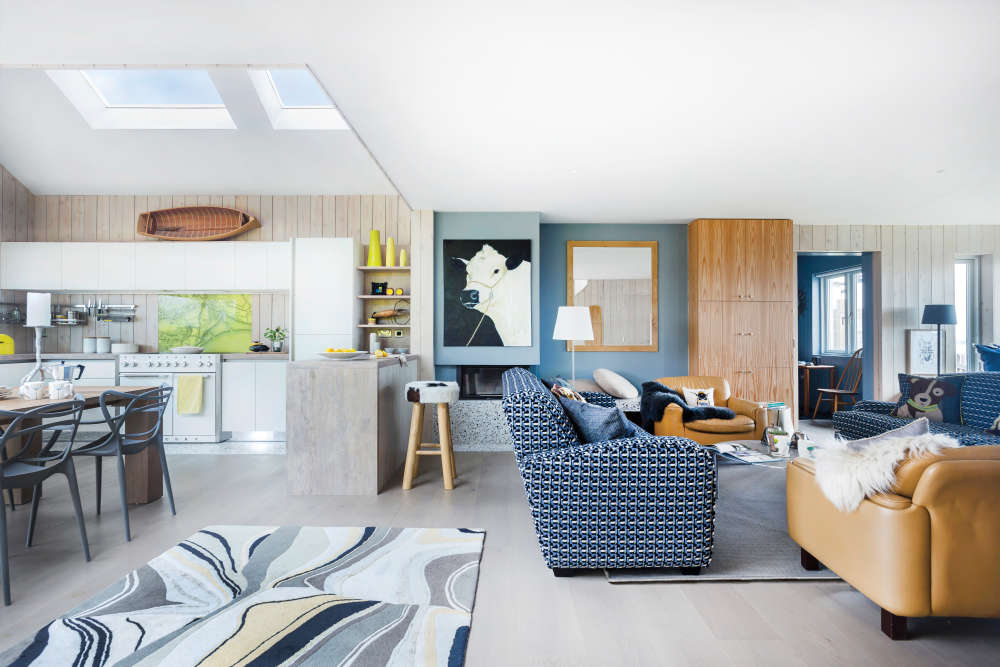 It took a year to complete and the house now perches on the ridge of shingle, overlooking marshland and the Channel, and works perfectly with its surroundings. The area is adjacent to a nature reserve, famous for its bird life. "We had some very firm ideas about the look of the house because I am very passionate about the area and I wanted to do something that was right for the landscape," declared Luci. "A box with glass walls would have been amazing because of the views but it would have looked so out of place. Also, I am obsessed with avoiding light pollution, especially because the night skies are so amazing here, and a lot of glass would have thrown out too much light."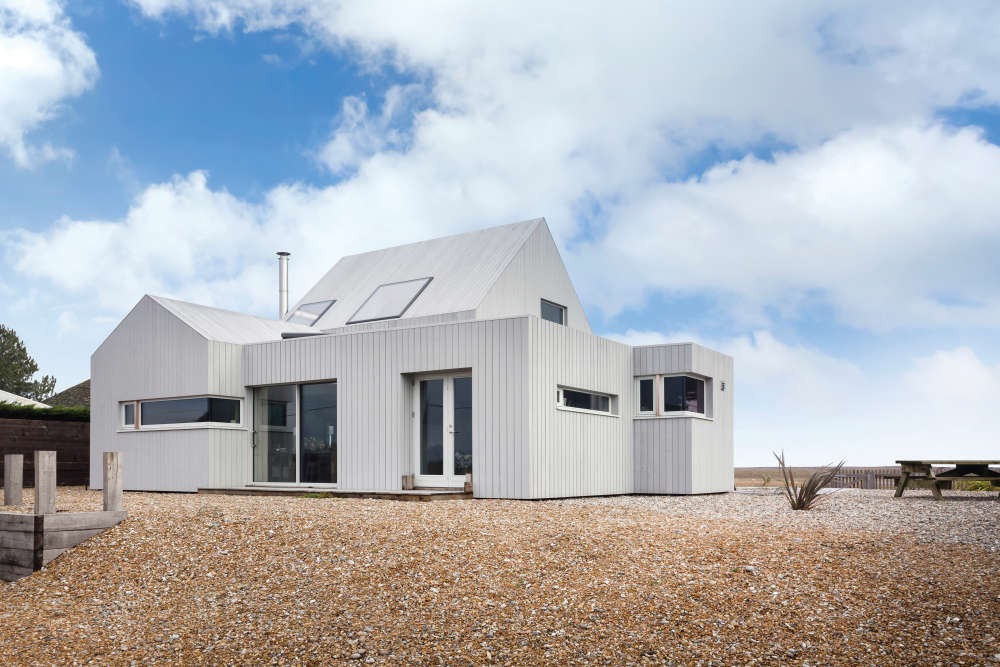 There is a wonderful juxtaposition now between the new house and their old cottage sitting next door, like an aged relative. Luci admits that now they have lived in the house for a few years, there are several things they would have done differently. "Above all, we'd address cooling," she stated. "The design would have been very different if we'd experienced the three summers we have just had, and we'd say to anyone designing a house – think more about how to cool it rather than just how to heat and insulate it!"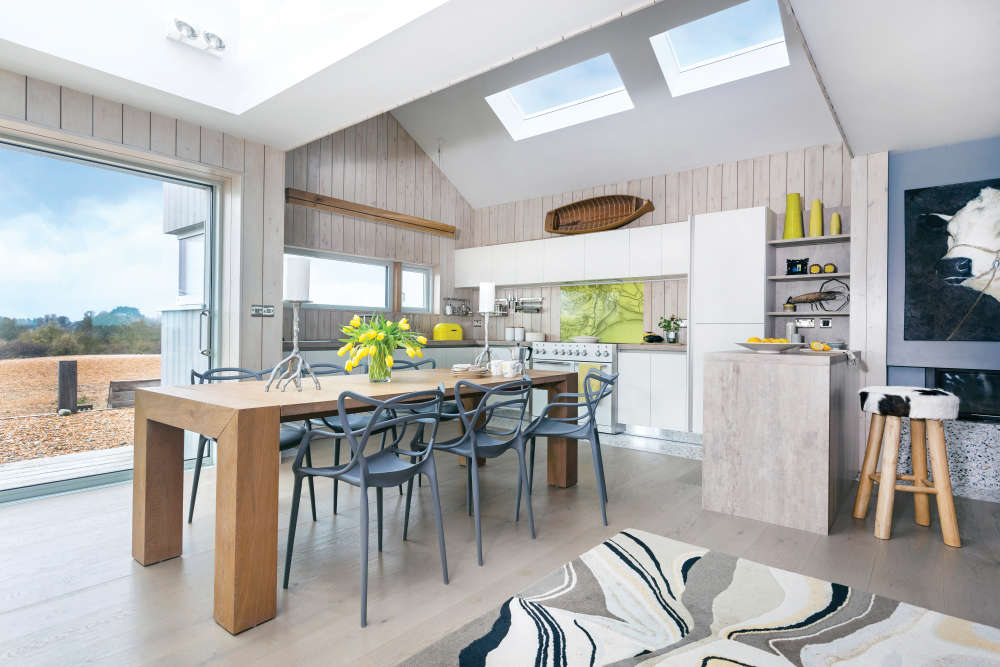 The house was highly commended in the Sussex Heritage Trust Awards 2017 and it's easy to see why. The family love nothing more than to come down for weekends to enjoy the quiet and to give Merlin, the Korthals Griffon, long beach walks. "I love the setting and the bleak skies," said Luci. "When I come here, I feel at home and I don't want to be anywhere else."

Photography: Richard Gabsdby/living4media