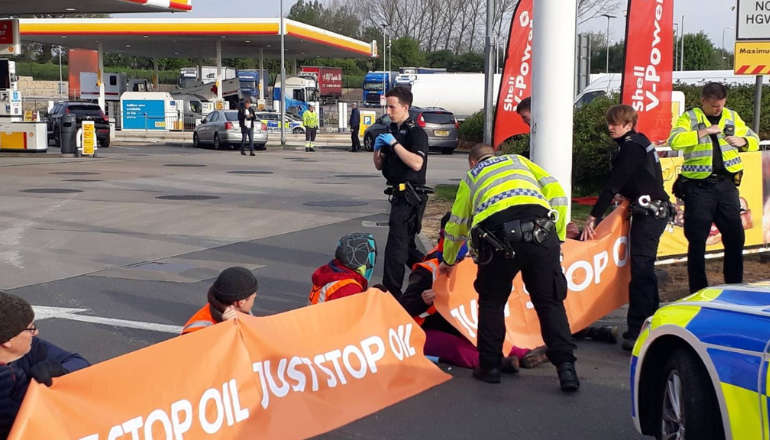 Photo Credit: Sky News.
Three Just Stop Oil supporters have been convicted at Stratford Magistrates Court today (Tuesday).
Ben Buse, 37, Christopher Ford, 45 and Alfred Beswick, 26, pleaded guilty to blocking access to Cobham services, located on the M25, in April 2022.
Ford and Beswick were given a £100 fine and 12-month conditional discharge respectively. Ben Buse, meanwhile, pleaded not-guilty and has been ordered to pay a £150 fine.
The three who appeared today were the last of 35 Just Stop Oil supporters to appear in court for blocking two M25 service stations on April 28 last year.
All three have previously spent time in prison for taking action with the Just Stop Oil campaign.

Since the Just Stop Oil campaign began last April, there have been more than 2,000 arrests and 150 people have spent time in prison.
There are currently 12 Just Stop Oil supporters in prison awaiting trial or serving sentences for actions taken with the campaign.
A spokesperson for Just Stop Oil said:
"We're done with begging - we are going to stop new fossil fuel projects whether those in power agree or not.
"We have every right under British law to protect ourselves and those we love."
The group says it will "continue the disruption until the government makes a statement to end new oil and gas projects."