Botanicals And Bees: Exhibition And Gallery Opens For Talented Nature Artist
"Lost in a world of intricate observations from Nature"- Louisa Crispin
An exciting new exhibition and gallery is opening at the newartgallery in Eastbourne this September, celebrating the work of this stunning nature artist.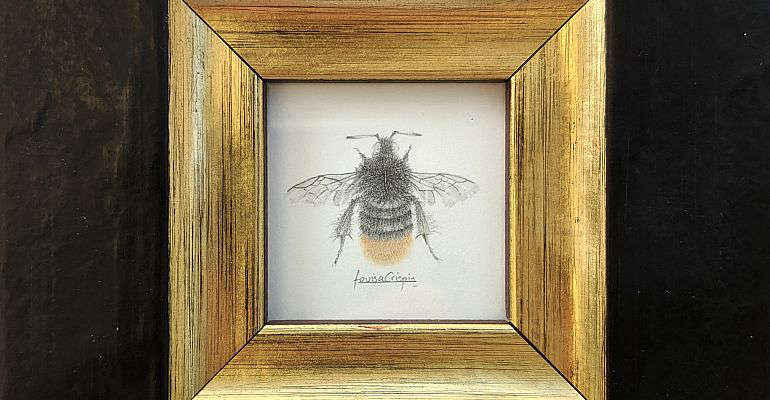 Enjoy a fascinating insight into the life of well-known and talented nature artist Louisa Crispin and her exciting new exhibition...
Louisa was born in Farnborough but the family moved to the little village of Sissinghurst where Louisa grew up. This area is well known for the famous gardens in the Castle and is surrounded by woodland in the far east of the region of Tunbridge Wells.
Louisa left school at 17 and worked as a systems analyst for an insurance company. After this early career in computing and then raising a family of two boys, Louisa discovered a talent for drawing in her forties when her tutor presented a small crab apple twig covered in lichen and she became lost in the process of recording what she could see.
The finished drawing caught the eye of Lesley Samms, founder of Pure Arts Group, and subsequently won the first of many prizes at their Annual Autumn Show and as they say, the rest is history.
Louisa Crispins' garden studio is now located just across the border in the Kent village of Hawkhurst. From here she is able to quietly observe the flora and fauna in her naturalised garden and during regular local walks into the countryside.
Her intricate observations are captured in detail on beautiful smooth Strathmore paper using ultra sharp pencils and graphite powder, with focus on the texture, shadows, silhouettes and movement created with marks and tone, it's rarely about the colour.

Initially focused on Lichen growing in trees, gradually the subjects have extended to other floral studies and in 2019 she was elected a Fellow of the Society of Botanical Artists, a Member of the Society of Graphic Fine Art and was invited to join the Wilderness Art Collective.
Meanwhile Louisa had turned her attention to insects and discovered an enticing world of bees, wasps and butterflies to extend her skills.
Her eye for detail and precision bringing further accolades for the work.

"I love that my drawings encourage people to look closer and often stimulate conversations about our environment. It's this close observation that fuels an increasing interest in how nature interconnects and has led to an exciting community project supporting the work of the Buglife Charity on Biodiversity lines."
As well as membership of the Free Painters and Sculptors and the Society of Graphic Fine Art, Louisa is a Fellow of the Society of Botanical Artists. She has links to the Royal West of England Academy, Sevenoaks Visual Arts Forum, the Cranbrook Art Show and Pure Arts Group.
Her prizewinning drawings are held in private collections internationally and she is regularly accepted to Open Exhibitions in London and beyond.
We currently have a lovely display of her work on show in our gallery in the centre of Eastbourne.
newartgallery is holding a large exhibition of Louisa's work for eight weeks from 18 September 2021. It is free to enter the gallery.
Landscapes, seascapes, flora, fauna, pencil drawings, oils, watercolours, photography, portraits, porcelain and pottery – there is something here for all tastes and spaces! If you're looking for something inspirational, uplifting, quirky, amusing, intricate or simply beautiful – you'll love it!
This article is sponsored.
Comments
Add a comment
Log in
to the club or enter your details below.