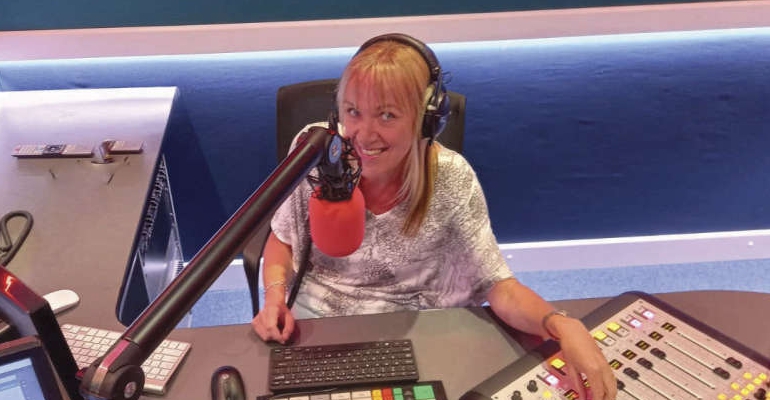 Advertising Feature: From Radio 1 to More Radio Retro, and many airwaves in between, Jenni Costello likes nothing more than spinning some classic tunes. Sara Whatley speaks to the lady herself
What do you want when you listen to the radio? Songs you love? Sing along tunes? Feel-good music? Then you better tune into More Radio Retro!
Since June, Jenni Costello has been presenting the weekday breakfast show from 7-10am, and she absolutely loves it. "When I was offered the show I thought yes! This is my favourite music – it's my perfect job."
More Radio Retro plays a mix of feel-good music from the 70s, 80s and 90s, three of the best decades of music, according to Jenni. "The 70s were great with Abba, but really I'm an 80s girl at heart. I'm a die-hard Duranie (Duran Duran fan), I saw them recently at the Isle of Wight Festival and it was amazing. It's my lifelong dream to interview them." And in the 90s Jenni could be found tearing up nightclub dance floors!
"Our mission at Retro is to escape back to easier times and spark special memories when you listen," she told me. "We all need a bit of cheering up and retro music is great to sing along to!"
Jenni grew up listening to Radio 1 and loved pop music. In her teens she had a light bulb moment and realised she wanted to be a radio DJ. Her dream was to work for Radio 1. "I had no idea how to get into radio, so I asked my local radio station in Coventry. As soon as I walked into the studio I knew this was what I wanted to do for the rest of my life. I was 15." There was no such thing as a media course in those days, so Jenni went to drama college and honed her performing and presenting skills. She relentlessly pursued her dream of being a DJ, started out at the local hospital radio and then went on to present shows at the local radio station in Coventry. She was the youngest there at only 18 but she thought, "Woohoo, I'm on my way!"
After sending in countless demo tapes and letters to Radio 1, they invited Jenni in for an interview. "I was auditioning with two other ladies; it was scary but exciting and a brilliant experience even being in the building," she said. Unbeknownst to Jenni they were looking specifically for a young female presenter, and offered her the job. She was 21 and again, the youngest presenter on the roster. "I was doing the weekend early show from 5-7am. Radio 1 was huge in those days – I had two million listeners!"
Some of the greats were there alongside Jenni including; Steve Wright, Gary Davies, Bruno Brooks, Liz Kershaw, Simon Bates, Annie Nightingale, Nicky Campbell and as there wasn't much competition Simon Mayo. "On my first weekend there I had to stand in for Liz Kershaw who was on maternity leave and present with Bruno Brooks!" Jenni told me, laughing.
Full of energy, enthusiasm and chat, Jenni is the perfect companion to any morning, playing all the hits on More Radio Retro. Listen on DAB, online or on a smart speaker and let Jenni put a bounce in your day too!
More Radio
Website: www.moreradio.online/retro