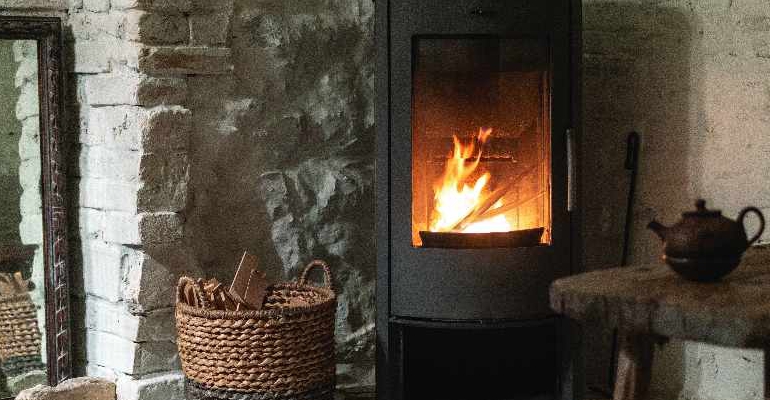 As we move into the cooler months, here's our top tips on the safest and most cost efficient ways to stay warm at home
Chillier weather is on the way – but is your house ready for a cold snap? From wood burners to electric radiators, here's how to stay snug as we begin to move towards winter.
If you shivered your way through last winter, it might be time to rethink your home heating options.
Replacing a central heating system is a big investment – but there are plenty of ways to ramp up the cosiness factor in your house without a complete overhaul.
Stoves with style
There's nothing like snuggling up in front of the fire on an icy winter evening. Open fires require constant supervision and they can be tricky to get going - but stoves offer the same cosy feel without the inconvenience.
Before you buy, think about whether you want a multi-fuel stove or a model that just burns wood. Multi-fuel stoves contain a grate for coal or briquettes, offering you the freedom to choose your fuel type. Overall, however, they tend to be slightly less efficient than wood burners.
If you want to replicate the look and feel of a stove without the same outlay, gas and electric fires are both excellent alternatives.
Forget the 1960s stereotype – modern gas and electric fires are both attractive and efficient. Most have a flickering display that's barely distinguishable from a real fire and, unlike wood burners, can easily be turned on and off.
Some can even be operated by remote control for added convenience.
Not sure where to start? The Stove Industry Alliance offers advice on everything from choosing the right stove to finding a retailer. There's also plenty of information on running your stove, starting with the basic principles of how to light a fire and incorporating tips on cleaning and maintaining your chimney.
Look out for appliances carrying the SIA Ecodesign Ready Label, which have been shown to reduce emissions by 90% compared to an open fire, and by 80% compared with an average 10-year-old stove.
Electric dreams
The latest additions to the electric scene are inset fires, which can sit in a recess in your wall or chimney opening. They look stunning beneath a TV or incorporated into a bookcase.
Thanks to LED technology and hand-painted logs, the best models boast a display barely distinguishable from a real fire. There are other options, too, for those who want the look and feel of a wood-burning stove with all the advantages of an electric fire.
These include electric stove fires, radiant bar electric fires and wall-mounted electric fires, as well as freestanding electric models that resemble open fires.
Electric radiators were once weighty, inconvenient and expensive to run. Not anymore. Improvements in efficiency and technology mean that electric central heating can rival gas for cost and convenience.
More usually, however, electric heaters are used in areas without central heating – such as home offices and annexes – or to offer an extra heat boost in a particularly chilly room.
Portable electric heaters come in four main types: fan, convector, oil-filled and halogen. Fan heaters are cheap, light and will warm an area quickly. However, they tend to be noisy and less energy efficient than other models.
Halogen heaters work by radiating heat directly onto objects, making them more effective for outdoor use and smaller spaces. Oil-filled radiators are heavy but reliable, while convector heaters are slower to warm up than fans, but are effective at distributing heat.
Eco options
Looking for an eco-friendly alternative to gas or oil-powered central heating? There are several options, but the most affordable and effective in a British climate are ground and air source heat pumps.
Air source heat pumps work by extracting heat from the air outside and using it to heat the water in your radiators. Ground source heat pumps extract heat from the ground – they require a garden and are more expensive to install than air source heat pumps, but they are also more efficient.
Biomass heating, which works by linking a wood or pellet-burning stove to your boiler, is also an increasingly popular option. Cosy and efficient, it's a win-win.