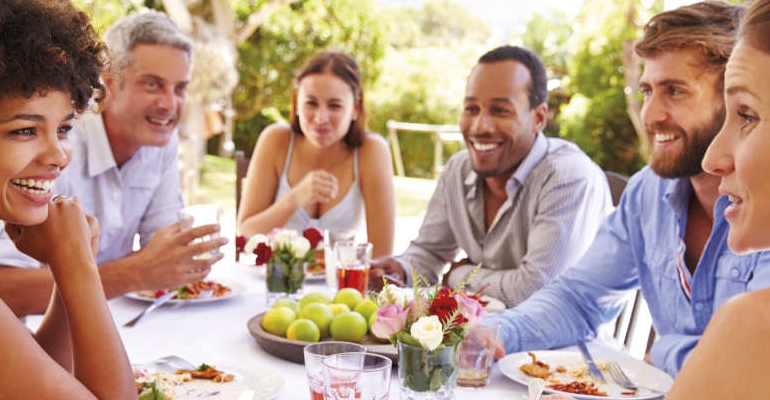 Al fresco living is what summer is all about, or dining all'aperto (in the open air), as the Italians say. Sara Whatley discovers some al fresco tips and tricks
Relaxing. Indulgent. Cool. Social. Comfortable. Beautiful. Delicious. That is al fresco living. A mere mention of the Italian phrase and minds wander to Mediterranean cafes, tables and chairs spilling out onto the piazza, sophisticated yet relaxed couples and families laughing over chilled drinks. Music fills the air. Gentle lighting lifts the mood. Delicious smells waft in the cool evening breeze.
Is this your idea of heaven? They may have a more temperate climate over in the Med, but even here in old Blighty we can recreate our own little slice of the all'aperto dream.
A few simple tips and tricks will have your outdoor space looking like a scene from The Talented Mr Ripley in no time at all.
First of all, lets look at the space. Big gardens, small gardens and everything in between – even balconies – can be enhanced by the al fresco treatment. It's all about blending the line between the indoors and the outdoors, and an easy way to achieve this is simply to take some of your furniture and soft furnishings outside!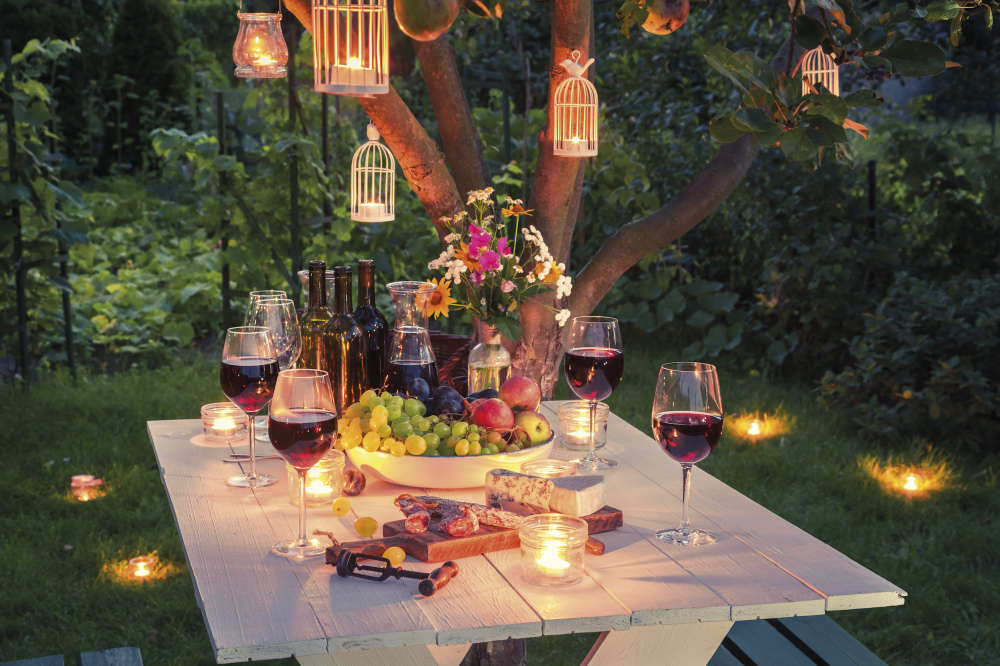 If you have patio or bifold doors, throw them open. Drag out a rug, and a couple of easy chairs to sit alongside the garden table and chairs. Make all the seating comfortable with cushions, throws and sheepskins, keeping in mind that you want to enjoy long lazy meals in total relaxation.
Look up. Do you have a pergola or some handy trees or fence posts that you could drape swathes of billowy material from? Not only will this create shade, but it will look and feel super luxurious too.
A large garden umbrella creates an immediate cosy 'room' beneath it, as does a sail or an awning. If you are investing in the al fresco lifestyle this is a wise choice, as you want to be able to use your space even in the heat of the summer sun.
As the evening falls and dusk approaches it's time to set the mood with some romantic lighting. Transform your garden into a magical grotto with festoon or string lights hung from low trees, along fences or walls, or even around the garden shed. Candles look festive dotted around the garden, and of course on the tables too. Opt for real ones (citronella scents ward off pesky bugs and mosquitoes too), battery powered or solar candles – all will provide that warm flickering glow, and look particularly lovely in storm lanterns.
If your garden lighting is still lacking (and depending on your power sockets) you could always bring out some lamps and further blend the indoor/outdoor line. A fabulous standard lamp will look so stylish and unexpected in the garden. Just remember to take it back inside at the end of the night!
For many, no evening spent outside is complete without the crackle of a real fire; they provide light, warmth, a convivial focal point and even something to cook over. A fire pit is a fine option here as it can be brought right into your 'living area', as can a chiminea. All you have to do is break out the marshmallows!
Finishing touches make all the difference and will lift a simple garden to a gorgeous authentic al fresco experience. Dot vases of flowers around on low tables and on the dining table too. Dress your table to impress: tablecloth, best china, silver wear, and proper polished glasses – it will gleam in the sun and sparkle in the candlelight.
And of course, what al fresco lifestyle is complete without music and food? Make sure your portable speaker is fully charged for no-hassle melodies all day and night, and why not get the old guitar out too? No one can resist strumming a few chords, especially gathered around the fire after an emboldening beverage or two.
Now, to food! Ideal al fresco dishes are things that the cook doesn't have to labour over, or at least can do the prep for in advance. Large sharing dishes placed on the table for people to help themselves to work well, and of course a barbeque is a classic outdoor cuisine. Get taste buds buzzing with dishes such as sizzling garlic prawns, a classic carbonara, a massive paella, lightly toasted halloumi, pitta and dips, and platters of fresh fruit and ice cream. Delicious!
Share your al fresco dream with friends and family all summer long and well into the autumn too – just add blankets and make sure you have enough logs for the fire.