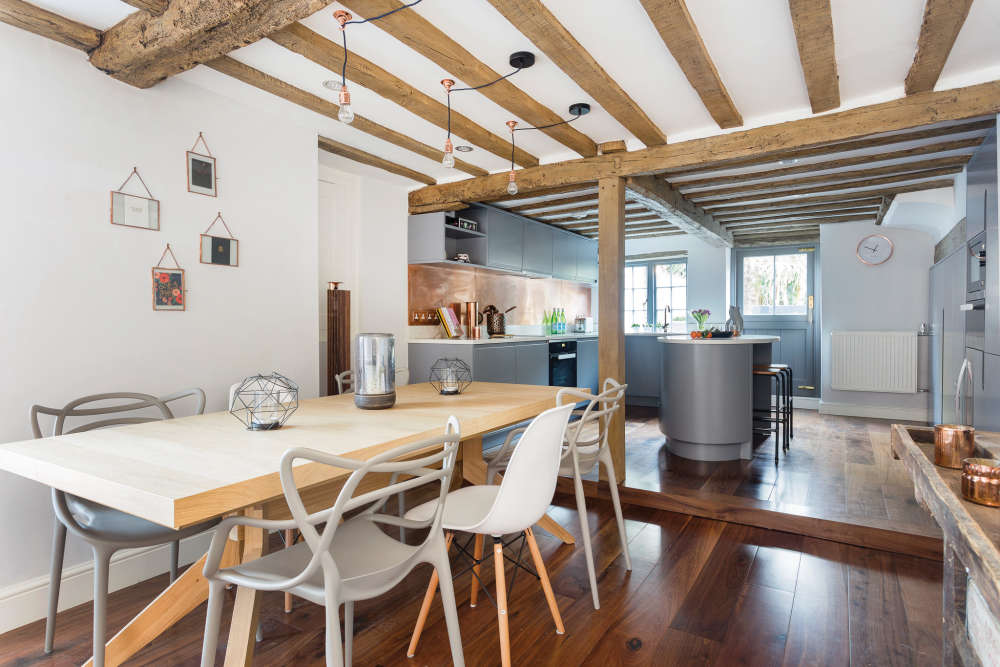 With a background in interior PR and dog accessory online store, Helen Smith has a keen eye for design and detail. She was living in a six-bedroom country house set in five acres near Burwash, East Sussex, with husband Nick, and children Oscar and Isabella when she turned her attention to finding a town house in nearby Rye.
"Nick, who's a banker, started having to work abroad and wanted me to have a project to keep me busy back home," Helen said. "I used to love visiting Rye and always said to Nick that I'd like to have a house in the citadel. So one day he told me I should arrange to see some properties. I didn't wait for him to change his mind and immediately arranged five viewings!"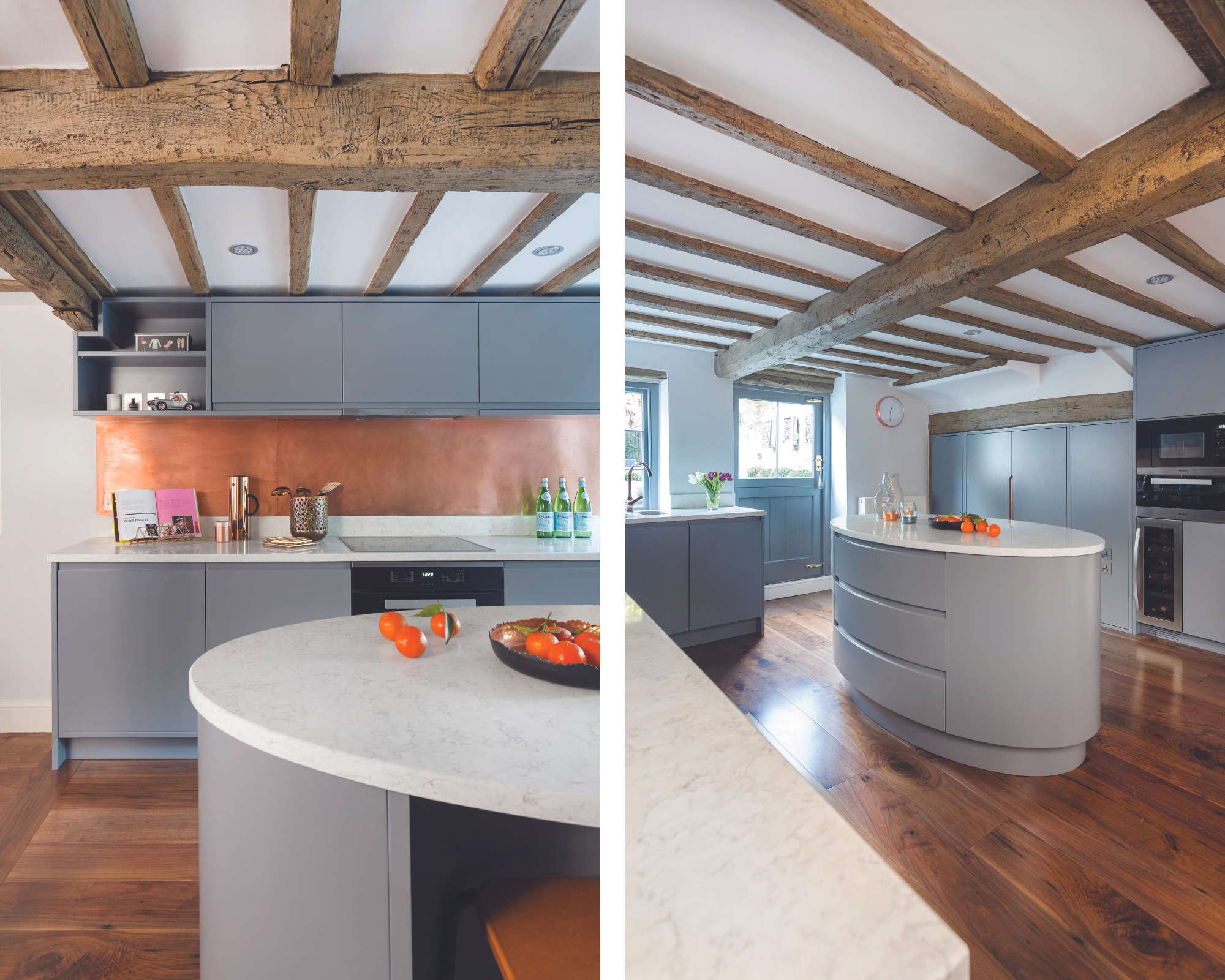 Helen saw the potential of an unloved end of terrace full of beams on a cobbled street in the oldest part of town and persuaded Nick that this was the perfect project for her. After nearly losing out to another buyer, who then had to pull out for medical reasons, they secured the house. Helen then set about meticulously planning a complete interior overhaul. Fast forward a few months and gone were the yellowed walls, dirty carpets and dated kitchen and bathrooms. In their place, Helen opted for sleek fixtures and fittings, a mixture of walnut-hued wooden floors and sumptuous grey carpets and a palette of muted colours with splashes of rose-gold and jewel tones.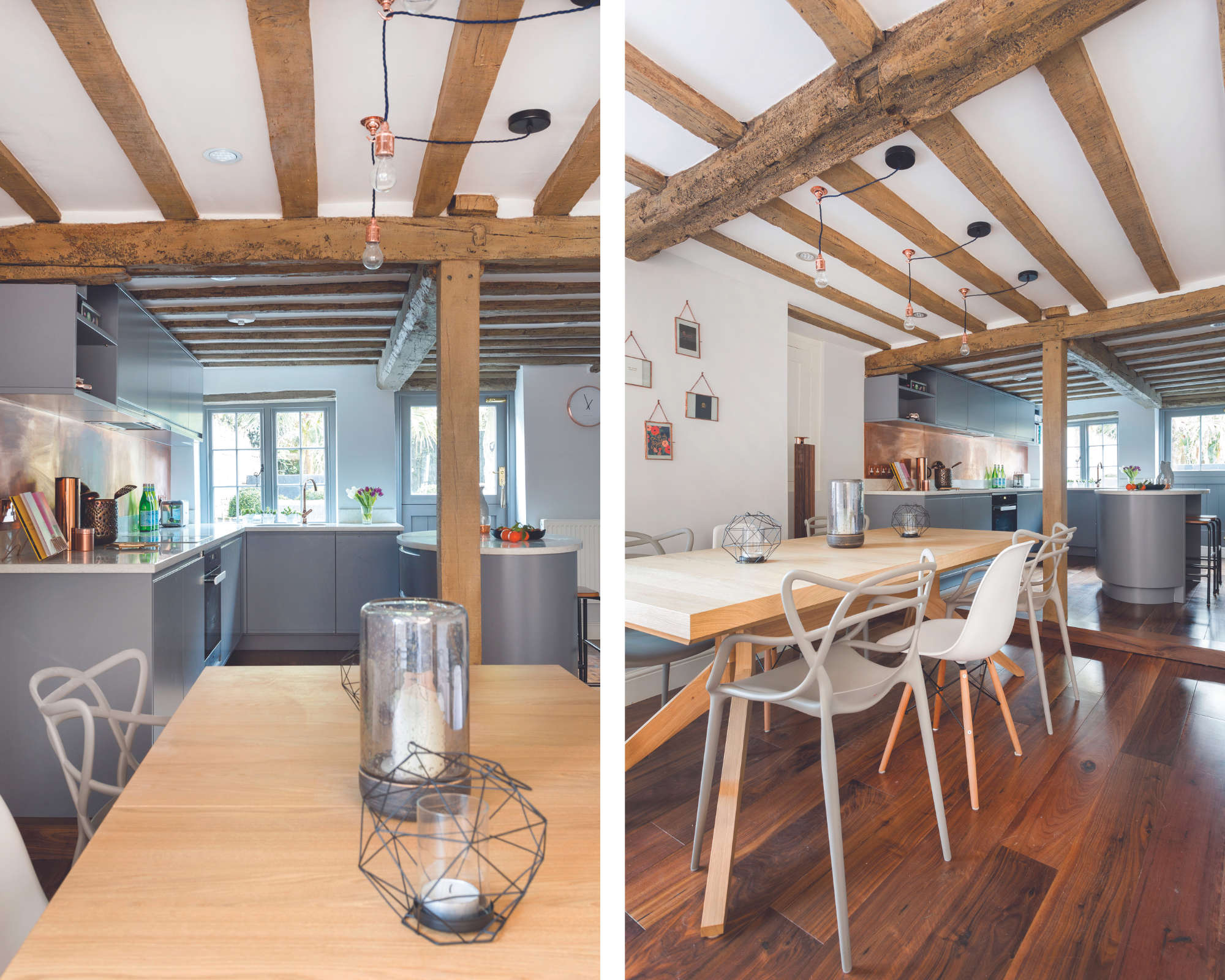 Helen selected a modern grey kitchen with oval-shaped island and inspired copper splashback. "The scheme for the kitchen/dining room came from the three bare-bulb lights that now hang in the dining area with the rose-gold fixtures and navy cords. I loved that colour combination and it gave me the idea for the copper splashback," she said. The sitting room meanwhile has a feature panelled wall, cleverly constructed in MDF and painted in a dark plum. A multi-coloured velvet sofa and hanging cut-crystal lights add to the sophisticated vibe.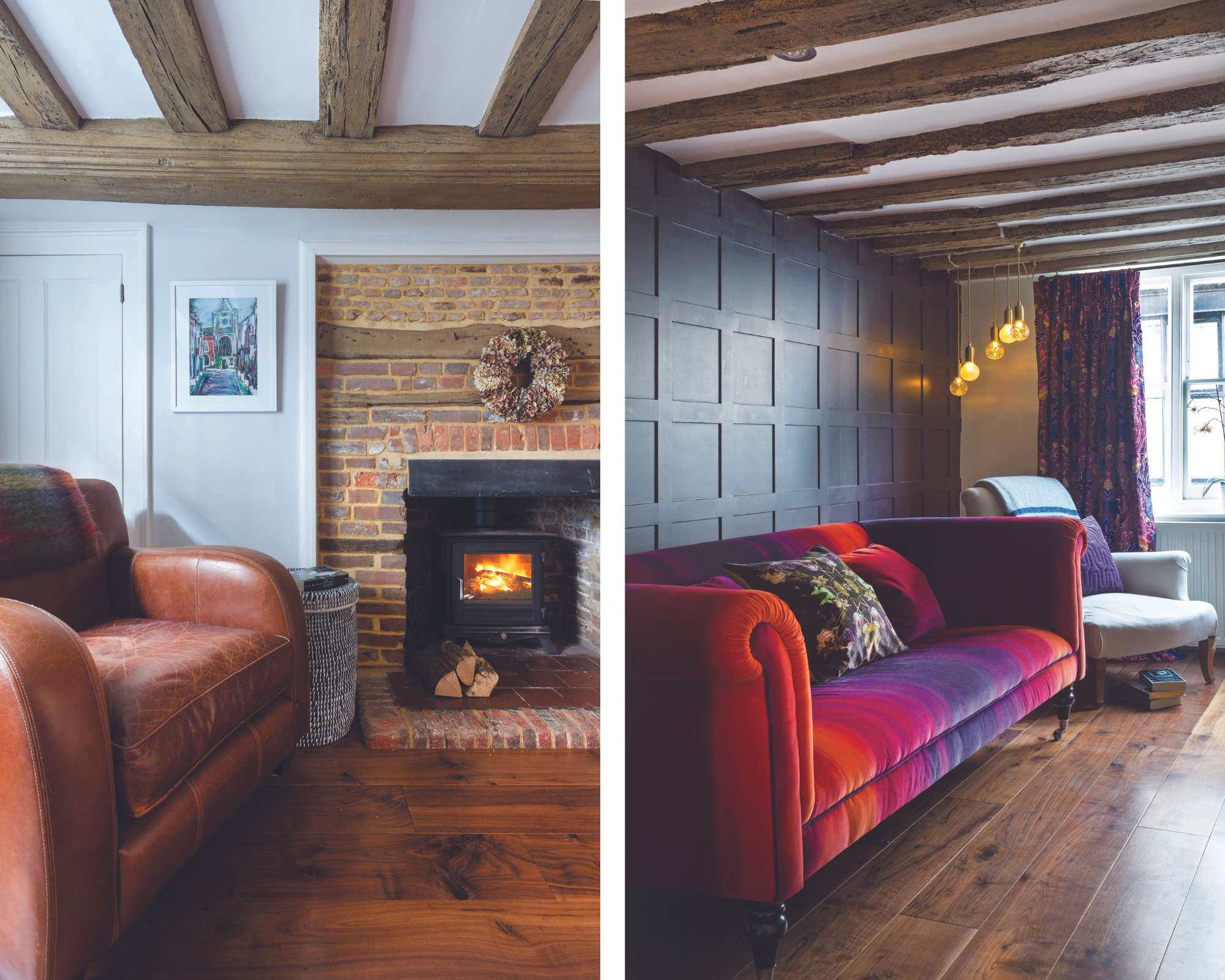 Upstairs, the family bathroom houses a large shower with bistro-style tiles plus a reclaimed sideboard, which Helen painted in charcoal paint and transformed into a sink unit. The children's bedrooms have quirky touches, such as a felt swan head sitting on the wall above Isabella's bed and a fairground light in Oscar's room. The attic space has been transformed into the master bedroom suite with a copper-framed bed and green accents in the geometric wallpaper and soft furnishings.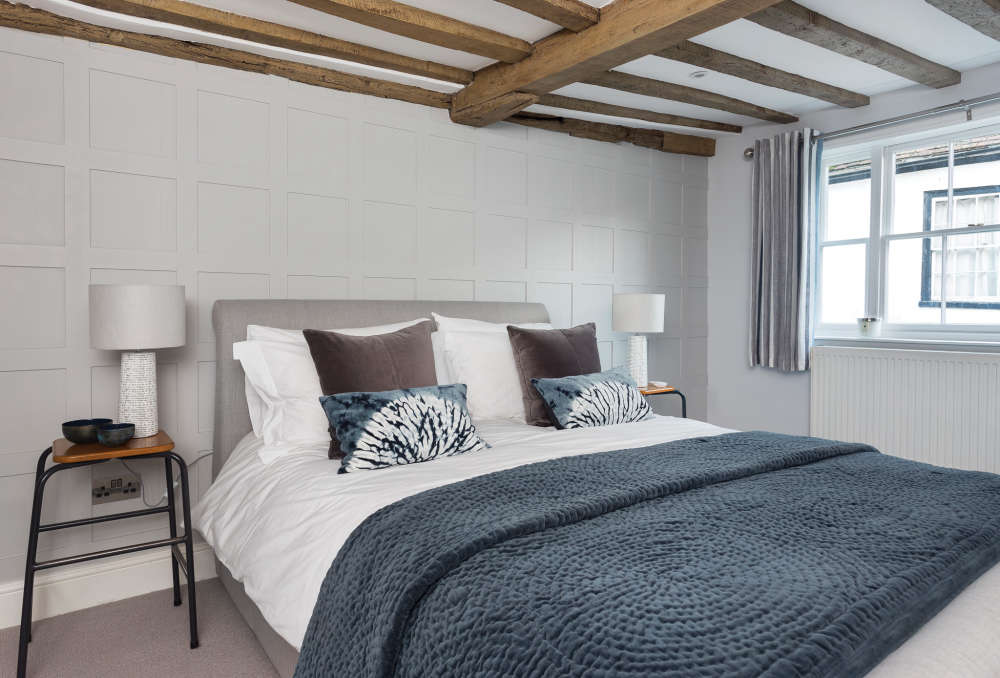 The overgrown garden has been completely cleared and now features a neat and stylish scheme with artificial grass, plant wall art, an outdoor rug and cushions and sleek seating area. This was no mean feat, given that the only access to the garden is through the house and all the detritus had to be dragged through.

Helen is delighted with the result of all her hard work, so much so, that they are now renting out their main house and spend all their time at the cottage. "We bought the house in Burwash because we wanted what I call a 'death or divorce' house – it's the sort of lifelong home that only comes on the market when someone dies or gets a divorce!" she laughed. However, while the cottage was bought as a weekend home, its irresistible revamp and the fact that Nick is away for weeks at a time for work have led the family, plus dogs Harper and Harry, to moving full time to the cosy cottage.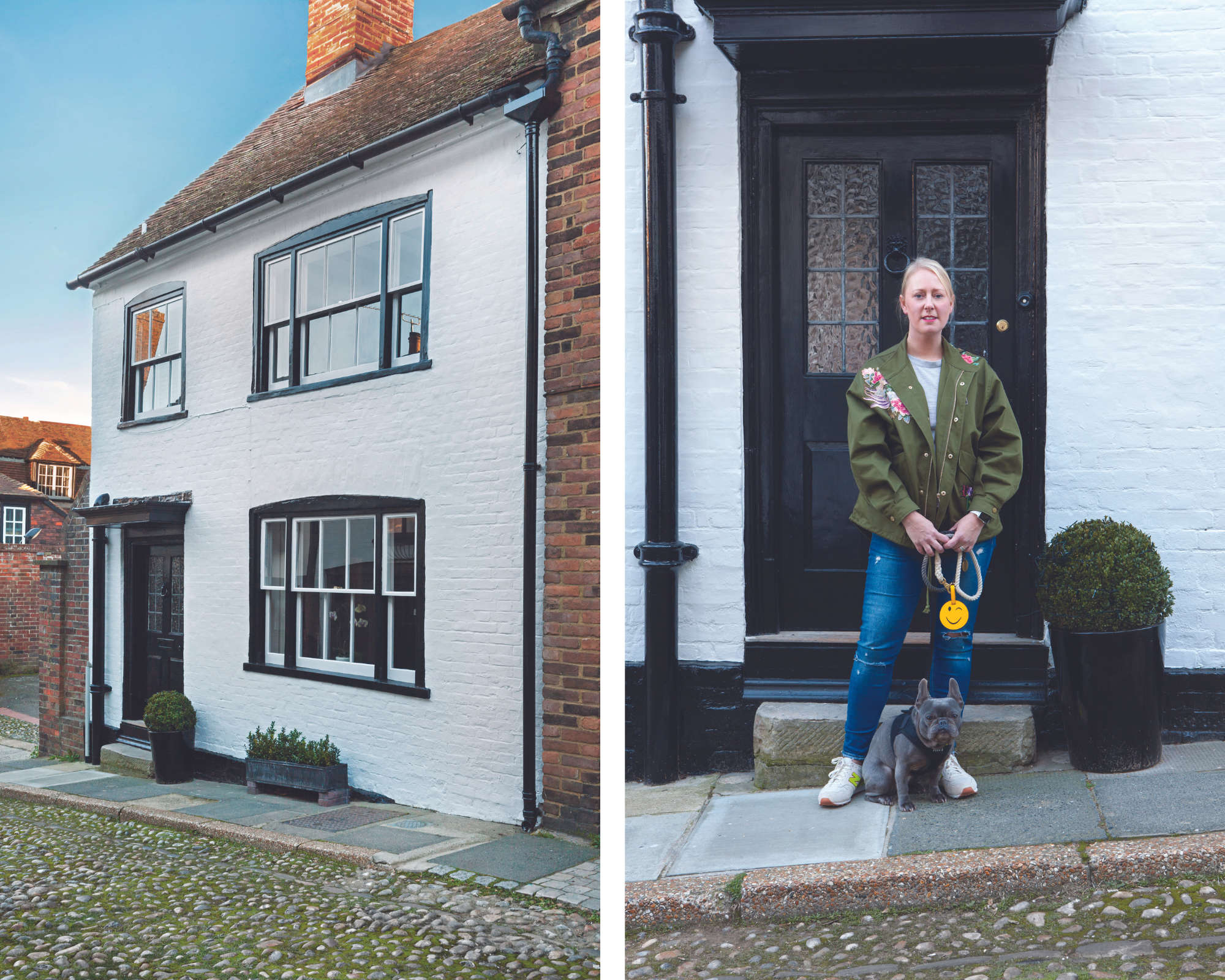 Helen cannot fault the location. "It's so easy when it comes to running errands – everything is on the doorstep. Pretty much every Sunday we go down to the local café for breakfast and if there's ever an evening when I can't be bothered to cook we have a big selection of restaurants to choose from. We really do love living here."