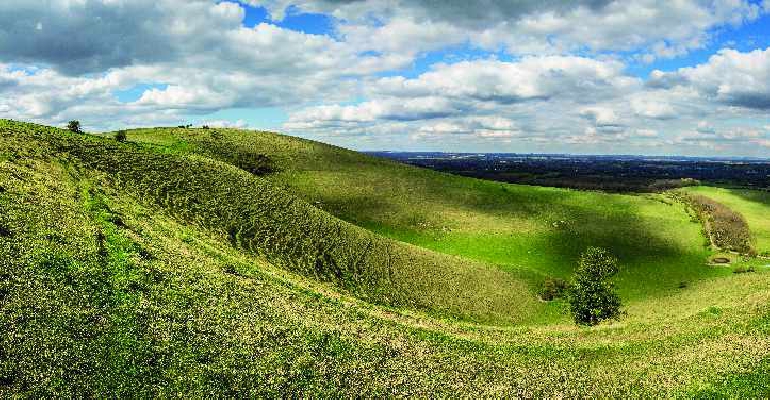 The sight of wild orchids in their natural environment can be an uplifting experience, so we spoke to Mrs Mugridge, who's been orchid spotting on the South Downs for as long as she can remember
Worldwide, the orchid family comprises around 28,000 species. Of that multitude about 50 species are found in the UK and Jennifer Mugridge knows where to find a few of them.
"I'm from Hurstpierpoint originally," she recalls wistfully.
"My grandfather was Ernie Hayes, the village postman. He was a well-known character, who also worked for the village undertaker.
"With a favourite pew in the church, he sat out of sight of the pulpit, dozing during sermons."
In the 1950s Ernie would take Jennifer's family for walks on Wolstonbury Hill, the domed summit to the south of the village.
"We would picnic in Solomon's Gardens, a quarter of the way up the north face; a little hollow in the hill. We looked over the young trees, towards Danny House and Hurstpierpoint.
"The trees were much smaller then. When David Lloyd George was Prime Minister, he would stay at Danny House and walk up to Solomon's Gardens to think things over."
From there, it was a short, steep walk to the summit at 206m (676ft), where a Bronze Age settlement once existed.
Jennifer recalls her grandfather taking her to 'Table Mountain' on the southwest side of the summit. Supposedly a former Roman lookout, it offers wonderful views towards the coast.
Jennifer tells me how they would find orchids all across the hill, among the wild meadows away from grazing cattle, sheep, enthusiastic rabbits and trampling feet, and so began a lifelong passion.
Orchids love the well-drained chalky soils beneath the skin of the South Downs, flowering from April through July, possibly longer if the weather is accommodating.
They are classed as perennial herbs and lack any woody growth. Fresh growth occurs annually, either vertically from a single stem, or branching out laterally through several buds.
The density of orchid populations can fluctuate from year to year, according to Jennifer.
Not all species flower every year, some flower only once a decade. Orchids aren't just found on Wolstonbury Hill, as Jennifer was keen to point out.
"They're found all along the Downs, from Cissbury Ring to Chanctonbury Ring, above Ditchling and Alfriston, around Lewes and across to the Cuckmere Valley and the Seven Sisters."
Orchids possess bilateral symmetry, which means one side of the flower is a mirror image of the other. Easy to spot colours include shades of white, pink and purple.
Many species are resupinate, so flowers appear to be upside down. In reality they've evolved landing pads in readiness for insects to touchdown and pollinate.
Some orchids grow single flowers, though most have delicate clusters.
"People still pick the flowers, which doesn't help," warns Jennifer. "Enjoy them as they are, let them flower and spread their seeds."
Jennifer's enthusiasm for orchid spotting is infectious. She's climbed Wolstonbury Hill seven times in 2020, so far.
"I've been climbing it for about 70 years. I used to skip up the north face in my youth; it seemed so easy then.
"It seems bigger and steeper now the years have passed. We live in Woodingdean these days and I've had two hip replacements, so I walk carefully from Pyecombe, which takes about half an hour.
"The fly orchid is the one that my partner Lloyd and I love to find. Some stems have four or five flowers on them, yet it's rarely more than six inches high.
"We also search for the bee, butterfly, common spotted, and the very rare man orchid. The fragrant orchid is another we find, but it smells horrible, like cats wee!"
Jennifer's tip for newbie orchid spotters is to move slowly, search close to the ground, keep your eyes peeled and watch out for rabbit holes.
But even after 70 years of searching, one pot of gold at the end of the rainbow still eludes Jennifer.
"I've yet to see the rare frog orchid, although I have met someone who has."
I get the impression she'll keep walking the South Downs until she does find a frog orchid.
After all, every journey, even the longest journey, begins with a single step.