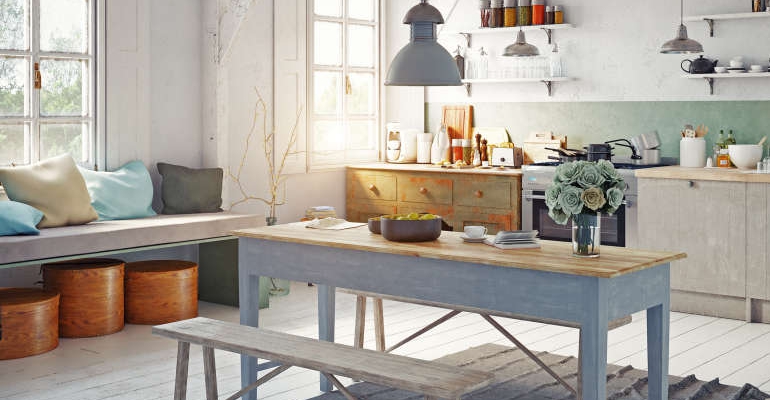 Thinking of remodelling the kitchen this summer? Read on for some tasty on-trend design and style tips from Sara Whatley
The evolution of the kitchen is a juicy story. From cooking over the open fire in the Middle Ages and huddling in for warmth, food, light and safety to the trend for the kitchen being separated and shunned as a space to entertain (which lasted right up until the 1950s/1960s), to today's kitchen which is now the hardest working room in the home and is often pride of place for entertaining. Today's kitchen is a multifunctional space that includes a kitchen, dining room, comfortable living area and increasingly, a workspace too.
As we are spending more time at home than ever before, we expect our kitchens to perform to our every need. On the dream kitchen wish list you will likely find an island, a breakfast bar (perhaps to be integrated into your island), modern pantry, nifty concealed appliances and storage solutions, a dining area, a cosy, soft furnished area and maybe even a wood burner or workspace other than the dining table. And of course, it must look absolutely stunning too!
Probably the most desirable design for this room of the house is open-plan living and for those with gardens, an extension of the space out into the garden for that glorious Mediterranean vibe. Or if you desire a little more seclusion from your cooking and dining areas you could opt for the broken plan design, where you use a well-placed shelf unit or raised breakfast bar to create separation instead of a full-on wall.
When thinking about the design of your kitchen there are numerous styles available from sleek, modern and minimal to rustic country farmhouse and everything in between. It's always a good idea to think about the general feel and style of the rest of your home and to keep the kitchen in step with that. Of course, that doesn't mean you can't make a bold statement with your kitchen to ensure it's the true humming heart of your home.
I believe functionality should be the buzzword of any kitchen, for even if it looks amazing, if it doesn't function sufficiently it's just not worth it. Luckily this is not a problem with all the nifty storage solutions and ergonomic designs available today. Contemporary kitchens are keeping up with all the latest tech and gadgetry trends to make them function at an all time high, but that doesn't mean we want to look at them all the time, and now we don't have to. Concealed appliances are de rigueur due to the de-cluttering movement and create sleek fuss-free living.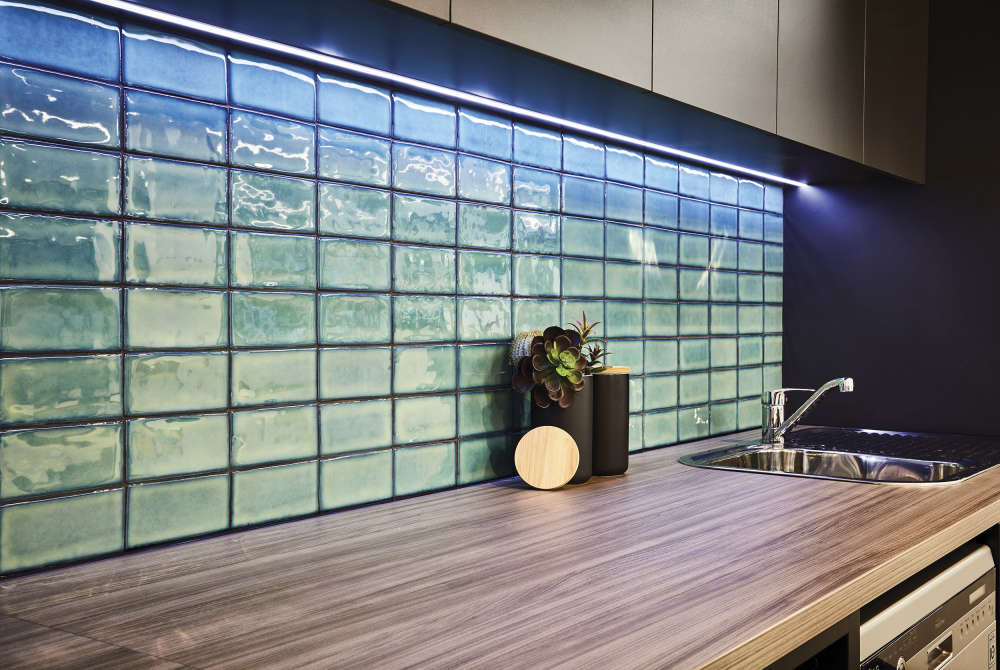 Food storage has also found a new solution; the modern-day larder. Essentially a tall and deep free-standing cupboard with all the shelves, draws and racks you could desire meaning all your dry goods are compactly stored in one organised place. With colourful doors to fit in with the rest of the kitchen scheme or with glass fronted doors, the modern-day larder is not only highly functional but also looks the part.
Another great storage space is a kitchen island. These multi purpose kitchen features are infinitely adaptable and can be designed just the way you want. House the sink here or perhaps you would rather the cooker to be the centre of the room, easily done with a downdraft extractor fan which sits behind the hob. Include a sociable breakfast bar, extra worktop space and of course oodles of storage underneath. Kitchen islands are not just for the large kitchens either, small spaces can also benefit from a compact island creating extra storage and worktop areas. Play with shapes and designs to fit around your kitchen space; small and square, long and thin, rounded, curved – whatever takes your fancy. You could even go for a dining island – where your standard kitchen island has an extension dining table added for the ultimate in sociable cooking and eating.
Once you have the design of your kitchen nailed it's time to start thinking about the look. Colour schemes are quite bold for 2021, think mood enhancing dark reds, greens and blues with the addition of statement countertops and splashbacks. Don't forget about the fifth wall as well – the ceiling! Choosing a bold colour to go up top can really enhance your space and make it much more visually interesting.
Lastly, turn your attention to the all important small finishing details which lift a design from mediocre to wow! Shining brass taps, verdant hanging plants, stylish handles, beautiful tiles across the floor, a stunning lampshade or an inviting cosy sofa. Now all you have to do is turn up the heat and get cooking!