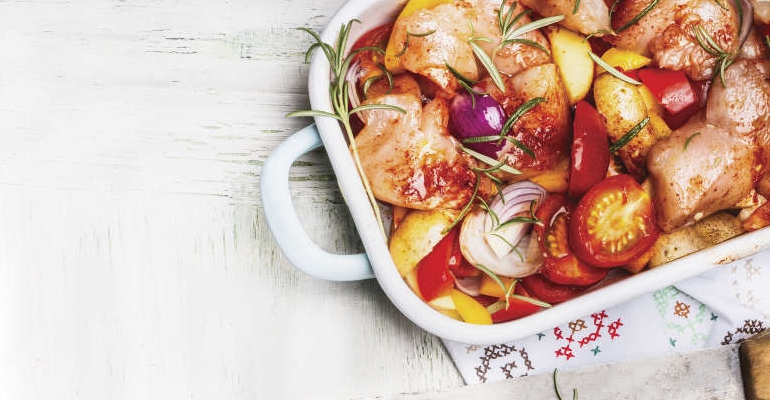 This all-in-one tray bake by Adele Trathan is ideal as a mid-week meal, it combines great flavours for a tasty meal but with minimal washing-up
Serves: 4
INGREDIENTS
4 chicken breasts, trimmed and halved
2 tbsp Dijon mustard
Juice of 1 lemon
2 tsp paprika
4 tbsp olive oil
700g (1lb 8oz) waxy baby potatoes
1 red onion, cut into 8 wedges
1 red or yellow pepper, sliced
6 garlic cloves, whole but bashed
275g (10oz) cherry tomatoes, halved
A few sprigs of rosemary
Chopped parsley to garnish (optional)
METHOD
Heat the oven to 200C (400F, Gas 6). In a large bowl, stir together the mustard, lemon juice, paprika, 2 tablespoons of the oil, and season with salt and pepper to taste. Add the chicken halves and toss to coat. Set aside while you chop the vegetables.
Cut the baby potatoes into halves. Peel the red onion and cut into 8 wedges. Cut the cherry tomatoes in half but keep them separate from the other vegetables.
In a large baking or roasting dish toss the potatoes, peppers, onion, and garlic with salt, pepper, and the remaining 2 tablespoons of olive oil. Spread them evenly in the pan.
Nestle the chicken into the vegetables and top with any extra sauce and the rosemary sprigs. Bake uncovered on the middle shelf of the pre-heated oven for 30 minutes.
Remove the pan from the oven and turn the ingredients, then scatter the cherry tomatoes on top, and return the pan to the oven.
Bake for another 25 to 30 minutes, or until the potatoes are tender and chicken cooked through. Garnish with parsley and serve with a salad and crusty bread.