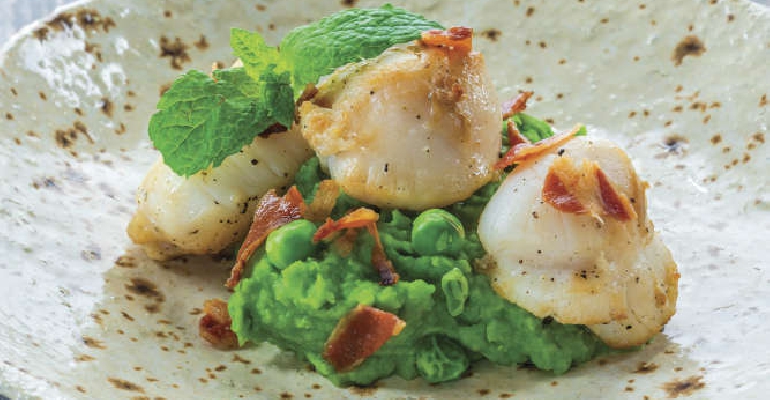 Why not surprise your loved one with a romantic dinner for two? Adele Trathan offers this starter which combines classic complementary flavours for an indulgent appetiser
Serves: 2
INGREDIENTS
6 fresh scallops
4 slices of pancetta
1 small onion or large shallot, finely chopped
Small clove of garlic, crushed
200g (7 oz) of frozen peas
125ml (4fl oz) of double cream
2 teaspoons of butter
Dash of olive oil
Squeeze of lemon juice
Salt and pepper to taste
METHOD
Sauté the onion or shallot with the garlic in 1 teaspoon of butter for 2-3 minutes until softened, add the cream and bring to the boil. Pop in the frozen peas, just to defrost until soft. Put the mixture into a blender and liquidise to a smooth consistency, season with salt and pepper to taste and set aside somewhere warm.
Wipe the pan clean, and then over a high heat fry the pancetta, turning until crisp. Set aside to cool.
Heat a large frying pan adding a splash of olive oil. Season the scallops and add them to the hot pan. Cook for one minute on each side (time it, to avoid overcooking), add the other teaspoon of butter and squeeze of lemon juice at the last moment.
Spoon some of the pea purée onto the centre of a warmed plate and top with three scallops. Crumble or chop the slices of pancetta and sprinkle over the scallops, serve immediately.