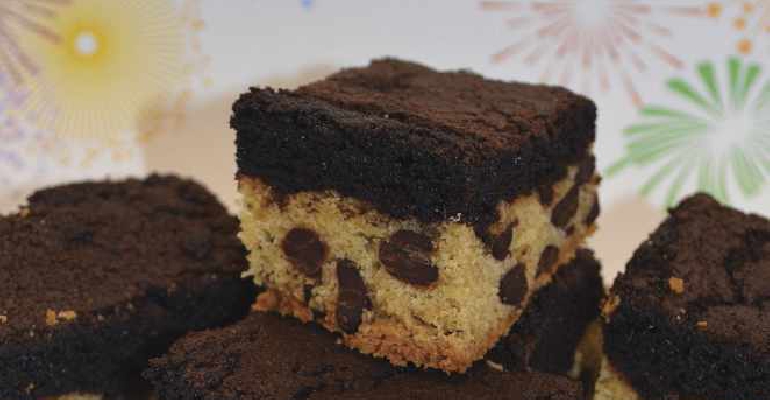 Whether bonfire night goes with a bang as usual, or whether it's cancelled this year matters less, because 15-year-old Imogen has put a seasonal spin on a recipe to ensure other teenage trainee pâtissier chefs can still celebrate November 5th with some snap, crackle and pop
Ingredients
For the cookie layer:
110g (4oz) softened butter
110g (4oz) light brown sugar
50g (1¾ oz) caster sugar
½ tsp vanilla extract
1 egg
155g (5½ oz) plain flour
½ tsp salt
½ tsp bicarbonate of soda
170g (6oz) chocolate chips
1-2 sachets of popping candy
For the brownie layer:
200g (7oz) caster sugar
110g (4oz) melted butter
60g (2¼ oz) plain flour
1 tsp vanilla extract
2 eggs
30g (1oz) cocoa powder
¼ tsp baking powder
1 pinch of salt
Method
For the cookie layer:
Beat the butter, brown sugar, caster sugar and vanilla extract together in a large bowl until creamy.
Add the egg and beat until light and creamy after a couple of minutes.
Whisk together the flour, salt and bicarbonate of soda in a bowl.
Gradually combine and mix the flour mixture into the butter, until a dough is created.
Stir in the chocolate chips.
Spread the dough into the base of a baking tray and cover completely.
Sprinkle with popping candy.
For the brownie layer:
Stir the caster sugar, melted butter and vanilla together in a bowl.
Add the two eggs and beat well.
Mix the cocoa powder into the bowl, creating a buttery mixture once combined.
Add the flour, baking powder and salt into the mixture and stir well.
Pour the brownie mixture over the cookie dough and spread to cover it completely.
Bake in the oven at 180°C (Gas Mark 5) for 25 minutes or until a skewer comes out cleanly.
Cool and cut into squares.
Top Tip: Alternatively, serve warm with ice cream or custard!