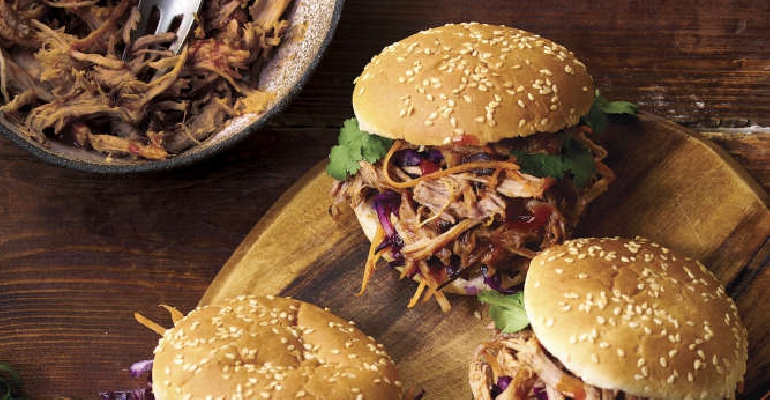 This delicious recipe is ideal for al fresco summer parties and it's certain to get the guests chatting; Adele Trathan recommends serving in soft bread rolls, accompanied with barbecue sauce and crunchy coleslaw
Serves: 8
INGREDIENTS
2.5kg (5lb 8oz) shoulder of pork, bone in
3 tbsp muscovado sugar
2 tbsp salt
1 tbsp smoked paprika
1 tbsp ground cumin
1 tsp chilli powder
1 tbsp garlic powder
Freshly ground black pepper
300ml (10fl oz) beer, cider or apple juice
METHOD
In a bowl mix up the sugar, seasoning and spices. If the meat isn't already scored, then using a sharp knife, make scores diagonally across the fat. With a paper towel, pat the meat dry and rub approximately half the seasoning mix over the meat, rubbing well into the scores. This can be done up to 24 hours in advance of cooking and then refrigerated.
Preheat oven to 220°C (200°C Fan, 390°F, Gas 7). Place the joint into a large roasting tin or casserole dish and roast in the hot oven for 25 minutes.
Turn the heat down to 160°C (140°C Fan, 320°F, Gas 3). Remove from the oven and pour the beer, cider or apple juice into the base of the roasting tin. Cover with a tight-fitting lid or double thickness foil, ensuring it is fully closed to prevent steam escaping.
Cook for 6 hours or until the meat falls apart and pulls easily away from the bone. Remove the lid or foil, pour off the juices and reserve. Turn the heat back up to 220°C (200°C Fan, 390°F, Gas 7) and cook the pork, uncovered for 15 minutes to crisp up the fat. Take out and allow to rest for 30 minutes.
Remove the meat from the bone and using two forks pull the meat into shreds, cutting up the crackling as well for added texture and flavour. Then add the rest of the seasoning and spice mixture and some of the reserved juices and toss together.
Serve immediately in soft buns, it should be deliciously succulent and tasty with crunchy coleslaw and barbeque sauce.