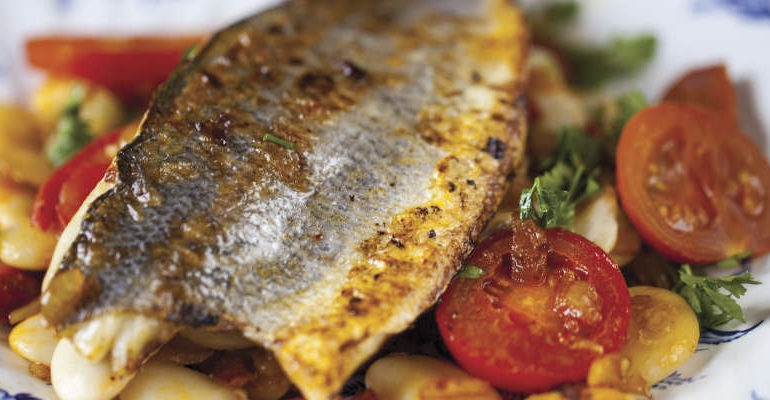 Adele Trathan suggests this quick and tasty fish supper, it's ideal for a romantic dinner as it only takes 20 minutes to make, but is full of delicate yet delicious flavours
Serves: 2
INGREDIENTS
2 sea bass fillets
4 tbsp olive oil
1 red onion, finely chopped
1 garlic clove, crushed
150ml (4fl oz) dry white wine
250g (10oz) baby plum or cherry tomatoes, halved
1 (400g) tin of cannellini beans, drained and rinsed
1 lemon, halved
2 tbsp flat leaf parsley leaves, chopped
Salt and pepper
METHOD
Preheat the oven to 110C (230F, gas mark ¼). Heat 2 tbsp olive oil in a pan over a medium heat, add the onion and garlic and gently fry for 4-5 minutes until softened. Turn up the heat and add the wine, bring to the boil and reduce by half.
Add the tomatoes and cannellini beans, lower the heat to medium-low and simmer for 10-15 minutes, stirring occasionally until the sauce has thickened a little. Then squeeze the juice of one half of the lemon, add a tablespoon of olive oil, season well and stir through. Transfer to an ovenproof dish and pop into the oven to keep everything warm.
Pour the last tablespoon of olive oil into a large non-stick frying pan and warm over a high heat. Rub both sides of the sea bass fillets with salt and pepper. When the pan is hot, sear the sea bass, skin-side down, and fry for 3-4 minutes without moving until the skin is crispy and golden. Then turn over and fry for a further minute.
Stir the chopped parsley through the cannellini bean mixture and spoon onto two warm plates. Top with the sea bass fillets and serve immediately with lemon wedges.