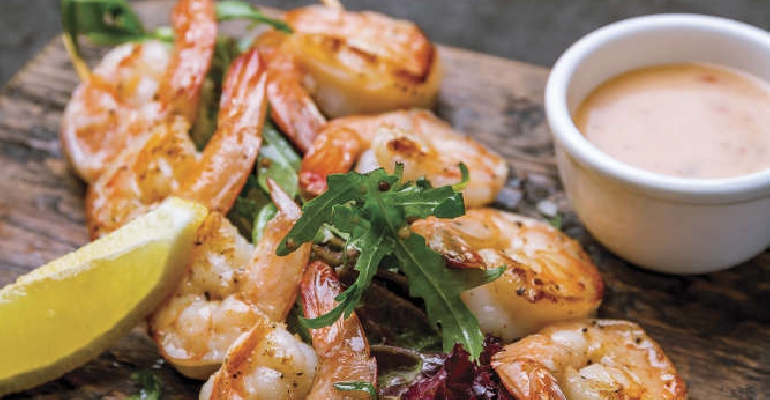 This is a dish to impress your guests. Adele Trathan uses honey in three stages of her recipe, generating depth and sweetness to deliciously succulent, griddled king prawns
SERVES: 4
INGREDIENTS
700g (1lb 8oz) uncooked, king prawns with tails on
250ml (8½fl oz) boiled water
2 tsp salt
6 tbsp quality runny honey
1 handful of ice cubes
3 tbsp red wine vinegar
3 tbsp extra-virgin olive oil
3 spring onions, finely shredded
2 garlic cloves, crushed
1 small red chilli, finely sliced
Small bunch of flat-leaf parsley, finely chopped
A few sprigs of fresh oregano, finely chopped
1 sliced lemon
METHOD
Put the boiled water, salt and two tablespoons of the honey into a bowl and stir until the salt dissolves. Add the ice cubes and stir through to allow the mixture to cool quickly. Once cool, add the prawns and pop into the fridge for 30 minutes.
Remove from the fridge and discard the liquid. Pat the prawns dry using kitchen paper. Then, in a bowl, mix a further two tablespoons of honey in with the prawns.
In a separate large bowl combine the red wine vinegar and remaining two tablespoons of honey with a whisk. Gradually add the olive oil, stirring with the whisk continuously until well blended, then stir in the onions, garlic and herbs.
Pre-heat a lightly oiled griddle-pan over a medium-high heat, add the prawns and cook for 2 1/2 minutes on each side, until cooked through, pink and lightly charred.
Add the prawns to the honey, olive oil and herb bowl and toss well to coat the prawns. Serve on a platter with salad leaves and slices of lemon or slide on to skewers for individual portions.