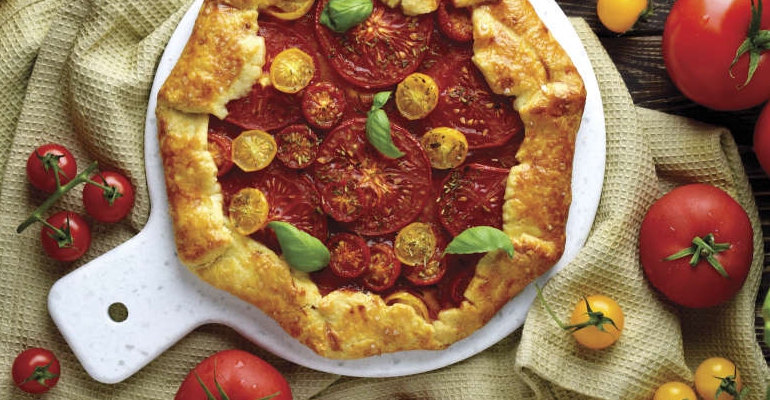 Galette is the French name for a freeform rustic tart. Adele Trathan suggests an heirloom tomato option, as it makes for a colourful creation with an easy to adapt filling, to suit personal preference by incorporating various seasonal vegetables and different cheeses
Serves: 6
INGREDIENTS
For the pastry
195g (7oz) plain flour, plus more for rolling out pastry
115g (4oz) unsalted butter, cold and cut into cubes
50g (1¾oz) freshly grated Parmesan cheese
Zest of ½ lemon
115ml (3¾fl oz) cold water
½ tsp salt
For the filling
115g (4oz) Gruyère cheese or another preferred cheese, grated
340g (12oz) ripe heirloom tomatoes, sliced or halved if small
1 tsp fresh basil, finely chopped
1 tsp fresh rosemary, finely chopped
Freshly ground black pepper and salt
1 tbsp olive oil
1 large egg, beaten
METHOD
Put the flour, butter and salt into a large bowl and use fingertips to rub the butter and flour until it resembles breadcrumbs. Add the Parmesan cheese and lemon zest then gradually drizzle in the water, mixing with a fork until it starts to hold together as a dough. You may not need all of the water. Then use your hands to form a ball. Wrap the dough in clingfilm and refrigerate for 1 hour or overnight.
Preheat the oven to 200°C (180°C Fan, 390° F, Gas 6). Dust a clean work surface with flour and roll the pastry into a 12 inch circle. Transfer the pastry to a 10 inch round baking pan or low sided skillet.
Cover the pastry evenly with the cheese leaving a 1 inch border all around. Arrange the tomatoes on top of the cheese, also leaving a 1 inch border.
Brush the tops of the tomatoes with the olive oil then sprinkle the herbs over the tomatoes and season well with salt and pepper.
Fold the border of the pastry inwards to cover the edge of the tomatoes all around. Brush the pastry edges with the egg and bake for 20-25 minutes until the dough is golden. Remove from the oven and allow to cool in the pan for 10 minutes, then slice and serve.