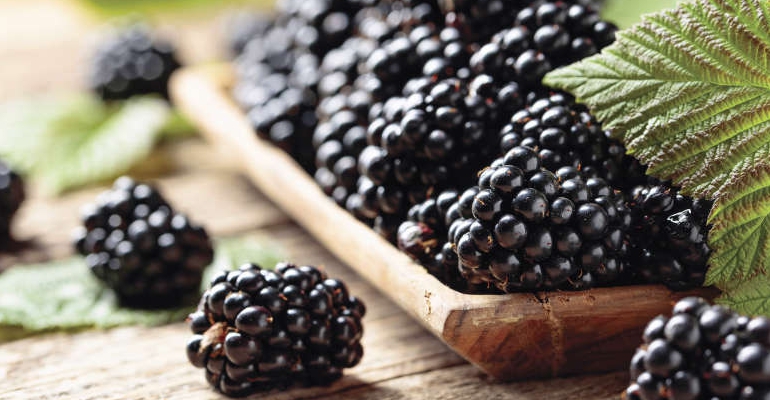 Bring a little burst of year-round summer magic to your taste buds with Sara Whatley's fruit preserving recipe
The sun has shone down diligently on the crops all summer long and come September, the harvest should be beautiful and abundant. Eating fresh from the soil, tree or bush is an absolute joy and should wholeheartedly be taken advantage of, but there is a way to experience that burst of summer flavours all year long: preserving.
Bottling, jams, jellies, chutneys, curds, pickling and fermentation are all excellent methods of preserving and can result in some truly special culinary delights. Here we look at three different fruits and three different recipes to make the most of a glut.
These little shining clusters of deep purple berries appear in the hedgerows from August, but can carry on into September and even October. They are at their best earlier in the season however, so make sure you pick your way through the brambles and gather as many as you can to freeze for later use.
Purple stained fingers (and mouths!) is a sure sign of a good haul. Look in sunny spots for large and early ripeners and more shaded areas for later fruits.
I try to fill my freezer every year then enjoy adding the frozen berries into smoothies or a good old-fashioned apple and blackberry crumble. This recipe takes blackberries to a new and wonderfully indulgent place, for a special taste of summer all through the year.
Makes Approximately : 1 large or 2 small jars
INGREDIENTS
400g (14oz) blackberries (fresh or frozen)
200g (7oz) fine sugar
100g (3½oz) butter
3 eggs, whisked
½ lemon, juiced
METHOD
Heat the blackberries then strain through a sieve, mashing with a spoon to generate all the juice you can muster.
Put the blackberry juice, lemon juice, butter and sugar into the pan over a very low heat and stir until dissolved.
Add the eggs and whisk continuously until the curd has thickened and is glossy. Transfer into jar or jars and keep in the fridge for up to two weeks.