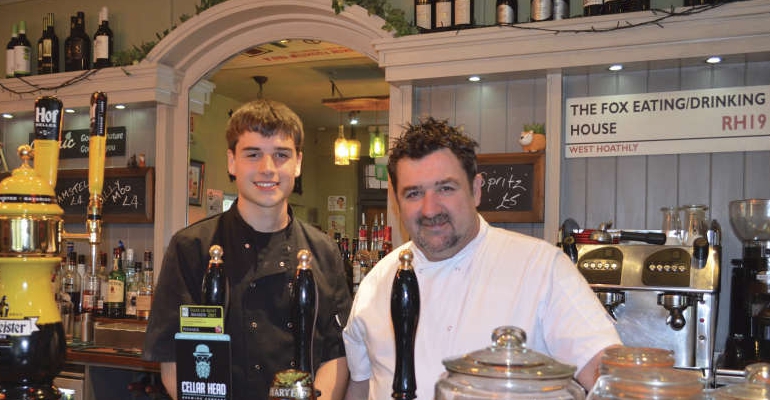 Advertising Feature: Tim Earley has been executive chef of The Fox Eating and Drinking House in West Hoathly since 2014 and it's become his pride and joy in the years since then, as Robert Veitch discovered on a recent visit to remember
There's a sunny, welcoming atmosphere behind the door of The Fox Eating and Drinking House, in the form of the front of house team, Georgie, Rebecca and Sophie.
Meeting the owner, Tim, is like being greeted by an old friend; listening to him is to witness his dedication to his chosen vocation. "My passion is game and hedgerow cookery, and my signature dish is wild venison." Tim's preference is for locally sourced ingredients from trusted suppliers with a low carbon footprint. "From those raw ingredients, everything is proudly home prepped and home-made."
Tim's passion for food started at an early age, working in the family restaurant business. Over the years he has worked in hotels and restaurants across the UK and around the world. Honing his skills with top chefs including Taruschio at The Walnut Tree, Bibendum, and with the Hine family. His credentials also include Le Manoir and extensive time in the Caribbean under Anton Mossimann.
The Fox has a relaxed ambience with a rustic country feel. Fresh flowers and splashes of colour with fox themed decoration create an eye-catching setting.
My salmon croquette starter looked like an exquisite piece of edible sculpture. The crunch of panko breadcrumbs revealed a delicious combination of salmon, spring onion and smoked cheese, which combined with the tartness of the samphire and chive butter sauce in a triumphant balance of taste and texture.
Tim's signature, haunch of venison arrived, sitting on a rosti potato nest with savoy cabbage and peppercorn jus, looking like a Masterchef winner. The succulent meat is full of flavour, perfectly cooked and melts in the mouth. Each of the ingredients has a voice, yet the blend is complementary, and again the texture is something to behold. It's delectably satisfying. This is a chef that clearly knows his craft.
The monkfish thermidor was delicate yet meaty and combined perfectly with the creamy white wine and sherry sauce, coupled with triple-cooked chips and a lightly dressed salad; it's an absolute delight.
The chocolate fondant dessert oozes like dark, velvety chocolate lava; it's wickedly indulgent, decadent, delicious and utterly delightful. To contrast the rich chocolate, baileys choc-chip ice cream adds a palate cleansing zing.
After a thoroughly enjoyable couple of hours in a cordial environment, I departed with memories of wonderful food to pass on to others.
The Fox is an eating and drinking house as Tim pointed out. "People come because we serve high quality food at good prices in a friendly and informal atmosphere. As a free house, we have a great range of local ales and guest beers. Locals enjoy popping in for a home-made sausage roll and a drink and chat."
Once you've tried it, it's difficult to suppress the urge to return.
The Fox Eating And Drinking House
Address: Highbrook Lane, West Hoathly, East Grinstead RH19 4PJ
Telephone: 01342 810644
Open: Wednesday-Saturday 12-11pm / Sunday 12-9pm