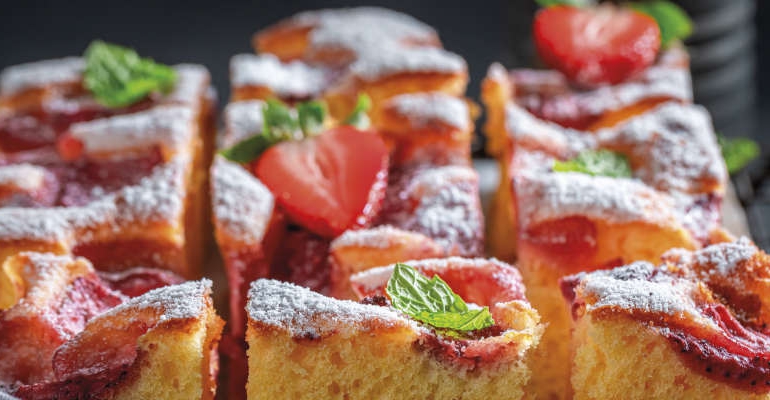 The classic twist on the quintessential pavlova gets reimagined once again in this mouth-watering traybake by Adele Trathan. Strawberries are used in this recipe, but you can choose any summer fruits to suit your personal preference
Makes Approximately: 12
INGREDIENTS
For the sponge
200g (7oz) unsalted butter, softened
200g (7oz) caster sugar
180g (6oz) self-raising flour
1 tbsp vanilla extract 4 medium-sized eggs
100g (3

½

oz) ground almonds
5 tbsp double cream
200g (7oz) strawberries, hulled and sliced
For the topping
250g (9oz) double cream (whipped)
4 shop-bought meringue nests (broken up)
200g (7oz) strawberries, hulled and sliced
Icing sugar and mint leaves to decorate (optional)
METHOD
Grease and line 20x30cm brownie pan with baking paper. Heat oven to 160C (140C fan/320F/gas 3). In a large bowl, beat together the butter and sugar until it is light and fluffy. Add the vanilla essence and then the eggs, one by one, mixing as you go. In a separate bowl, mix the flour and ground almonds. Gradually add the dry ingredients to the wet until you have a thick batter, then gently stir in the double cream and the strawberries.
Pour the batter into the prepared tin, distributing the berries as evenly as you can across the mixture. Bake for 35-40 minutes, or until a skewer inserted into the centre of the cake comes out clean. Leave the sponge in the pan for ten minutes before tipping out onto a wire rack to cool.
Meanwhile, in a separate bowl stir the meringue pieces and most of the strawberries (reserve some decoration) into the whipped double cream. Serve an individual portion of sponge with a spoonful or two of the topping mixture. Decorate with pieces of strawberry, mint leaves and a sprinkle of icing sugar. Enjoy the taste of summer!