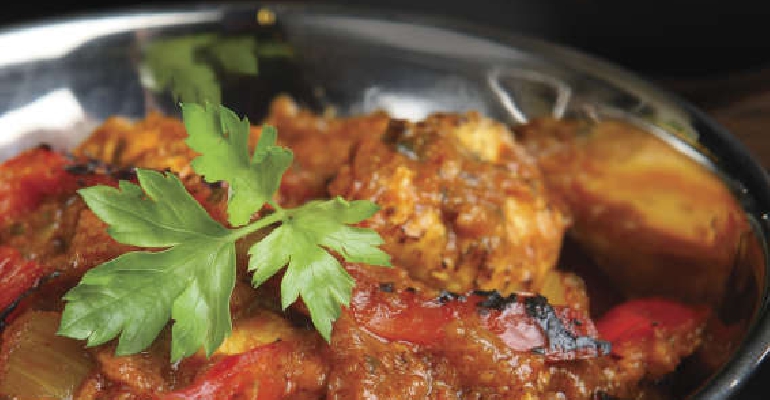 This contemporary curry recipe is full of flavour but uses just staple kitchen cupboard ingredients. Adele Trathan recommends making it for family and friends as it's easy to prepare in advance which lets the flavour develop and makes it a stress-free favourite
Serves: 4
INGREDIENTS
600g (22oz) chicken fillet, diced
2 tbsp garam masala
2 medium onions
1 red pepper
3 tbsp vegetable oil
25g (1oz) butter
Sauce
400g (14oz) tin chopped tomatoes
200ml (4fl oz) water
1 chicken stock cube
4 cloves of garlic, finely chopped
1 fresh birds eye chilli (optional or 2 for extra heat)
1 tbsp malt vinegar
1 tbsp ground cumin
2 tsp ground coriander
1 tsp ground cinnamon
1 tsp ground black pepper
To Finish
2 tbsp vegetable oil
small bunch of fresh coriander, chopped
METHOD
In a bowl toss the chicken pieces in the garam masala and leave to marinate in the fridge overnight or for at least 3 hours.
In a large saucepan gently melt the butter and oil, add the onions and pepper, cover with a lid and leave for 10 minutes on a low heat. Remove the lid and turn the heat up for 5 minutes stirring until the peppers and onions are soft and browned.
Add the rest of the sauce ingredients into the saucepan of onions and peppers, stir well and bring to the boil. Cover and lower the heat to a simmer for 30 minutes. Remove the lid and turn the heat up for about 10 minutes and stir until the sauce is thick and stew-like. This sauce can be cooled and stored for up to 4 days in the fridge and the flavours will develop.
Heat the remaining 2 tablespoons of vegetable oil in a deep-frying pan or wok. Add the coated chicken and cook over a medium/high heat for 10 minutes until the meat is cooked and golden. Add in the sauce and simmer gently for 15 to 20 minutes.
Pour the chicken curry into a rustic serving dish and sprinkle with the fresh coriander. Partner with simple fluffy boiled rice, naan bread and natural yoghurt for an authentic and tasty curry night.