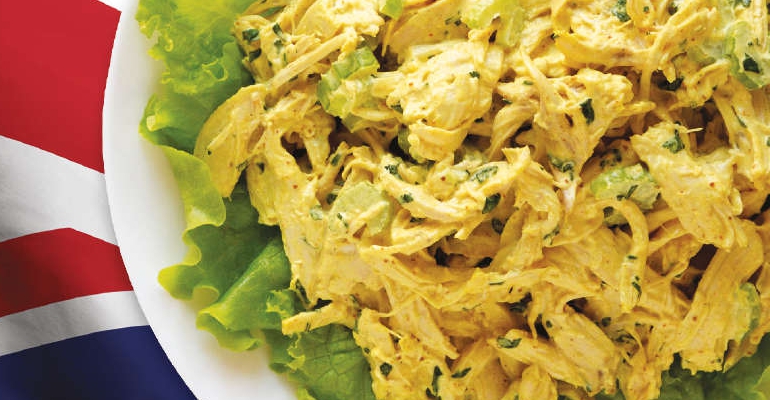 Celebrate the Queen's Platinum Jubilee with this classic recipe that was created for the coronation in 1953. This version by Adele Trathan is based upon the original royal dish, and it might stir up a few memories… for those old enough to remember!
Serves: 6
INGREDIENTS
4 skinless chicken breasts
2 tbsp coriander seeds
1 cinnamon stick
1 bay leaf
1 tsp black peppercorns
4 dried apricots, finely chopped
4 spring onions, finely chopped
For the Sauce
250g (9oz) mayonnaise
100g (3

½

oz) crème fraiche or Greek yoghurt
2 tbsp medium curry powder
3 tbsp mango chutney
1 tsp lemon juice
a pinch of sugar
salt and pepper
METHOD
Place the chicken breasts in a large saucepan and cover with cold water. Add the coriander seeds, cinnamon stick, bay leaf and black peppercorns. Bring to the boil and simmer for 15-20 minutes until the chicken is cooked. Drain and leave aside to cool completely.
In a large bowl, mix all the ingredients for the sauce together and stir until they are well combined. Season to taste and add more lemon juice if required.
Shred the chicken breasts using a pair of forks. Just before serving add the chicken to the sauce, along with the chopped apricots and spring onions. Stir the mixture well and check seasoning to taste.
It's best served immediately but can be kept chilled in the fridge for an hour or two if required. This dish is so versatile, it can be used as a sandwich or baguette filling, or deliciously piled into baked jacket potatoes, or maybe even make it the centrepiece of a regal buffet.