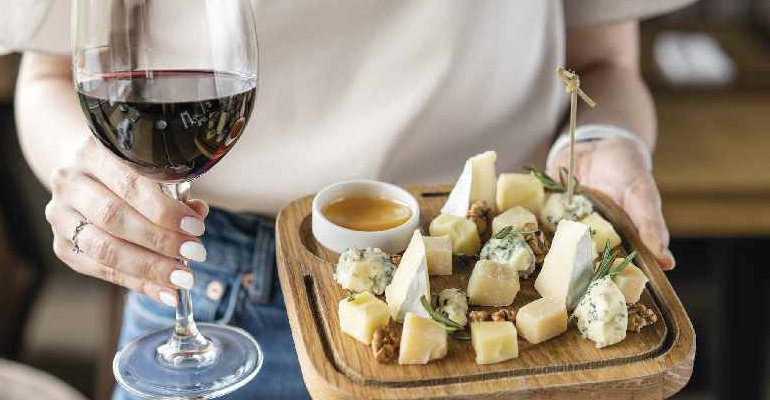 This is the ideal time of year to really get stuck into the festive cheese boards, paired with just the right wine of course. Peter d'Aguilar gives us a quick lesson
Lennon and McCartney. Bacon and eggs. Torvill and Dean. Fish and chips. Morecambe and Wise. Strawberries and cream – all of them pretty good individually, but even better when working as a pair. And the same applies to wine and cheese – but not just any old combination, selected at random. The coming together of the right wine with the right cheese can be a marriage made in heaven.
The successful pairing of food and wine is a developing art form – especially when it comes to the cheese course. While it has always been important to get this delicate process right, these days there is so much to choose from and so many different producers and variants, the task of achieving a perfect match calls for ever greater sophistication. The balance of flavour intensity is crucial in successfully pairing food and wine.
For example, foods with high acidity like tomato or lemon-based dishes make wine taste fruitier and less bitter, while the opposite is the case with spicy food. Salt is a wine-friendly flavour that makes even the biggest and heaviest wines feel smoother, richer, less bitter and acidic. Sweet food needs the company of a sweet wine.
Finding a successful partnership is particularly important in the case of cheese, as many have strong and complex flavours. In order to maximise the gastronomic experience, it is essential to choose a wine that will enhance rather than overwhelm or compromise the cheese's characteristics.
Regardless of whether the wine is light, heavy, sweet or dry, you can rest assured that there is a cheese out there somewhere that will match it to perfection.
People have been consuming wine and cheese together since the dawn of time – or at least the earliest days of civilisation. Because the two complement each other so well, it may be tempting to believe that any old combination will do. However, some careful research and planning is needed to achieve the perfect fit.
Why is it that certain wines work so well together with particular cheeses? As soon as the cheeseboard starts to circulate, many people automatically reach for the bottle of red but this is not always the best pairing. Bold, heavy, red wines are great with aged cheese like a mature cheddar. On the other hand, white wine can provide an ideal accompaniment to soft creamy cheeses.
As white wines are lower in tannins, they complement gentler flavours without overpowering them. White wine, especially the sweeter versions, are particularly well suited to blue cheeses, as its lighter notes enhance the saltiness of the cheese without detracting from its full-bodied flavour.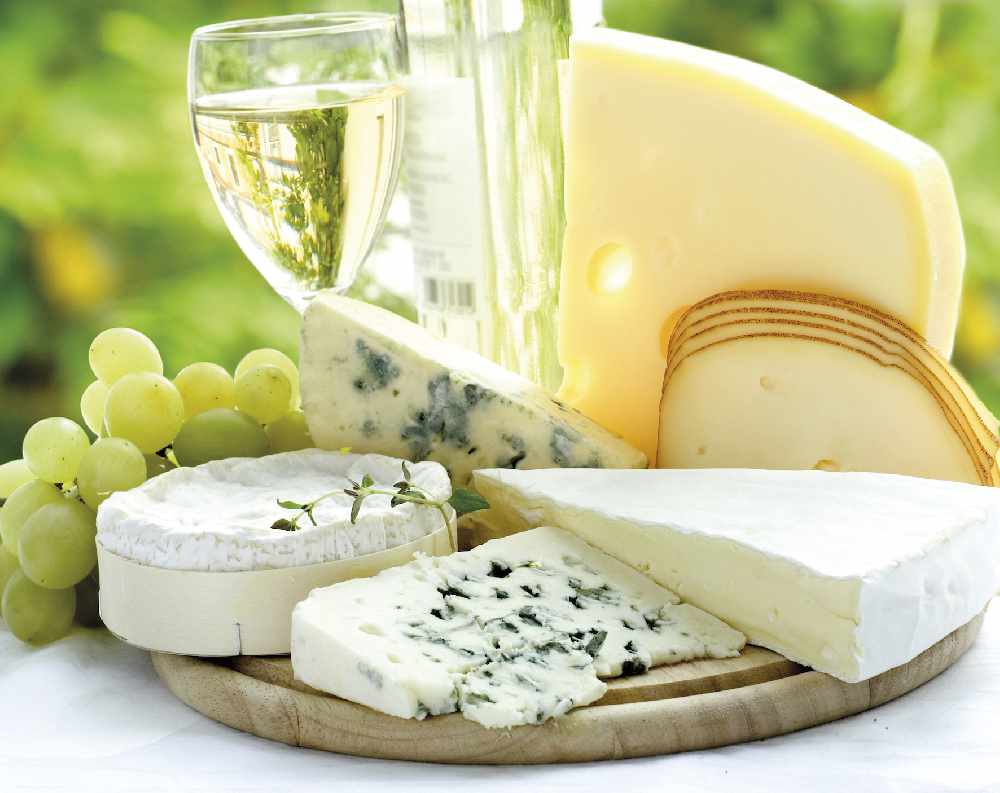 Let's look at some specific examples. For instance, in the case of cheddar, much depends on the strength of the cheese. A full-bodied Cabernet Sauvignon or Malbec with their bold flavours will hold up well against a sharp and mature cheddar. Conversely, a mild creamy cheddar will taste better when accompanied by a more delicate wine such as a Chardonnay. An oaked Chardonnay's citrus and stone fruit flavours with hints of nuts also pair well with Gruyère.
Soft cheeses with tangy rinds unite perfectly with an aromatic white – for instance Sauvignon Blanc. Brie's rich, sensuous flavour combines beautifully with the crisp effervescence of Champagne. Whether served hot or cold, Camembert's powerful flavour and creamy texture goes especially well with a crisp white or a clean sparkling wine such as Cava.
A firm, nutty cheese like Gouda or crumbly British cheeses like Wensleydale call for a bold partner to complement their intense flavour. Fuller-bodied wines rich in tannins such as Cabernet Sauvignon or Syrah would make good partners.
No pasta dish is complete without a generous sprinkling of parmesan, a quintessentially Italian cheese with a long and distinguished history stretching back to the Roman Empire. Whether served as a garnish or on its own, parmesan works well with a light white such as Pinot Grigio. Alternatively, the high acidity of a Prosecco will cut through the saltiness of this hard cheese.
A classic Spanish cheese calls for a classic Spanish wine - Manchego and Rioja! Sweet, creamy ricotta combines to perfection with a tangy German Riesling. The richness of a cheese fondue matched with an exotic Sauternes dessert wine is the perfect way to end a day on the ski slopes – or anywhere else for that matter.
And then, of course, there's Port. While Port is arguably the wine most closely associated with cheeses of all types, its sweetness and thick body goes particularly well with a pungent, crumbly blue cheese such as Stilton – the classic Christmas combination.
A Beaujolais and Greek Feta. Viognier and Jarlsberg. Monterey Jack and Merlot. Mozzarella and Pinot Grigio, goat's cheese and Sauvignon Blanc. The possibilities are almost limitless, and we all have different taste buds and sensitivities to flavours. If in doubt, a simple, un-oaked wine with a little residual sugar will go with just about anything.
One thing is for sure – you can have a lot of fun trying out these combinations, as well as discovering some new ones of your own.
Please follow alcohol consumption guidelines and drink in moderation