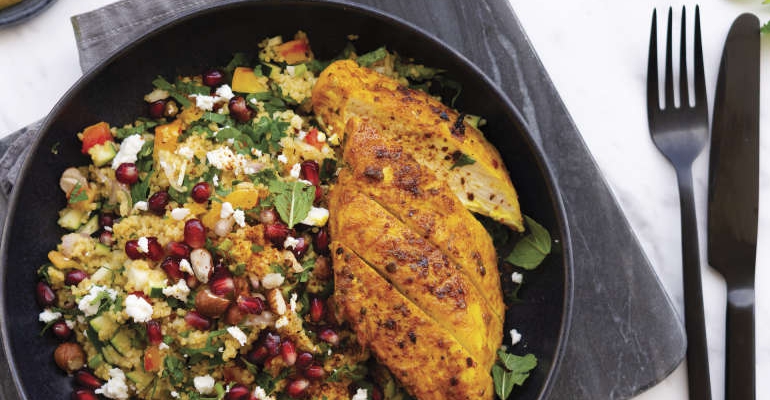 Perfect for a summer lunch, this dish by Adele Trathan is an explosion of fresh and tasty flavours. Spiced, golden pan-fried chicken complements the zingy quinoa tabbouleh which is bejewelled with pomegranate seeds
Serves: 4
INGREDIENTS
4 chicken breasts
4 tbsp extra virgin olive oil
2 tbsp paprika
2 tbsp garlic granules
2 tbsp onion granules
2 tbsp oregano
1 tbsp cayenne pepper
150g (5oz) quinoa
300ml (10fl oz) cold water
70g (2½oz) fresh parsley, finely chopped
30g (1oz) fresh mint leaves, finely chopped
4 tomatoes, diced
100g (3½oz) pomegranate seeds
75g (2½oz) feta cheese, crumbled
1 lemon
Salt and freshly ground pepper
METHOD
Using a fine mesh sieve rinse the quinoa thoroughly under cold running water. Put the quinoa and cold water into a pan and bring to the boil, lower to a simmer and cook for approximately 15-20 minutes until it has absorbed all the water. Turn off the heat and cover with a lid for five minutes to allow to fluff up. Uncover and allow to cool.
Put the quinoa in a large bowl and add the chopped parsley, mint, tomatoes and pomegranate seeds and mix thoroughly.
Mix the paprika, garlic granules, onion granules, oregano and cayenne pepper in a shallow bowl. Slice the chicken breasts into strips and then coat the strips with the spice mix.
In a large frying pan heat 2 tbsp of the olive oil on a medium to high heat then add the chicken strips and fry for 10 minutes or until cooked through, and lightly charred and golden.
To serve, add the last 2 tbsp of olive oil and squeeze the juice from the lemon to the quinoa tabbouleh. Season well with salt and freshly ground pepper and mix again. Load the tabbouleh into bowls and top with the crumbled feta and Cajun chicken. Tuck in and enjoy the fresh flavours!