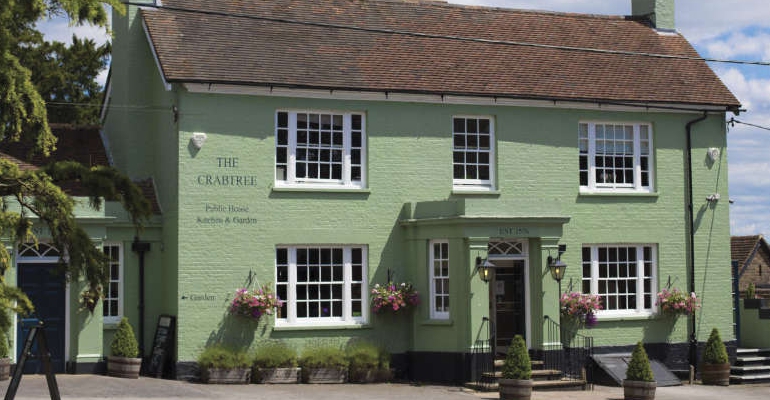 Advertising Feature: The seasons might be turning and the temperatures might be falling, but one Sussex pub is creating a clamour all of it's own, raising the bar, creating a culinary phenomenon and exciting diners, as Robert Veitch discovered at The Crabtree
Pause before entering The Crabtree, because the view south to Truleigh Hill is one to please the soul, then step inside, absorb the life affirming heat from the inglenook fireplace, and relish the friendly welcome from behind the bar. In the chill of autumnal twilight it proved quite the tonic and set the scene for the wonderful meal that followed with hosts Simon Hope and Dean Brackenridge.
Simon Hope has spent 40 years in restaurants and event catering and co-owns The Crabtree. Dean has previously been a sous chef, then head chef, and is now general manager at The Crabtree.
This former coaching inn dates from 1576 and retains original features like flagstone flooring, and timber frames; yet it's been tastefully updated, a seamless merging of old and new, of antique and contemporary. The old stables have become the pastry room – where once there were horses, now they prepare courses.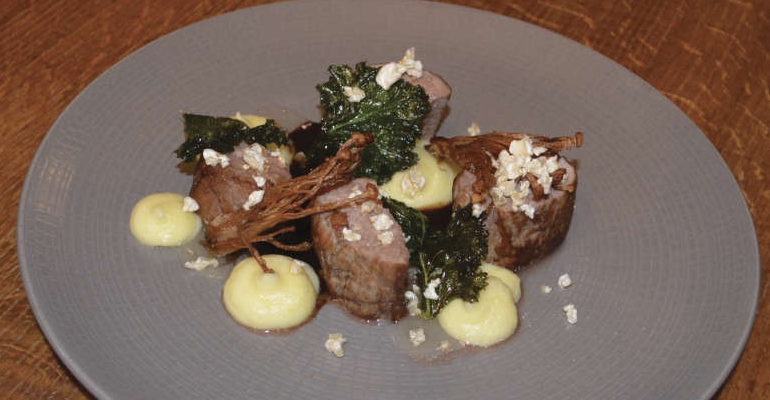 Both Simon and Dean showed boundless enthusiasm for locally sourced food. "We use as much of Sussex as we can when sourcing our meat, fish, vegetables, fruit, and drinks," noted Dean. Both are also proud of their new head chef, 22 year-old Henry Porter, who may only have been cooking professionally for five years, but is already making waves across the county.
Our starters arrived to the sound of happy chatter permeating the atmosphere. Roasted pigeon breast with plum sauce and burnt apricot offered deep, earthy, seasonal flavours of the landscape, burgeoning with the sweet glow of concentrated plum jus. Salt cured brill with Mexican leche sauce and crisp noodles offered palette pleasing stand out originality, with a zing to send a tantalizing tingle through the taste buds; in a word – brilliant.
Mains would follow. A stunning pan roasted pork tenderloin with crispy Enoki mushrooms, mashed potato, pork puree with pork rind and apple gel. This should be renamed super tenderloin – it's that good. And those innocuous Enoki mushrooms have a satisfying crunch and depth of flavour that defies logic.
Guinea hen breast with parsnip three ways, boudin blanc with chives and fennel proved to be melt in the mouth indulgent. Very well balanced soul pleasing food, with a range of complementary flavours.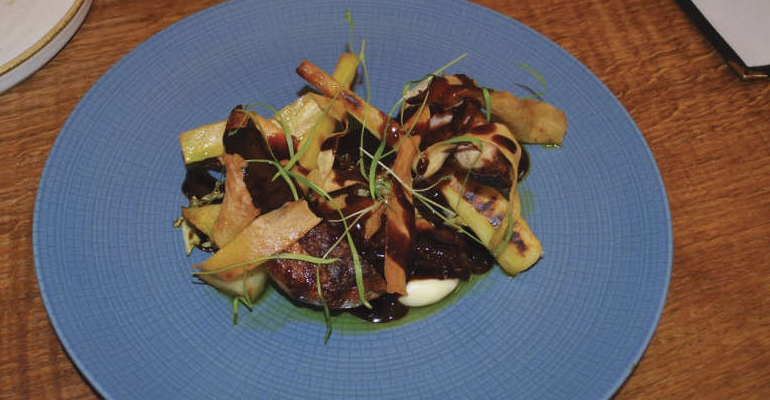 Simon revealed The Crabtree has retained the L'Assiette Michelin (Michelin Plate) accolade since 2017. It's awarded "for consistently good food at a reasonable price," he beamed.
The Crabtree can accommodate up to 70 covers and would appeal to those planning Christmas bookings, family meals, date nights, or just a spur of the moment spontaneous treat.
There's no doubt diners will enjoy Henry's gastronomic delights as well as the setting in which they're served. As he pointed out, "I'm establishing myself and I know where I'm going. Come and taste something amazing."
The Crabtree
Address: Brighton Road, Lower Beeding, Horsham RH13 6PT
Telephone: 01403 892666
Email: events@crabtreesussex.co.uk
Website: www.crabtreesussex.co.uk