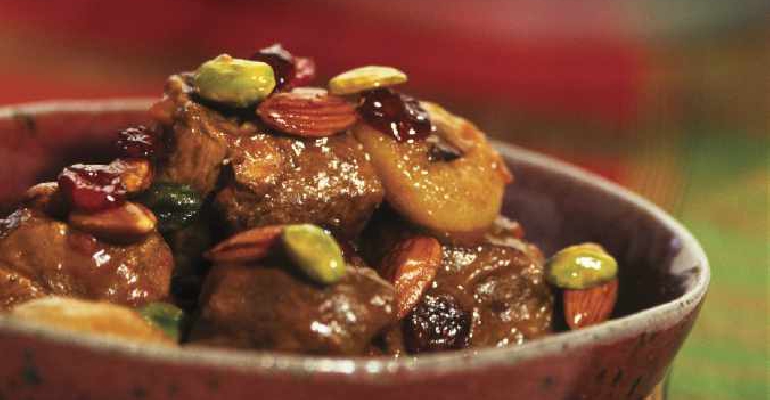 This richly spiced and fruited tagine from North Africa is ideal for feeding large families. Dates, prunes and apricots can be used instead of raisins and cranberries, or in combination. Serve with plain boiled rice, or couscous
INGREDIENTS
18-20 saffron threads
1 tbsp boiling water
2.25kg (5lbs) lamb fillet, cut into 5cm (2ˮ) pieces
55ml (2fl oz) vegetable oil
450g (1lb) cippolini or button onions
1 large garlic clove, crushed
1 tsp ground ginger
Large pinch of cayenne pepper
½ tsp cinnamon
450g (1lb) tinned chopped tomatoes
1.2ltr (2pt) chicken stock
25g (1oz) raisins
75g (3oz) whole almonds with skins
25g (1oz) butter
25g (1oz) pistachios, peeled
25g (1oz) dried cranberries
METHOD
Mix the saffron with the water and leave to stand for 10 minutes.
Fry the lamb in batches, in hot oil over a high heat for 2-3 minutes, browning it on all sides. Lift out with a slotted spoon and transfer to an oven-proof dish. Pour off all but 1 tablespoon of the oil, reduce the heat down to medium, add the onions and cook for 4-5 minutes until golden. Stir in the garlic, spices and saffron liquid, then cook for 1 minute. Add the tomatoes, stock and raisins, bring to the boil and season well. Pour over the lamb, stir well, cover and cook in a preheated oven at 190C/375F/Gas 5 for about 1½ hours, or until meltingly tender.
Sauté the almonds in hot butter for 1-2 minutes, add the pistachios, cranberries and a large pinch of salt.
Scatter the hot nuts and cranberries over the lamb tagine and serve. Advance preparation: make the tagine up to 3 days ahead, cover and cool. Reheat in a preheated oven at 190C/375F/Gas 5 for about 45-60 minutes, until piping hot.
Freezing: freeze the cooked tagine up to 4 weeks before use. Reheat as above.
Recipe: Lorna Wing / Narratives
Photography : Jan Baldwin / Narratives