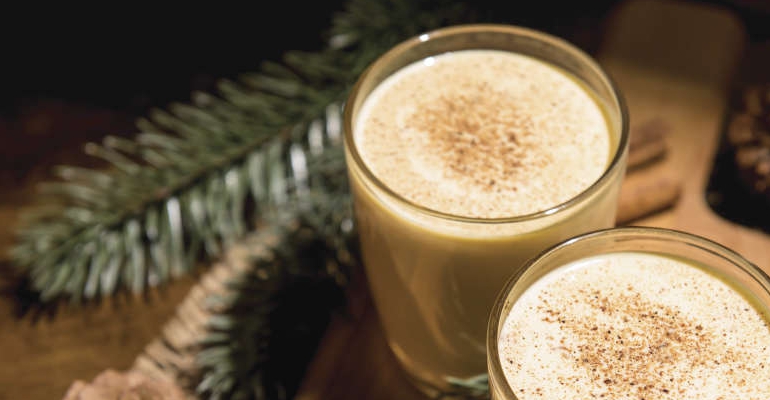 'Tis the season to be jolly! What better way to get in the mood than indulging in a cocktail or two for some festive frivolity? Adele Trathan and Stephen King offer their twist on some classic cocktail recipes and some tasty alcohol free options so everyone can partake
ULTIMATE EGGNOG
This variation of a traditional Christmas drink is deliciously indulgent and a real winter warmer, pure luxuriant comfort in a glass.
INGREDIENTS
700ml (24fl oz) whole milk
240ml (8fl oz) heavy (double) cream
130g (4½ oz) sugar
5 large eggs, yolks and whites separated
3 cinnamon sticks
1 tsp freshly grated nutmeg, plus some for garnishing
1½ tsp vanilla extract
75ml (2½fl oz) brandy or bourbon
75ml (2½fl oz) dark rum
METHOD
In a saucepan, combine the milk, cream, cinnamon sticks, nutmeg and vanilla extract over a medium heat and warm to just about boiling point, then immediately remove from the heat and allow to steep.
In a separate bowl, whisk the egg yolks and sugar together until thick and creamy. Remove the cinnamon sticks from the milk mixture and gradually whisk it into the egg mixture, until a smooth consistency materialises.
Return the mixture to the saucepan and heat over a medium heat until it thickens slightly, but not to boiling point. Remove from the heat and stir in the brandy and rum – you can opt for just one spirit or none if preferred.
To serve, beat the egg whites in a large bowl until soft peaks form. Gently fold into the warm eggnog mixture until combined. Pour into glasses and sprinkle with a pinch of freshly grated nutmeg and serve.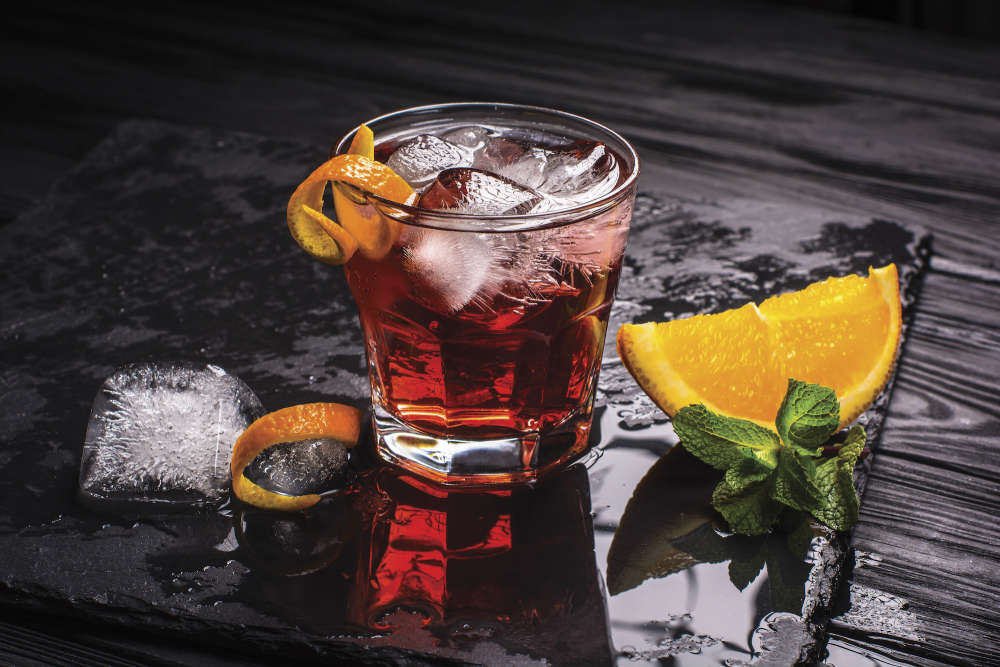 NEGRONI SPAGLIATO
In this recipe the gin is replaced with Prosecco which softens the bitterness and creates a lighter version for those that find the classic Italian Negroni a bit too much!
INGREDIENTS
25ml (1fl oz) Campari
25ml (1fl oz) Sweet Vermouth
25ml (1fl oz) Prosecco
Slices of orange, to serve
METHOD
Chill a glass in the freezer. Once cold, half fill the glass with ice.
Add the Campari and Vermouth into the glass and stir to mix.
Top up with extra ice and the Prosecco, gently stir to mix.
Garnish with orange slices and serve immediately.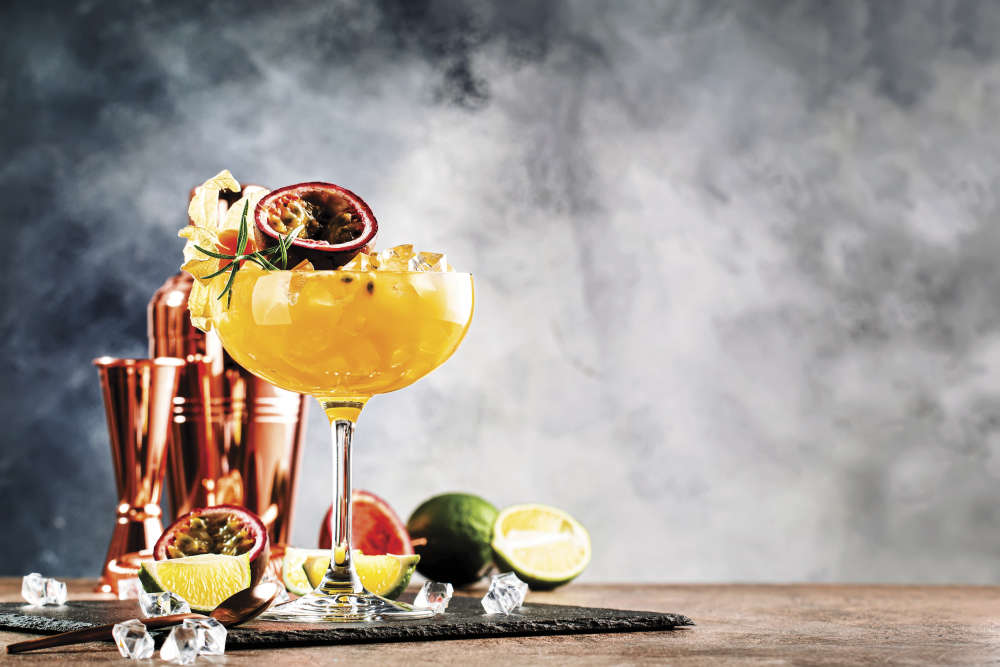 PASSION FRUIT MARTINI MOCKTAIL
Create this marvellous mocktail which has plenty of tropical flavours and is just so tasty – it's sure to impress your guests and they will leave with a perfectly clear head.
INGREDIENTS
1 passion fruit, plus an extra half for garnish
50ml (2fl oz) sparkling or cloudy apple juice
15ml (½fl oz) passion fruit syrup
15ml (½fl oz) lime juice
A few drops of vanilla extract
METHOD
Chill the glass(es) in the freezer – ideally use a martini or coupe glass.
Cut the passion fruit in half and scoop all of the seeds into a cocktail shaker. Add plenty of ice.
Add the remaining ingredients, secure the lid and give it a jolly good shake.
Fine strain into the glass and garnish with the passion fruit half – sup away!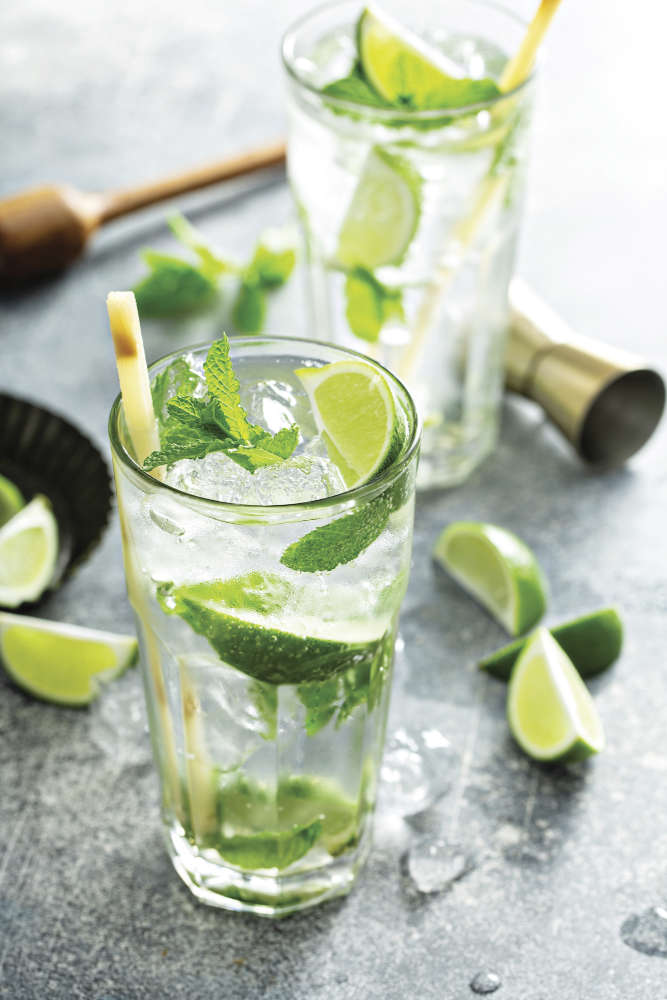 VIRGIN MOJITO
Mix up this refreshing mocktail for a burst of Cuban flavour but without the hangover, as it contains zero-alcohol – The rum is replaced with apple juice and a dash of almond extract. Deliciosa!
INGREDIENTS
1 lime, halved and cut into wedges
1 tsp caster sugar
6 mint leaves, plus extra to garnish
75ml (2½fl oz) apple juice
Dash of almond extract
Sparkling water for topping up
METHOD
Chill the glass(es) in the freezer – ideally use a highball glass.
Put the lime wedges and sugar into the chilled glass and using a cocktail muddler or the end of a rolling pin, muddle together.
Add the mint leaves and gently muddle again.
Fill the glass with ice and pour over the apple juice and then add a dash of almond extract.
Stir, top up with sparkling water and garnish with extra mint leaves, then get refreshed!
NOTE: Please drink alcohol responsibly and note this recipe may =not be suitable for anyone concerned about eating raw eggs, particularly if allergic or pregnant