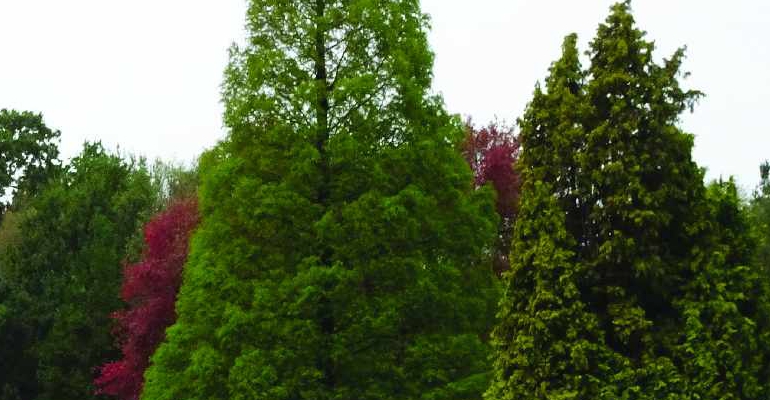 We examine one of the tallest-growing trees in the country and explains their stunning life cycle through the seasons
When walking, particularly in parkland, certain trees tower above the rest. One species is the Dawn Redwood, Metasequoia Glyptostroboides, many of which rise above 20m (65ft).
Living Dawn Redwood trees were discovered and identified in a remote area of central China during the 1940s, having been regarded as extinct for five million years.
Seeds were sent to Britain, germinated and planted in Cambridge in 1950, making it 70 years since their introduction to the UK.
Dawn Redwoods are fast growing trees reaching 40-50m (130-169ft). The Cambridge saplings were 1.5m (5ft) tall when our Queen came to the throne, 17m (56ft) for the Silver Jubilee in 1977 and nearly 23m (75ft) by the Golden Jubilee celebrations of 2002.
In spring the feathery leaves are bright green and in autumn they become a spectacular combination of red, orange and brown. In winter, when the foliage has dropped, the silhouette of these trees shows as an impressive spire.
The bark is rust coloured and noticeable for its shaggy appearance. The species does well near water and has a common name of Water Fir. Conditions in Britain appear to be too cool for cone formation.
This species is widely planted in Sussex and the Tree Register of Great Britain records 20 significant specimens in the county. The tallest at 33m (108ft) is near Lower Beeding, along with five other remarkable examples.
Others can be found on the Chichester Tree Trail and in town parks such as Horsham, Crawley Memorial Gardens, Hampden Park in Eastbourne and Withdean Park, Brighton. The remainder can be found in private gardens and estates which can be found across the county.